Girls tennis has successful run through Senior Night, League and CIF prelims before quarterfinals loss
Throughout the end of April and most of May, the Foothill Technology High School Dragons (Foothill Tech) girls' tennis team won four matches in a row that were highlighted by a win on senior night, high league placements and two California Interscholastic Federation (CIF) wins before their season was ended by a loss in the CIF quarterfinals to Fountain Valley High School.
April 28 – Senior Night vs Providence High School: 14-4 Foothill Tech
The team celebrated their three seniors, Noelle Hayward '21, Jolie Seemayer '21 and Cameron Wilcox '21 before their match against Providence. Coach Richard Geib made kind remarks before the three were given flowers and took pictures.
During the matches, the Dragons dominated with sweeps coming from number one singles player Hayward and number two singles player Seemayer. Twins Anna and Frances English '24 and Camille Bisgard '23 and Anna Nelles '23 also won all three of their doubles matches. The remaining two wins came from Lola Tennison '24 in singles and from Wilcox and Clare Duganne '22 in doubles. Most of the wins came relatively easy for the Dragons, with Hayward's closest match being 6-1, Seemayer's closest being 6-2, and the English twin's closest being 6-1 as well.
May 3 – League Prelims at Santa Barbara Municipal Tennis Courts
The league preliminary matches were set up in individual tournament style fashion, with the top two singles and top two doubles teams from every school in the league playing. Hayward and Seemayer cruised through the singles bracket and both went undefeated. On the doubles side, the English pair won all of their matches, but Nelles and Bisgard were eliminated after losing their second match.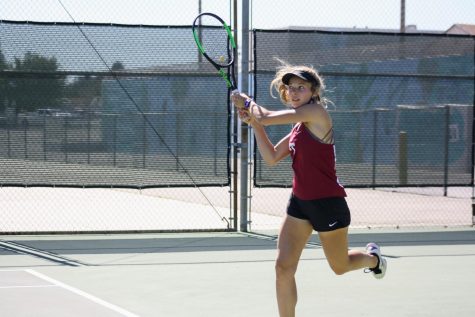 May 6 – League Finals at Cate: Hayward Wins, Seemayer and English/English 2nd Place
The league finals took place at Cate High School, where the singles finals were a Dragon-Dragon matchup. Hayward took on Seemayer and triumphed to become the winner of league singles. The English sisters narrowly took second place in their doubles match, giving Foothill three teams in the top four league finishes.
May 12- CIF Prelims vs Santa Ynez: 12-6 Foothill Tech
Foothill Tech's first round of CIF came against the Santa Ynez High School Pirates. The Dragons had little trouble in the singles matches, with Hayward and Seemayer again going undefeated, and Kira Branson '24 adding two more wins. The Dragons struggled more in the doubles matches, but the English sisters won two of their three matches and both Bisgard and Nelles, and Tennison and Duganne were able to add one win each to give the Dragons the victory.
May 14- CIF Prelims Round Two At Mayfair: 17-1 Dragons
The Dragons traveled over an hour for their second CIF match, but the drive clearly had little effect on their play. Hayward, Seemayer and Branson dominated the singles once again with three wins each, and the English pair as well as Tennison and Duganne also swept their competition. The final two wins came from Bisgard and Nelles to help the Dragons move on to the CIF quarterfinals.
May 17- CIF Quarterfinals vs Fountain Valley: 5-13 Fountain Valley
The Dragons season came to an end in the quarterfinals matchup that took place at Ventura College, losing to the Fountain Valley Barons 5-13.