On the sunny afternoon of Sept. 20, the Foothill Technology High School (Foothill Tech) girls' tennis team faced off against Villanova Prep High School (Villanova) on the Dragons' home court of Ventura College. By the end of the day, Foothill Tech prevailed 10-8, an auspicious victory for their first league match and for the season ahead.
Coach Dan Fitzpatrick spoke on the team's mentality going into the match, saying, "They were ready for a victory, they have been practicing hard … and today they were able to put it together."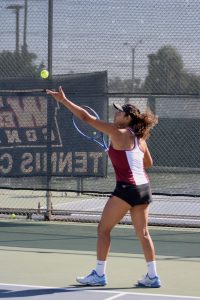 In the singles matches, many Dragons put up exceptional performances. In the first singles position was Kira Branson '24 who dominated the competition as she secured three crucial points for her team with consecutive victories of 6-1, 6-2 and 6-2, respectively.
Similarly, Saanvi Joshi '26 triumphed against her opponents. She started with a hard-fought first set that ended with a score of 6-4. Then, Joshi went on to take the second set 6-3 and the final set 6-1 to take the sweep, contributing a further three points to the team's overall success.
In the doubles matches there was similar success. Particularly with line one consisting of Julia Geib '25 and Lola Tennison '24 , who didn't allow a single game to slip through their grasp. They started with a commanding 6-0, which set the tone for the following sets with two more victories with identical scores of 6-0.
When asked about the match, Tennison stated, "We started off strong and I think did a good job of not letting them take any games from us."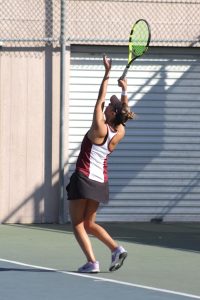 Line two doubles consisted of Vivian Ryan '25 and Ryan Alderman '25 who won one of the three sets they played. Their singular triumph vitally contributed to the overall win for the team. When asked about their combined performance, Alderman remarked, "I feel like me and her played really well together, even though we didn't win all of them."
After the match Ryan spoke on the team as a whole, saying, "We are refining our identity as a team this year after losing our two biggest players last year, so this win was a really big sign of hope for our upcoming season."
Coach Richard Geib expressed his contentment with the team's performance as he stated "[by] the middle of the match, we really came alive and towards the end, we were clearly the better team."
The Dragons look to build off this strong start with their next match taking place on Sept. 27 on Cate's home turf, a rivalry game.