Girls' Tennis sets off their season with resounding victories over Cate and St. Bonaventure
Coming off of last season's elimination in the California Interscholastic Federation (CIF) quarterfinals, the Foothill Technology High School (Foothill Tech) girls' tennis team is looking to go even further this year. Following their first two league matches of the season, they've put themselves in a position to do exactly that, with two impressive wins over league opponents.

Malia Sanchez

Sept. 21

The matchup against primary league competitor Cate School (Cate) on Sept. 21 resulted in a 13-5 win for the Dragons. The three singles players took eight of nine sets, and the top two doubles teams were able to secure the five other sets necessary for victory.

Number one singles player Frances English '24 and number three Kira Branson '24 swept commandingly, while number two Anna English '24 was narrowly defeated 6-4 on the last of her three sets. Aside from the loss, the trios of sophomores showcased their prowess with the closest winning set being 6-4. 

Anna English explained the team's effective mindset, saying, "confidence, and even though the other team has [beat] us before and we've only won once, continuing to go and not get mad or anything."
Although less dominant, the first two doubles teams had similar success. Lola Tennison '24 and Clare Duganne '22 swept their opponents 7-6, 6-2, 6-2; while Camille Bisgard '23 and Anna Nelles '23 won two of their three sets 7-6 and 6-1 to give the Dragons the official win. 
The lone senior Duganne expressed her excitement following the victory, saying, "Cate is the hardest, toughest team so with this victory under our belt, I think that we're going to go out to the other matches with this victory and bring it all that we can and probably do pretty well, we have a great team this year."  
Coach Richard Geib voiced similar projections, saying, "My expectations are that we continue to go ahead and play solid tennis. I knew we had a good team and today confirms it. We beat Cate, which is a very strong team habitually." 
Sept. 28
The win against Cate propelled them into the following match on Sept. 28 against St. Bonaventure High School (St. Bonaventure). With their momentum, Nelles was optimistic while saying, "I feel prepared, we've actually scrimmaged St. [Bonaventure] already because we practice on the same courts, so we know what we're up against and I think we'll do well."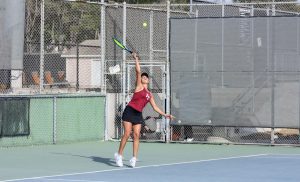 The team proved her right, demolishing St. Bonaventure 16-2, asserting their superiority over Foothill Tech's rival. The English twins coasted, winning all of their sets, and Branson won her one set before being replaced by Tennison, who won both of her sets. 
In doubles, Nelles and Bisgard dropped just one of their sets, as did the number three doubles team Vivian Ryan '25 and Julia Geib '25. Kim Lotz '24 and Alessia Simpson '24 went undefeated to round out the scoring. 
Adding another win to their record on Sept. 30 against Laguna Blanca, the team will attempt to continue their streak against Thacher on Oct. 5.