Girls' tennis continues hot streak with win over Thacher
On the cloudy evening of Oct. 6, the undefeated Foothill Technology High School (Foothill Tech) girls' tennis team took to the courts to face off against Thacher School (Thacher) at Ventura College, looking to continue their winning ways.
By the end of the day, the Dragons found themselves successful in achieving this goal, as they finished with a dominant final score of 16-2.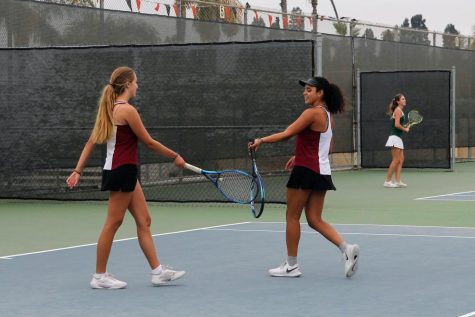 Several Dragons contributed phenomenal individual performances en route to this win. Kira Branson '24 in particular set the tone for the team early on, winning all three of her sets in singles play. After two hard-fought 6-2 victories, Branson breezed to a 6-0 win to complete the sweep. When reflecting on the team's performance as a whole, Branson remarked, "We are putting our best foot forward and we played our best game."
Additionally, Anna English '24 swept her three singles sets, winning the first 6-2, the second 6-1 and the third a punishing 6-0. When asked about how she played, English stated, "I personally just got my head in the game and got it done pretty quickly."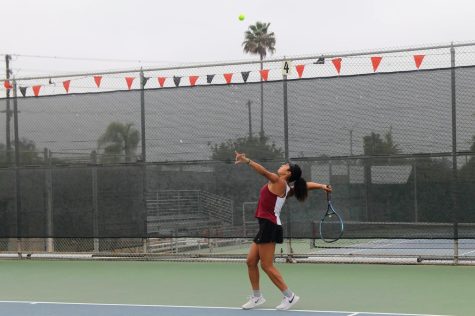 English touched on the team's atmosphere coming into the match, saying,"Everyone was confident and positive".
Later in the afternoon at the start of the doubles matches, the Dragons again triumphed over Thacher. These victories begun with a dominant trio of sets from Julia Geib '25 and Lola Tennison '24, who captured a win 6-3 to set the table for two more 6-0 victories.
Both other Foothill Tech doubles teams would later claim victories in their matches to close the evening and increase the final score to 16-2.
The Foothill Tech girls will have another opportunity to extend their winning streak Oct. 11 when rematching Cate School at Ventura College.