Girls' Tennis starts fresh this season, defeats Bonnie 16-2
Dominated by young and talented players, Foothill's girls' tennis team kicked off the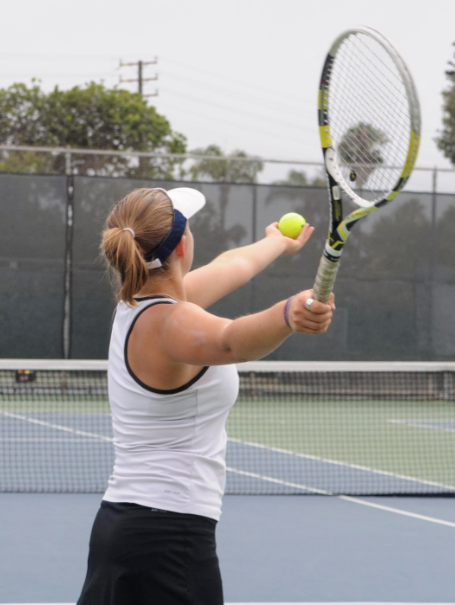 season with a commanding win over Saint Bonaventure High School on Sept. 4. Through encouragement and practice, they defeated the Seraphs with a final score of 16 sets to two.
While most of Foothill's 16 winning sets were quick and painless, one of them stood out. Olga Qoshlli '21, returning to singles after a year of playing doubles with her sister, Enkela Qoshlli '18, went neck and neck with her third slotted counterpart all the way into a tiebreaker match. After going back and forth on games, they called over coach Brad McClain to walk them through the tie break procedure.
"I knew I had the abilities to beat her, I just needed to use the knowledge that I had in the right ways to beat her," Qoshlli said. "I was just trying to push through and get to the end. I was like 'it's 6-6, I might as well win.'"
Turning up the aggression, she won the tiebreaker 7-3 and the set 7-6. After a full hour and a half, she still had two more opponents to face.
"It was pretty exhausting," she said.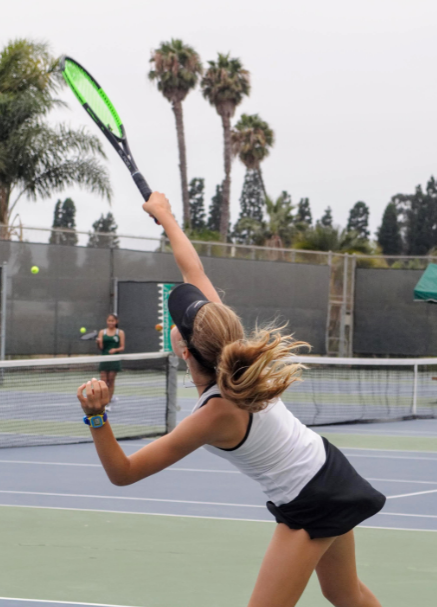 In her second set, the exhaustion didn't show. Facing Bonaventure's second slotted singles player, Qoshlli took care of business with a 6-0 win.
However, her efforts couldn't quite carry her through the third set, where she lost 0-6 to Bonaventure's number one.
Coach McClain said he was "very pleased with Olga" for keeping her energy up as long as she could.
First slotted Erin Gaynor '19, co-captain and lone senior, cleaned up with two 6-0 wins and one 6-4 victory against Bonaventure's number one. Finishing up her sets speedily, she could be heard cheering on her teammates while resting, or sometimes even during her own contests.
Now that she's a senior and a captain, Gaynor feels "more mature and more responsible for how my team's doing."
She wants her teammates  "to feel happy and excited all the time, which is kind of the captain's job."
She recalls a strong hit to the corner by teammate and second slot singles player, Noelle Hayward '21. Hayward went 6-3, 6-1 and 5-7 in her sets. As a new sophomore addition, her quickness and strength are well valued.
On the doubles side, Alyssa McClain '20 and Jolie Seemayer '21 swept their sets with scores of 6-1, 6-0 and 6-2.
Seemayer attributes the success to teamwork, claiming that "teamwork is the most important thing for doubles."
Having known each other for a while, the girls' chemistry leads to consistency.
Coach McClain chuckled, saying that "they get it done pretty quickly out there."
Second team sisters Ella Duganne '20 and Clare Duganne '22 made a clean sweep as well, scoring 6-1, 6-2 and 6-0.
This is the third sister tag team that the Dragons have seen in three years. Although Coach McClain has seen pairs of sisters that "need to be separated," none of his doubles teams have caused issues, and the Duganne sisters are no different.
McClain is proud to say that they encourage each other on and off the court: "Whether it's family or just a teammate, that's what you need."
The third doubles team, home to another one of the team's starting freshmen, Rebekah Sokoloski '22, secured two wins (6-4 and 6-3) and took one 0-6 loss.
According to McClain, the team's youth is not a sign of weakness. In fact, he feels more confident in his team this year than he did last.
"We'll compete with anybody," he said. "If we can come out and clean up our serving, we can finish very high in this league and go far in playoffs."
Editor's Note: Noelle Hayward is a writer for this publication; she was not involved in the reporting or writing of this article.