When playing a tennis powerhouse like Cate School, Erin Gaynor '19 has a simple mindset: "I hit the ball and I run."
Pulled from a tennis amateur who beat Serena Williams in 2010, the quote embodies the David-and-Goliath-like match that Foothill girls' tennis played on Sept. 27 at the Ventura College courts.
Cate School is, as head coach Brad McClain put it, "a bit out of our league, even though they're in our league."
When the California Interscholastic Federation (CIF) playoffs roll around, Cate will jump up to Division I, while Foothill is set to remain in Division III. It's no surprise that Foothill was eventually put away with a score of 13-5.
Gaynor, however, still feels that the team performed with strength.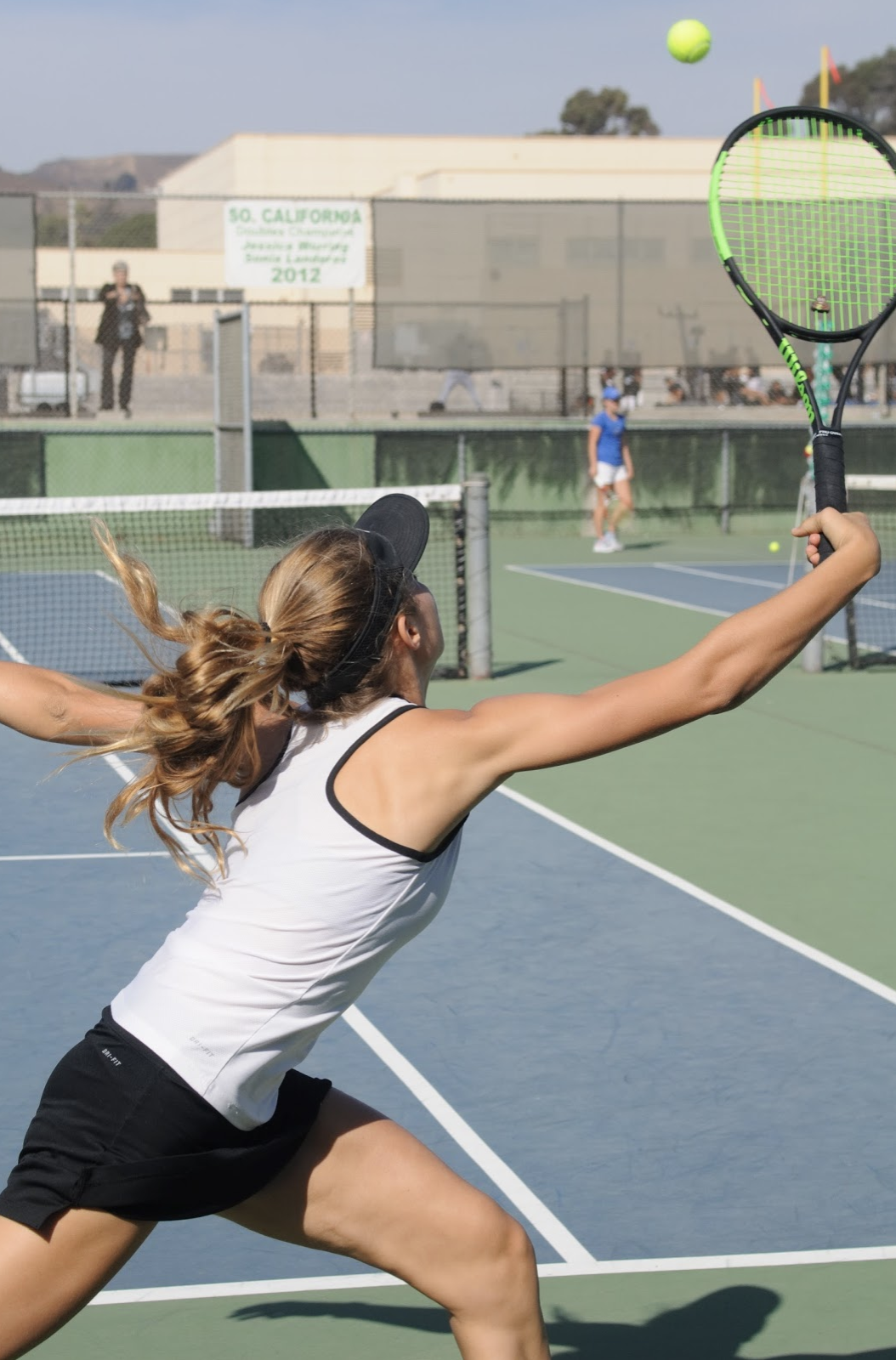 "We play better when we're up against better opponents because it's a lot easier to return powerful balls with power than it is to create the power yourself," she said.
Gaynor feels that the team made very few unforced errors, and is now better prepared for the tougher teams they hope to face in the CIF Playoffs.
"I'm very grateful to have Cate in my league," she said. "It shows us the different styles of really good players so we get the practice."
Gaynor beat Cate's number two player 6-2 in the opening set but lost the other two sets by scores of 6-0 and 6-1. She was especially proud of Noelle Hayward '21, who won two of her sets (7-6,  6-1), but lost to Cate's number one singles player, 6-2.
Olga Qoshlli '21 rounded out the Dragons' singles spots at number three. She lost her sets 6-1, 6-0 and 6-4. She battled back from a 5-2 deficit against Cate's number three, and was able to take two more games.
Coach McClain remarked that the Dragons will put up a fight against any opponent. Qoshlli and Hayward embodied that fighting spirit with their close sets.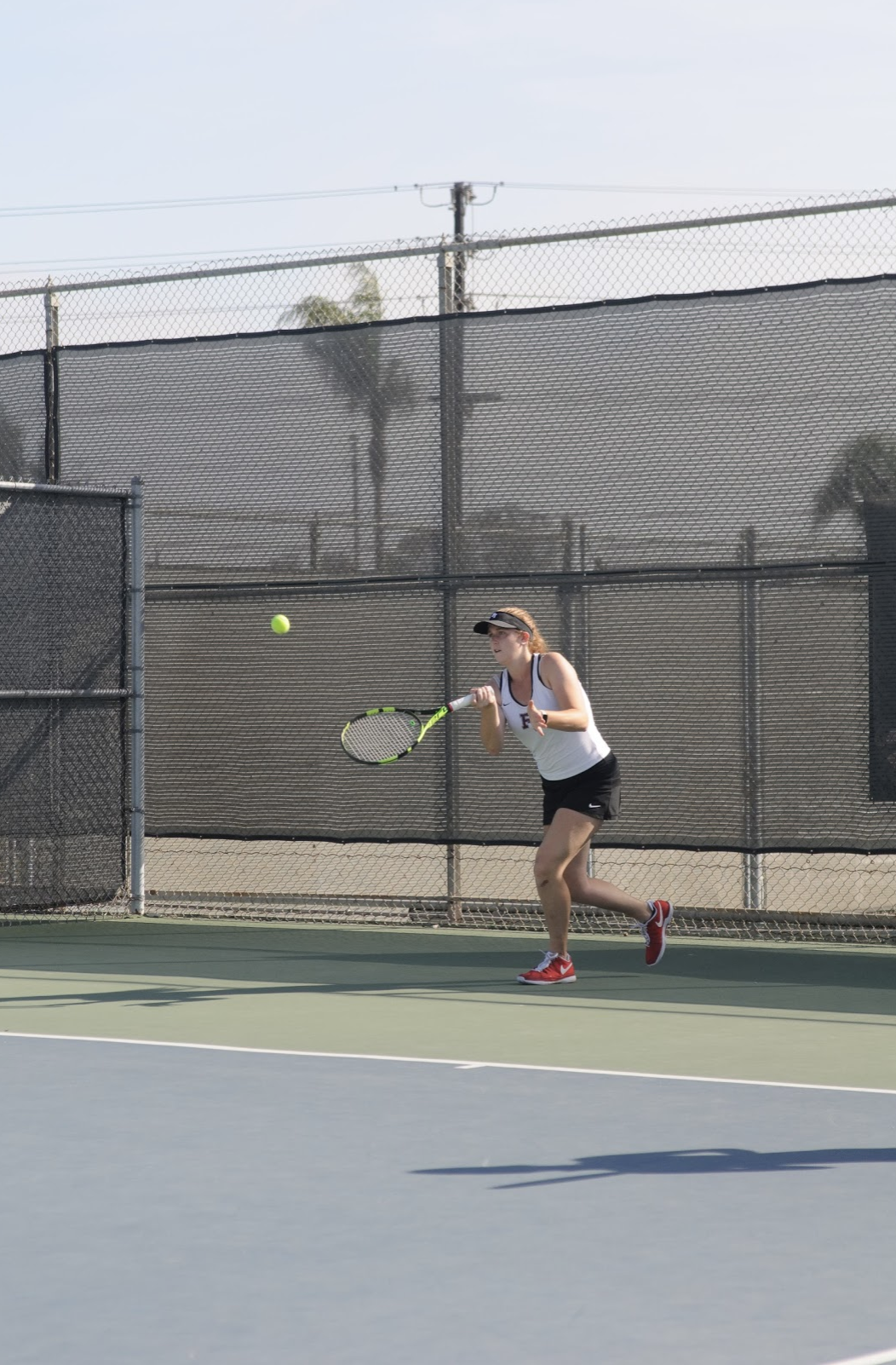 On the doubles side, number one partners Alyssa McClain '20 and Jolie Seemayer '21 were able to take two sets but lost to the number one team 6-2.
Coming out of her loss in the first set, Seemayer was frustrated and said to herself "we aren't losing again." She kept her promise and took the next two with McClain (6-0 and 6-1).
The next two doubles team were unable to produce a win. Sisters Ella Duganne '20 and Clare Duganne '22 had scores of 6-2 and 6-0 before being subbed for Elise Paul '21 and Isabella Silva '20, who lost 6-0 against Cate's number three.
Leah Sehati '20 and Ruby Beckendorf '21 faired the same, with losing scores of 6-1, 6-0 and 6-2.
With only five-game wins, all of which came with some difficulty, the game is an objective loss. However, the opportunity to see and handle talented players makes Gaynor "very proud" of her team.
"I think we were rock solid," she said.
Editor's Note: Noelle Hayward '21 is a news writer for the Foothill Dragon Press and was not involved with the reporting or publication of this article.