Recap: Girls' tennis triumphs 10-8 over rival Cate
The Foothill Technology High School (Foothill Tech) girls' tennis team faced off against their rivals the Cate School Rams (Cate) on Friday, Sept. 23, at Cate. The Rams got off to an early lead, but in the end it was Foothill Tech that would take home the win 10-8.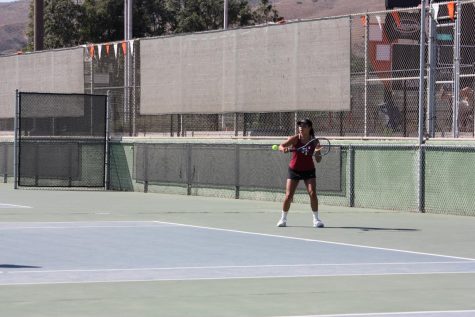 Coming into the match, one of the Dragons' top singles players, Anna English '24, was out due to sickness. This left Foothill Tech at a significant disadvantage that only got worse when twin sister Frances English '24, another one of Foothill Tech's best singles players, had to leave as well.
Now playing with two subs, Foothill Tech allowed Cate to grab a handful of points during singles play. However, the Dragons turned it around during doubles play, where they won all but two of their matches, blowing away Cate. 
The dominant doubles turnaround for the Dragons secured a phenomenal win to advance to 2-0 in league play.
The Dragons' next match will be at Ventura College against Providence on Friday, Sept. 29. 
Editor's note: The photos used above were taken at a different match than the one referenced in this article.