Girls' tennis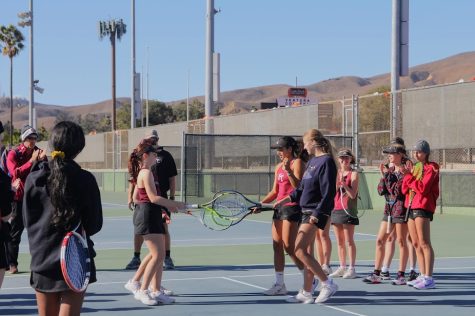 Girls' Tennis has had an outstanding season with a stacked lineup of players. The line one doubles team consisted of Lola Tennison '24 and Julia Geib '25 who put in hard work and time, which resulted in them winning all of league. Their season ended in the second round of CIF. 
Aditi Shanbhag '25 was ecstatic about the season end result, "I think we had a pretty good season. We went undefeated in league. That was pretty great, we were all doing amazing, and you could really see a lot of improvement with every single individual player."
Cumulatively, singles got to the CIF quarterfinals before their season ended. Line one singles consisted of Kira Branson '24, line two was Frances English '24, and line three was Anna English '24. 
Line two doubles consisted of Anna Nells '23 and Shanbhag. Line three doubles was  Camille Stern '23, while Vivian Ryan '25 and Saanvi Joshi '26 switched out for games.  
All three lines of singles and doubles remained undefeated throughout the entirety of league play. 
Seniors Biscard and Nelles were given a proper goodbye at senior night over at the VC courts. 
The team had a very successful season, hoping to keep up the momentum for the following year.
Comments on articles are screened and those determined by editors to be crude, overly mean-spirited or that serve primarily as personal attacks will not be approved. The Editorial Review Board, made up of 11 student editors and a faculty adviser, make decisions on content.