As the clouds swept in to cover up the sun, the Foothill Technology High School (Foothill Tech) girls' tennis team faced off against Laguna Blanca School (Laguna Blanca) on the Dragons' home court of Ventura College while celebrating the team's annual Senior Night. By the end of the emotional match, Foothill Tech scored 4-14 against their opponents, which ended their league season with a tough loss.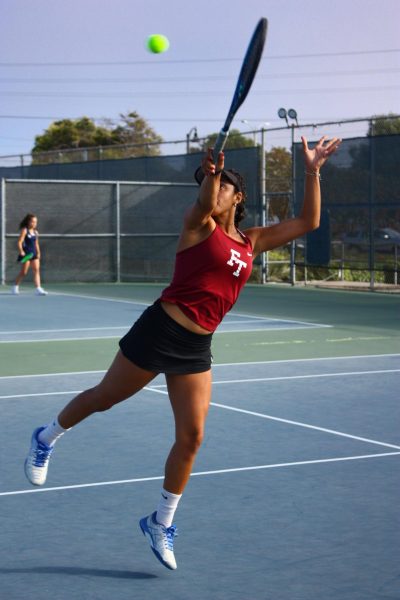 On line one singles, Kira Branson '24 was unable to prevail over her competition as she lost her sets in scores of 4-6, 2-6 and 0-6, respectively.
On line two, Saanvi Joshi '26 was able to win her second set in a tiebreaker 7-5, but with this win came two losses in her first and third sets.
Ryan Alderman '25, who played on line three, was unable to keep her competition at bay as she lost her three sets with scores of 2-6, 2-6 and 0-6, respectively. Alderman reflected on her performance in her last set, "I gave her a bit of a run for her money and I was excited about that."
In the doubles matches, Foothill Tech saw more success as line one put forth consecutive 6-1 sets to contribute three points to the Dragon's overall score. This dynamic duo consisted of Julia Geib '25 and Lola Tennison '24, who have worked together perfectly, as throughout their entire league season, they have not lost a single set, putting their record as doubles partners at 24-0, matching the previous season.
Tennison commented on their collective effort as she stated, "I expected my partner Julia and I to do very well … I think we work so fabulously together."
Line two, consisting of Vivian Ryan '25 and Aditi Shanbhag '25, along with line three, Aarna Paris '26 and Paris Nguyen '27 of doubles, could not stay on par against their opponents as the two both took losses in all three of their sets.
By the end of the match, Foothill Tech took the loss against Laguna Blanca at 4-14. Along with the disappointment of the loss, the bittersweet farewell to the team's seniors brought out many emotions as there were hugs along with tears that came from individual players alike. The realization came about that this was the final match of the season, and for the seniors, it was the final match of their high school careers.
When asked about her feelings regarding the departing of the seniors, Shanbhag expressed, "I'm just really, really heartbroken, but I wish them well and I know that they're going to do amazing things."
Tennison agreed with Shanbhag as she stated, "I'm really sad … It was our last league match together." Yet she was also optimistic about her future as she voiced, "I'm really looking forward to this next chapter of my life and hopefully being able to play in college."
When asked about the absence of the current seniors in future seasons, Coach Richard Geib commented, "It's a big hole to lose … Lola and Kira are number one doubles and singles players … but I'm happy to see them go to the next stage of their life, so I wish them well."
The tennis team will compete next on Oct. 24, 2023 in the individual League Finals at Cate School.