Humans of Foothill: Esmi Casarez
Foothill Technology High School (Foothill Tech) Girls' basketball player Esmeralda (Esmi) Casarez was named one of the co-Most Valuable Players of the Tri-Valley League for the 2022-2023 season. The girls' basketball team did well this year, with a tie for first place in their league and an overtime loss in the first round of CIF. In an exclusive interview, photographer Aidan Gomez examines Esmi Casarez's passion for basketball and discovers what makes her a stellar athlete.
Gomez: The first question I have for you is what inspired you to play basketball?
Casarez: I watched tapes of my uncle and dad play when they were younger, and I tried it out, then fell in love with the sport.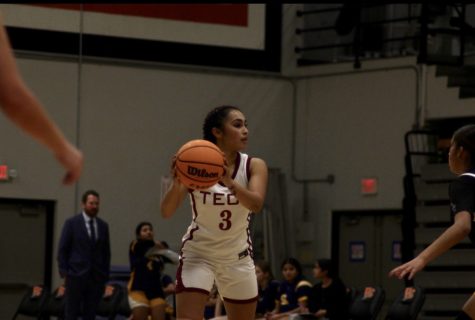 Gomez: What is your favorite part about playing basketball?
Casarez: My favorite part about basketball has to be the friendships I've created. Another thing is how much excitement you can get out of playing/winning. To me is the excitement, I feel like in basketball it could easily get up in your toes, quickly change your mood (good and bad way) and the enjoyment I've had playing basketball wasn't like any other sport I played.
Gomez: What do you do when you have a lot of pressure to play good during a game and everyone is counting on you?
Casarez: I don't get nervous because I've been playing my whole life and I'm prepared for any given moment.
Gomez: How would you describe your work ethic?
Casarez: Just putting in extra time on my own, being committed and consistent and just out work all my future opponents.
Gomez: What strengths do you believe you have that make you a great athlete?
Casarez: I think its the confidence I had, self discipline and my passion for basketball and the love I had for the game.
Gomez: What are some basketball awards you've gotten that mean a lot to you?
Casarez: My very first MVP award and I would have to say when I got player of the league this year and MVP.