Humans of Foothill: Cole Dinkler
"Pole vault has really influenced my life by giving me [a lot of] discipline in everything. I've worked harder at vaults than I have at anything else in my life. It's shown how if I put in the work and put in the time, I can get the result that I want and it has taken over my life a little bit. So a lot of my friendships have been through that sport. 
"I got into [pole vault] through a [Foothill Technology High School] graduate, Nathaniel Russell. I saw him vault at the Masters meet three or four years ago. That really inspired me to try and get to that point.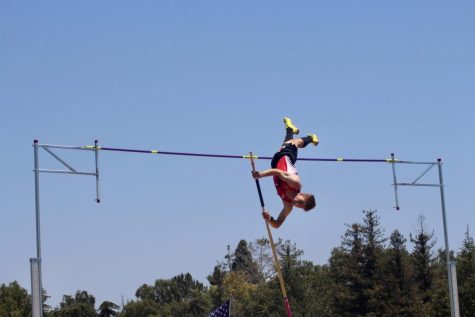 "I would say my vault coach, Brooks Morris, is my biggest inspiration. He was a vaulter back in the 80s and one of the best people I've known and he's an amazing person. He is the one that kept me through it, through all the hard times and all the crazy stuff that's happened. He's been my number one supporter and I trust him fully. Without him, I wouldn't be vaulting.
"It felt amazing [to make it to CIF State] because the entire year I felt like I was chasing Aidan Hagerty. He was my teammate last year and he had extreme success also in vault. So being at the State meet and getting the exact same place as him in State, 7th place, was an amazing feeling because I felt like I lived up to his legacy and I was able to through all that hard work. It finally paid off by getting there.
"[One piece of advice I would give to someone looking to try a new sport is] stick with it. Because at first it's going to suck. You're going to be tired. You're going to feel like everyone else is better than you. But if you're able to push through it, if you're able to put in the work, then amazing success can come through it."