Crumbl Cookies Minion week: A Gru-some review
Crumbl Cookies has overtaken the internet with its supposedly fabulous cookies. With a new menu every week, people have become overly eager to figure out what the new flavors will be. After discovering the week of Sept. 12, 2022 – Sept. 17, 2022 was Minion-inspired, we decided that it was time to give Crumbl Cookies a try. 
Sprinkle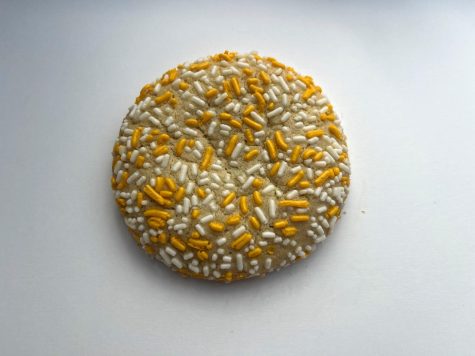 Nisha: I thought it was very crunchy, my mouth could feel every single sprinkle I bit into. It tasted undercooked, and had a bad flavor that reminded me of play dough. 2/10
Claire: I wanted to spit this thing out. The whole cookie tasted like sprinkles mounted together. It was overly sweet and the unnatural density made it feel as though I was biting into an uncooked blob. 1.5/10
Ruby: This was probably the most basic cookie that you could make, and yet it was still bad. They use the same base for all of their vanilla/sugar cookies and the addition of sprinkles didn't make it any better. The yellow and white sprinkles looked like shredded cheese, although shredded cheese on this cookie would probably have been better than the plastic-tasting sprinkles. 5/10
Lauren: It had the texture that a cookie shouldn't have and the sprinkles reminded me of plastic. They didn't really taste like anything and most definitely didn't look very appealing. It reminded me of something that would be at an elementary school class party. 2/10
Yellow Sugar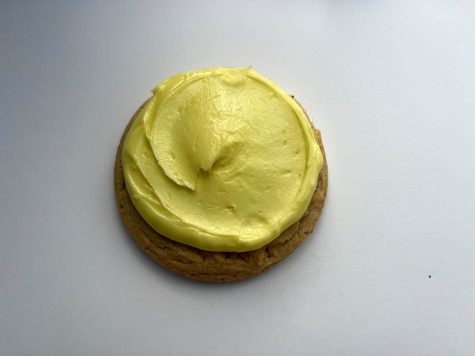 Nisha: It was essentially a degraded sugar cookie, that somehow managed to be even worse than the sugar cookies you can get at Vons. It wasn't too sweet, which was one of the better things, but even that was masked by the fact that it tasted like chemicals. 6/10
Claire: I am a big believer in frosted sugar cookies and this did not disappoint. It had a sweet buttercream frosting that reminded me of something you would eat at a child's birthday. Its base was less dense than the other cookies, which I greatly appreciated. 8/10
Ruby: Frosted cookies should not be tampered with, especially not by Crumbl. Although this was better than the other basic ones, it still didn't live up to the hype. The frosting was good, as it reminded me of the ones from elementary school parties, though the cookie itself was gross and hard. Once again, they use the same cookie base for all of the vanilla ones– at this point, it was getting repetitive. 6.5/10
Lauren: Probably one of the least creative cookies, as you can find almost the exact same version at Vons. It was very sugary and left a pasty aftertaste. It certainly didn't live up to my expectations. 2/10
Banana Cream Pudding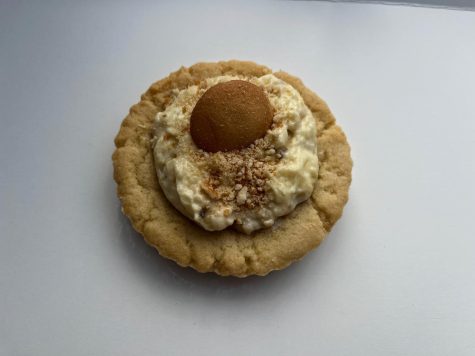 Nisha: This one looked horrid, but after tasting it I was pleasantly surprised. The banana pudding on the top was good, not too sweet and not too much of a banana flavor. The cookie itself didn't have much flavor, and hence brought down the overall taste. 7/10
Claire: When we first opened the box, we were horrified by the squishy blob of banana mush that rested on top of the cookie. When I bit into it my mouth watered. It tasted of real bananas instead of the fake artificial taste that most banana desserts have. The base of the cookie wasn't bad, and the vanilla flavor nicely complimented the banana pudding on top. 9/10
Ruby: There was definitely something off-putting about this cookie from the looks of it. From the cookie part that crumbled in my hand, to the jiggling banana pudding on top, I didn't have high hopes for this one. Despite this, I was pleasantly surprised when I took a bite. The banana flavor on top didn't taste like an artificial preservative, but rather, a real banana. Though the cookie part wasn't my favorite, it was a step up from the others as it had more of a pie-crust texture to it. 8/10 
Lauren: Although it looked appetizing in the photos online, it definitely wasn't in person. There was a blob of banana pudding that seemed to move on its own. It tasted like the fluorine the dentist uses on your teeth. To add to it, the cookie itself didn't have a lot of flavor and was very dry. 1/10
Chocolate Minion Mud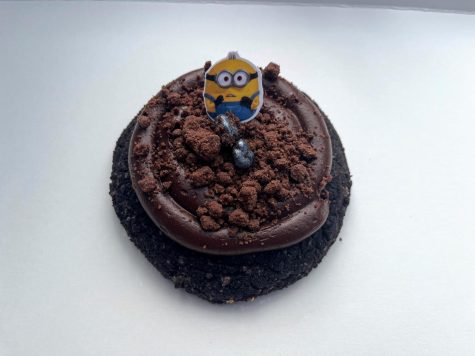 Nisha: This cookie looked the best, I mean, it was all chocolate. The frosting was okay, but the overall taste was similar to store bought brownies sitting in the days old section, on discount, at Vons. I was let down by the beautiful look compared to the bland taste. 6.5/10
Claire: Wow! This was definitely too much chocolate– the ratio of cocoa powder to everything else was really high. I will say that I did enjoy the fudgy texture, as it felt like biting into a brownie. On the upside, this cookie brought variety to the menu, which was full of vanilla bases. 6/10
Ruby: This cookie definitely looked the best compared to the others. We saved it as best for last because we really needed something to bring our hopes for Crumbl back up. Turns out, it didn't live up to my expectations. To start off, the frosting was overly chocolate flavored, which I didn't expect. The cookie part was okay, and the crumble on top tasted like cardboard. However, the plastic minion figure added back a few points. 7.5/10
Lauren: I must say, this cookie did impress me. Although I'm not a big fan of chocolate desserts, I will make an exception for this one. It reminded me of a brownie with its chewy texture, plusthe frosting was a nice touch. The cookie was very rich, like the milk chocolate chip cookie, so I would recommend eating small portions of it at a time. 7/10
Original Chocolate Chip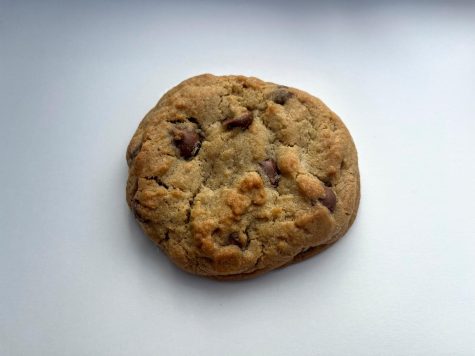 Nisha: This one was very thick and rich. The first bite is better than the rest– it was too bland for my liking and I have had much better cookies. The chocolate chips were not very good either. 3/10
Claire: Yes, I understand that chocolate chip is the classic cookie, but why would Crumbl choose to keep it on the menu every week? They definitely have better cookies that would be more enjoyable on the weekly menu. It was thick, there were too many chocolate chunks and the texture was almost grainy. 5/10
Ruby: Though the chocolate chip cookie is so simple, Crumbl's is one of the worst I've ever tried. There must have been a days worth of sugar intake in one bite. This cookie was so dense that it had me wondering if it was even cooked. From it's overly-sweet chocolate chips, to the questionable ingredients, I wonder how this cookie could ever be considered a "Crumbl classic." 5/10
Lauren: The cookie was definitely too rich and dense, making it seem undercooked. I could really only eat the first bite before I had tried enough. The chocolate chips were too sweet for my liking. I was expecting better, especially since this is the one cookie they don't change weekly. 6/10
Minion Moon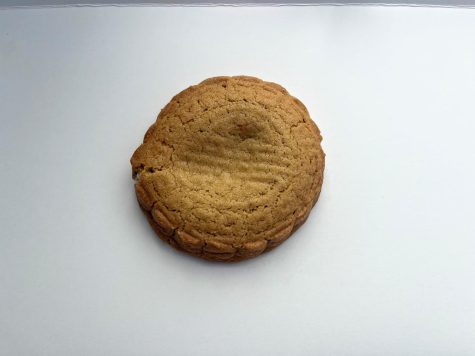 Nisha: It tasted like a snickerdoodle without the tasty factor–completely bland, but still thick. The white cream filling made it even more unappetizing. I've made better cookies than this, and that's saying something. 2/10
Claire: My question is why would anyone purposely bite into this disaster? It was extremely bland and looked unappetizing from the moment I laid eyes on it. The cookie was supposed to have an almond cream filling, but there was absolutely no flavor to it. It was essentially a mushy blob of sugar. 2/10
Ruby: The cookie itself was not as advertised, as the outside was caving in and the "filling" was nowhere to be found. This overly plain cookie had what I thought to be white chocolate chips, though they ended up being almond flavored. This was the worst of the bunch by far. 3/10
Lauren: At the first glance the cookie seems rather plain looking. I definitely didn't expect it to taste the way it did. I liked how it wasn't too dense, but not too bland either. I was disappointed with the white almond cream filling because there wasn't any flavoring to it. Other than that, it was unquestionably one of my favorites. 8/10
Overall rating/review
Nisha: The cookies look nice and are a fun, huge size. To try them once was exciting, but I would not have them again. The taste for all of them wasn't anything special, plus they are overpriced and overhyped. The only thing they did right was to make the cookies Minions themed. The banana cream pie cookie is the only one I would consider indulging in again. I give Crumbl Cookie an overall rating of 3/10.
Claire: After hearing chatter through school and on social media about these Tik Tok trendy, "amazing" cookies, I was eager to give Crumbl Cookies a try. Maybe we came on a bad week, but I wasn't overly impressed. You can most definitely find better cookies at different stores.  The only cookie I would beg to eat again is the banana cream pie. My overall rating of Crumbl Cookies would have to be a 5/10.
Ruby: From all the hype around this cookie shop, I was shocked that it wasn't good. Maybe this week's flavors weren't the best, but I honestly thought the theme would make up for it. You could find better cookies at the grocery store or even by making your own. In all honesty, these cookies would only be appetizing to a little kid, but even then they might not like them. I think everyone should try Crumbl for themselves, but $5 for pure sugar may not be worth it. 6/10
Lauren: There was definitely a lot of hype around Crumbl Cookies and I was very excited to give it an honest try. However, I was disappointed with this week's flavors. I did like the aspect of the Minion themed cookies– it was a very creative idea that the younger population might enjoy. As far as the price goes, I think you can find a better cookie for less. They were easily not worth the money. Although most of this week's selection were not up to my standards, the only cookie I would consider eating again is the mooncake cookie. My overall rating would be 5/10.