Girls' basketball loses in nail-biting fashion to end season
On Feb. 9, the Foothill Technology High School (Foothill Tech) girls' basketball team hosted Glendale High School (Glendale) at Ventura College for their round one California Interscholastic Federation (CIF) matchup.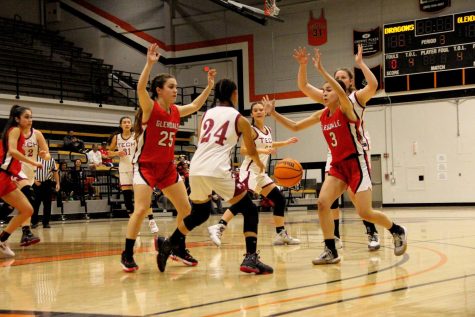 In what ended up being a close, hard-fought battle, Glendale was able to capture the victory in overtime by a score of 50-44, eliminating Foothill Tech from CIF contention. 
The first quarter was relatively low-scoring compared to the remainder of the game. Foothill Tech got on the board first after Petra Falcocchia '24 secured the offensive rebound and putback to give her team a 2-0 lead. Glendale later hit a clutch 3-pointer to close the quarter with a 7-6 lead. 
The Foothill Tech defense shined in the second quarter, as a pair of steals from Lauren Kaller '25 and Olivia Mowad '24 both led to Foothill Tech layups. With these plays, the Dragons held the lead 16-13 going into halftime. 
The second half began with offensive fireworks from both teams. This was all capped off by a Mia Gray '23 three-pointer, one of two for her in the game. Later on in the quarter, Falcocchia got on the board again with some fancy footwork in the post to extend the Foothill Tech lead 31-25 entering the fourth quarter.
Commenting on the offense, Coach Chuck Ferris explained that, "the girls were moving the ball really well."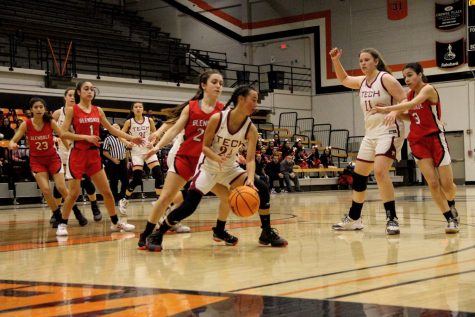 Glendale came out of the break suddenly clicking on all fronts. Their shooters knocked down a few shots, and their stifling full-court press slowed down the Foothill Tech offense. Considering the Dragons entered the game missing their point guard and primary ball-handler Esmi Casarez '23, Alexa Taylor '24 thought that her squad handled this pressure "really well."
However, a Olivia Huynh '23 three-pointer with 1:20 left in the quarter extended the lead back to five, and set up Foothill Tech in great position to capture the victory. 
Glendale proceeded to make a pair of free throws to once more make it a one-score game before hitting the game tying 3-pointer in the closing seconds to send the game to overtime, the score tied at 42-42.
In the overtime period, Glendale put their foot on the gas pedal and seemingly overwhelmed the exhausted Dragons, as they secured the victory 50-44.
After the hard-fought battle, Coach Ferris described the game as coming down to, "a few too many turnovers, a couple bounces, a couple calls, and that's the game."