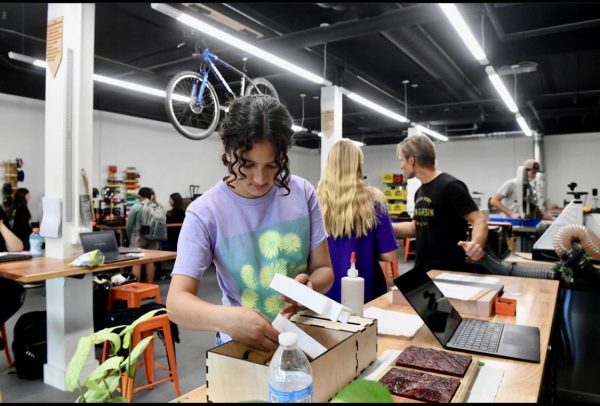 "All throughout elementary and middle school, I've known that I wanted to pursue a career in STEM [science, technology, engineering and mathematics.] In middle school, my passion for STEM led me to join a makerspace class, where I first discovered my interest in machining, designing and engineering. From there, I joined a student-led nonprofit organization, known as STEMbassadors, to spread this gift of machining and STEM curriculum to underprivileged schools throughout Ventura County by providing them with access to student-built STEM equipment (such as CNC routers and 3D printers.) Seeing the impact of providing such unique opportunities to young kids really led me to want to join something bigger that appealed to my interests. That's why I joined robotics; I saw it as an expansion of my passions and therefore a way to learn more about engineering, while also contributing to a competitive team that was unlike anything I'd been a part of before."
In pursuing her passion of robotics, Bavkar is in Team 4414 Hightide Robotics, which she has been a part of for three years as of 2023. 
"I am one of the lead machinists on the team; basically what I do is I create CAM [computer-aided manufacturing] that is used to [help make] all the parts necessary for robot assembly. Since my team is housed in a manufacturing facility (Sessa Manufacturing,) we have access to industrial grade machines, such as Haas mills and laser cutters. Getting to fully operate such advanced equipment as a high school student is a very unique opportunity that I'm extremely grateful for.
"As a female in a mostly male-dominated field, it is also empowering to see the impact that we are making on the future of STEM. In robotics, you can see that all ideas are valued, regardless of who they're coming from, and that's a really special type of equality that I hope will be spread into the workforce.
Each year, Team 4414 Hightide competes in For Inspiration and Recognition of Science and Technology (FIRST) Robotics, a global competition widely known among robotics students.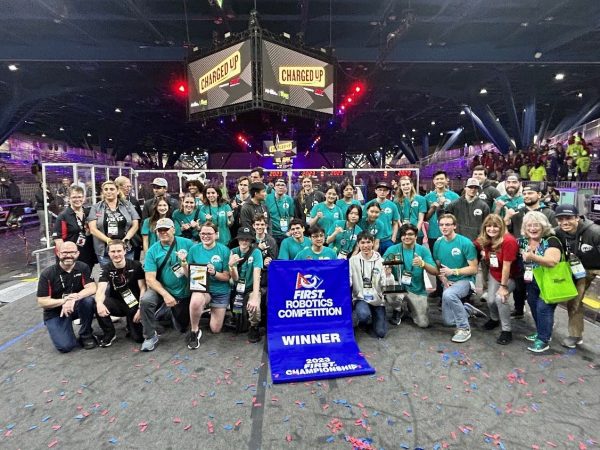 "FIRST Robotics is a worldwide robotics nonprofit that creates opportunities for high school students to learn real-world engineering skills in a competitive environment. Each year, a completely brand new game is released. These games are specifically designed to challenge teams to create unique robotic mechanisms so that the robot can complete certain tasks as quickly as possible. These tasks may include stacking objects, picking up game pieces and sorting them into specific allotments on the field, shooting and scoring objects into goals, climbing and more; each year, the overall theme of the game changes and so do the game's objectives. Scoring the matches is simple: basically, the team that completes the most tasks will win the most points.
The game is released in January, and after the game kickoff, teams have six weeks to build industrial size robots completely from scratch; this includes designing, manufacturing, assembling and programming the robot. During this time, teams must work around challenging requirements, restrictions and budgets. After [the] six weeks, teams compete at regional events and the winners move onward to a world championship event held in Houston, [Texas] each April.
"In April of [2023] my team competed at the World Championship event in Houston and we won first place! Winning this title made us one of the top three teams in the world, out of more than 3,000 teams from 19 different countries. Winning worlds was absolutely surreal and it's difficult to put the experience into words, but it felt incredible seeing all our hard work pay off.
"Being a part of robotics has really helped me to work well under pressure and be able to problem-solve on the spot. But beyond the competitive atmosphere, robotics has also made me realize that I can do what I am passionate about while also contributing to a greater cause."