Girls' basketball prevails against Newbury Park in a 38-27 face-off
As Foothill Technology High School (Foothill Tech) enters the beginning of basketball season, the girls' team has had an overwhelmingly positive record at 7-3. Their latest home game against Newbury Park High School (Newbury Park) on Dec. 6, added another victory to the bunch. 
Foothill Tech began with the ball and a smothering press, allowing the team to start off strong, gaining the lead that would stay with them throughout the whole game. Alexa Taylor '24 scored 2 points on a layup and Olivia Huynhn '23 scored another. After another bucket and one free throw from Newbury Park, the score was 6-1.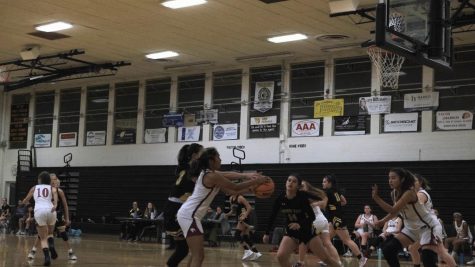 Foothill Tech stayed consistent with their initial tactics, but Newbury Park experimented with a variety of strategies, earning points within the first half with offensive rebounds and pushing themselves into Foothill Tech's key. 
As the game progressed, Esmi Casarez '23 and Huynh were unafraid of putting up 3 pointers at every opportunity. There were also many fouls from both teams, but Petra Falcocchia '24 skillfully blocked many of Newbury Park's layup attempts without garnering a foul.
Newbury Park's zone stayed strong, cutting out the Dragons' usual drives, but their strategy was only used until the buzzer called 22-9 at half time.
Falcocchia commented on the performance during the beginning of the game stating, "We get good defensive rebounds and we get to transition and run back then get easy shots because we work together as a team."
As the second half began, Newbury Park's communication faltered so Casarez took advantage and made several skillful layups, weaving through the Panthers' defense. However, Newbury Park quickly recovered with doubled efforts and made two 3 pointers and a layup in sucession.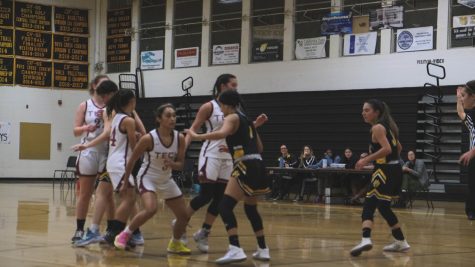 Despite this, Foothill Tech kept their lead with a shot by Olivia Mowad '24, scoring the final point of the quarter and signifying the final stretch of the game. "We were able to hold together and keep our momentum and we had really good defense which helped us," said Huynh when reflecting on how the team held their lead. 
The final quarter started promisingly as Taylor laid the ball up within the first thirty seconds. In response, Newbury Park attempted to close the ever growing gap in the score by continuing their press, but to no avail. 
As the game came to a close, Casarez and Huynh proved again to be a deadly duo, breaking away and passing the ball to score four more points within the final few seconds, culminating in a score of 38-27. 
Although the team has aspects of their game to improve on, namely, "spatial awareness on the court and being able to maintain a level of pacing while being pressured by good defenders," as Huynh stated, the display of teamwork and vigor exhibited foreshadows a quality season ahead. 
The next game is on Dec. 12, 2022 at Faith Baptist High School.