Girls' basketball out-muscles Thousand Oaks in 48-21 home win
The Foothill Technology High School (Foothill Tech) Dragons started off the month of December with an easy victory over the Thousand Oaks High School Lancers. 
The contest, which took place in the lofty Ventura College Gymnasium on Dec. 1, started out with the Dragons demonstrating their size and physicality early. Starting center Rome Falcocchia '22 won the opening tip, and the ensuing possession resulted in a put-back layup for the Dragons following an offensive rebound. 
The Lancers matched with a driving layup of their own, prompting the Dragons to rip off an 11-0 run highlighted by a three-pointer and floater from Esmi Cesarez '23 and a right-side runner from guard Emma Bartlett '22.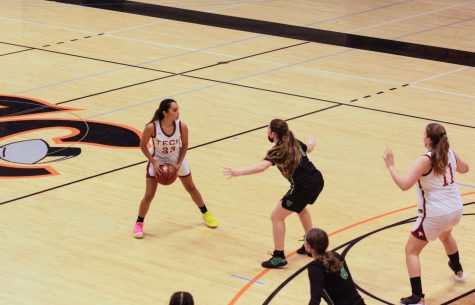 Although Thousand Oaks finally found some offense and were able to end the run and score six points for the rest of the quarter, the Dragons matched their output to maintain an 11 point lead going into the second. 
The second quarter told a story of failure by both offenses to capitalize on opportunities, with each team slowing their scoring pace significantly. The Dragons' possessions were a split of swift ball movement and countless turnovers, but on the defensive end, they forced Thousand Oaks deep into the shot clock and allowed very few quality shots. 
By the end of the half, a free-throw by Emma Coray '23 and baseline jumpers from Mia Gray '23 and Ashlyn Gomez '22 extended Foothill Tech's lead to 24-10.
To start the second half, the Dragons immediately asserted their dominance down low and in the post, with monster blocks from Falcocchia and Chloe Scofield '22, along with a put-back from Scofield after three consecutive offensive rebounds. Foothill Tech then began dealing from the inside, a neat dump-down by Shaun Taylor '22 for a Scofield layup was followed by a kick-out from Scofield to Falcocchia for an outside jumper. Scofield then returned the favor on a ditch-pass to Taylor, who drew a foul on the layup.
The Lancers attempted to stop the bleeding here, putting in a three-pointer and layup to bring the deficit to 33-17. The Dragons went 1-2 on two sets of free throws to end the quarter up 35-17.
In the final quarter, the Lancers were commandingly stamped out by Bartlett, who nailed three jumpers from an identical spot on the right-wing. A three-pointer by Thousand Oaks was matched by a dagger three from Ashley Kaller '23, giving the Dragons a 48-21 victory.
Coach Chuck Ferris was very satisfied with his team's performance, saying "the girls came out, they showed up tonight to play and everything we've been working on lately, they just executed really really well."
A 47-13 win over Santa Paula on Dec. 7 gave the Dragons their sixth win in seven games and Ferris gushed about his team's recent success, saying, "the five seniors that we have are providing leadership that is much needed, and our quote-unquote youngsters are just taking off, the teams coming together as one."