Girls' basketball dominates Senior Night and emerges victorious
On April 14, the Foothill Technology High School (Foothill Tech) girls' basketball team played their annual Senior Night game in a tribute to the seniors' last season. Loving friends and family members were scattered throughout the Buena High School gym as the team honored their seniors, Elizabeth Ferris '21, Abby Huynh '21, Caroline Connolly '21 and Andrea Castañeda '21 with heartfelt speeches and flowers. 
This Senior Night might not have gone as expected because of the COVID-19 restrictions, but the emotions and sentiment was still felt as the team shared their loving messages.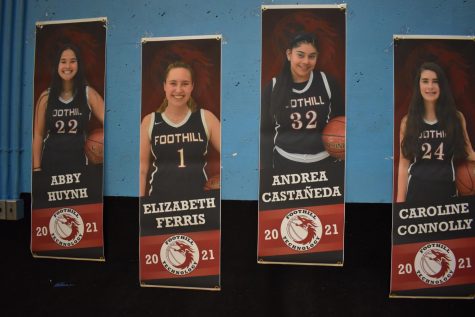 After the ceremony, the battle between Foothill Tech Dragons and the Rio Mesa High School (Rio Mesa) Spartans commenced. The tip-off was won by the Spartans, but Foothill Tech quickly recaptured the ball, with Chloe Scofield '22 sinking the first basket of the game. Starting off strong, the Dragons were able to score once more before Rio Mesa got their first points, bringing the score to 4-2. 
Foothill Tech controlled the game, getting 15 points before Rio Mesa was able to score again, with Cierra Marienthal '22 launching the ball from the defensive end of the court up to Castañeda for an easy layup. 
While Rio Mesa fought hard to catch up, the Dragon's defense was relentless, allowing the Spartans only 13 points by the end of the second period and scoring 35 in return. "We played really good defense, we played really hard, and it pushed us into a really good transition to offense," said Huynh.
The Dragons began the third period strong with a three-pointer by Marienthal. Rio Mesa attempted a counterattack, but Rome Falcocchia '22 denied their shot with a block, crushing their spirits. Olivia Huynh '23 won the ball from the back and dribbled her way up the court, passing to Castañeda for the shot, bringing the score to 42-15. 
Rio Mesa was able to slip in two baskets to counter including a three-pointer, but this did not shake the Dragons. Foothill Tech finished the game off as strongly as they started, giving them a satisfactory final score of 54-26.
Alex Jannone
This nostalgic and emotional match to honor the seniors was a successful victory for the Dragons. "It's definitely been a different, crazy season, but it's going well and I won't forget things," says Connelly.
According to Coach Ferris, the seniors have a huge impact on the team. He comments, "We're very lucky. We have four really great seniors and one of them is my daughter, so it's a little tough losing her this year. It's been a journey coaching all of these girls."
This game won't be the last for the senior Dragons. Foothill Tech will return to play on April 22 at Ventura High School against Westlake High School.