Boys' tennis handles Saint Bonaventure, wins 14-4
Hang on for a minute...we're trying to find some more stories you might like.
On a sunny day at Camino Real park, the Foothill boys' tennis team took care of business and dominated the Saint Bonaventure Seraphs 14-4. In reality, the team only lost one game but had to forfeit three games due to an absent player.
In the first game of the day, number one singles player CJ Haberbush '17 took on the number one singles player from Saint Bonaventure. After being down 5-1, Haberbush won five straight sets to force a tiebreaker, but lost 7-6. He would go on to win his next two games 6-0, 6-0.
Coach Brad McClain said that Haberbush "had a tough match that didn't go our way," but that he was very pleased with Yuvraj Narang '20 and Ethan Wang '20 who "plowed" the Seraphs' top singles player 6-3 and 6-0 respectively.
Wang won all three of his games on the day, 6-0, 6-0, and 6-3.
Narang also won all three of his games 6-1, 6-3, and 6-0. After coming back from a left wrist injury, he felt that he "played well enough to pull it out." However, Narang felt that he could have "volleyed a little better" because he had "a lot of opportunity at the net." Next match, Narang looks to "win as much as [he] can."
Number one doubles team of Dominic Dumont '17 and Noah Colby '17 swept 6-0, 6-0, 6-0 in what Dumont and Colby called "the royal bagel." Dumont felt that they "played well as a team" but like Narang, felt that they could have improved on their volley shots.
Colby thought they missed some easy shots "right on the net," but both Dumont and Colby agreed that they had great serving, with "only two double faults which is one of our better matches for us," Colby said. "Next match we gotta put those volleys away and move one step closer to CIF."
[soundcloud url="https://api.soundcloud.com/tracks/315742433″ params="color=ff5500&auto_play=false&hide_related=false&show_comments=true&show_user=true&show_reposts=false" width="100%" height="166″ iframe="true" /]
Number two doubles team of Peter Jespersen '18, Jackson Beckendorf '18, and substitute Jaden Carlson '18 won 7-6, 6-3, and 6-2.  The boys mutually agreed that "they didn't play very well," even though they won all three games, because they didn't play as well at the net as they wanted. Jespersen felt that they could have improved on their serves and McClain reiterated that, saying "we can always serve better."
"Overall, I was pretty pleased with how they played," McClain said. "The next match is going to be a good one." The Dragons will play Laguna Blanca who McClain said is "very good," but "this will be an interesting match to see how we match up."
About the Writer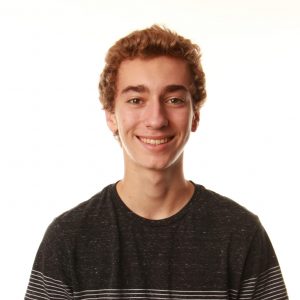 Jack Vielbig, Reporter
Third-year staffer with a love for penguins, semicolons, Heelys and Chex Mix.