Boys' tennis team triumphs in a close game against Villanova
On May 8, the boys' tennis team fought in a nail biting match against the Villanova Preparatory School Wildcats (Villanova) on their home court of Ventura College. After their first and only loss against Cate School the week before, the team was determined to battle hard for the win. 
"The tough loss, the tough matches on Wednesday, really against a good team, Cate," says Unchangco, "kind of helped us with our ego after winning so many matches in a row. We needed that loss to kind of bring us back to reality and humble us a little" 
The first singles games started off with Ben Wang '23, James Sokoloski '24 and Keitai Masuda '21 who were able to earn three points overall for the team. The first set was close for Wang, but Villanova won in a tie breaker and ended the set 5-7. Sokoloski and Masuda also lost their first sets with Sokoloski's final score being 6-1 and Masuda's being 6-0. 
After his first defeat, Wang made a strong comeback, sweeping the rest of his sets 6-0 and gaining two points for the team. Sokoloski's second set ended in a loss of 6-3, and Masuda lost 6-0. In the third and final round, Sokoloski came out on top with a score of 7-5 gaining the third point for the team. 
Masuda's final set ended in victory for the Wildcats with a score of 6-3. "I think I'm gonna learn a lot from this, but I think I just got in my head," comments Masuda after his loss.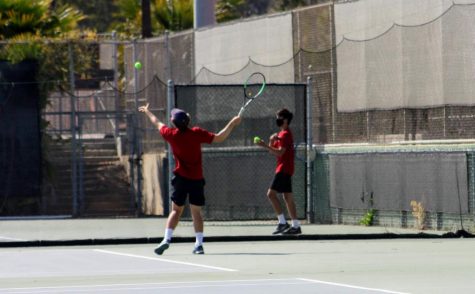 For the doubles, Eesh Manwani '21 and Pascal Hayward '23 started off strong, winning their first set 6-4. In their second set, they again claimed victory with a score of 6-2. They finished off undefeated in the last set 6-2. 
For Nikhil Masarang '21 and Akshay Shanbhag '21, things started out a little rockier. The pair were not able to win their first set, finishing with a score of 6-3, but quickly made a comeback in the next two rounds winning 7-1 in a tiebreaker, then again 6-4. 
Devin Franke '21 and Erik Hanson '22 had a strong, undefeated match with the scores of 6-1, 7-5 and 6-1.
With team support and determination, the doubles were able to gain eight points for the Dragons. "As a team I could tell there was a lot of support during these matches," says Franke, "as a whole, I am quite happy with the support that they gave me and my partner. I think they really gave me motivation to try my hardest and it really paid off." 
With the doubles earning a total of eight points, and with the three points from the singles, the Dragons triumphed over the Wildcats. The final score being 11-7, the Dragons will qualify and start preparing for the California Interscholastic Federation (CIF) Playoffs. "We just came from a loss on Wednesday, so our doubles really need to start stepping it up for CIF because once we go to CIF there's going to be way harder teams than these," says Manwani.
The Dragons will continue on to the league championships to face the Wildcats once again on May 12 at Villanova Preparatory School.