Ben Wang: Foothill Tech's tennis superstar
Ben Wang '23 has maintained constant hard work and undergone unique experiences to ultimately lead him to being one of the best nationally ranked tennis players that has ever attended Foothill Technology High School (Foothill Tech). Through being inspired by his father at a young age and starting tennis with high hopes, Wang has built his way up with a strong foundation of support, aspirations and diligence.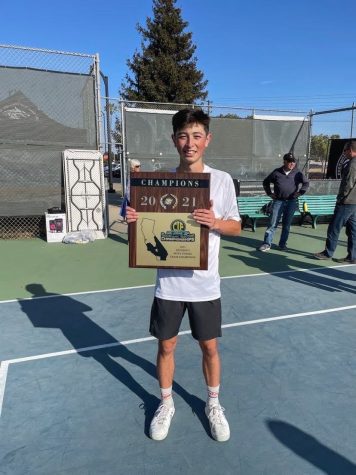 His tireless effort paid off in triumphant fashion this spring, when Wang was crowned the champion of the Tri-Valley League after a 2-1 victory on April 28, 2022.  Wang rematched rival Timothy Quest of Villanova Prep, his opponent in last year's league finals. Quest pulled off a come from behind victory in the 2020-2021 year, but Wang did just the same in return, winning the hard-fought match 6-7, 6-3, 7-5.
His dad, being a tennis player from middle school and on, inspired his first few steps on the court at a very young age. He started playing competitively, in tournaments, when he was around 6 years old. Thus far, his tennis career has been based in Camarillo and Ventura, being a member of the Pierpont racket club in Ventura, California. Later in his career, he joined the VTC (Ventura Training Center), located just outside of Camarillo. 
Wang plays line one singles for Foothill Tech, where he is looked up to by every player on the team. Head Coach Anthony Unchangco talks of the value that Wang offers to the team, "His contribution is more than just his play, his contribution also is his ability to coach and help others on the team improve." 
This contribution was on full display during the teams' California Interscholastic Federation (CIF) championship run in the 2020-2021 season, in which Wang led the team as just a sophomore, dominating line one singles to secure the prized CIF title.
Although he is known for his competitive spirit and staunch leadership through Foothill Tech's tennis team, his singles position isn't what he prefers playing when on the court. 
In the case of garnering points and helping Foothill advance through CIF, Wang has played singles; but outside of school play, he prefers to play doubles. From playing doubles with his dad from a young age, and making it his favorite style. While playing doubles around the Camarillo area, he caught the eye of the Bryan brothers, the legendary pair of Rio Mesa High School graduates who are now based locally. Twins, Mike and Bob Bryan, who ranked first in the world for 11 years, have devoted some of their time to coaching Wang and helping him get experience from their coaching and playing style.
Along with being his coaches, the Bryan brothers are also his main inspiration.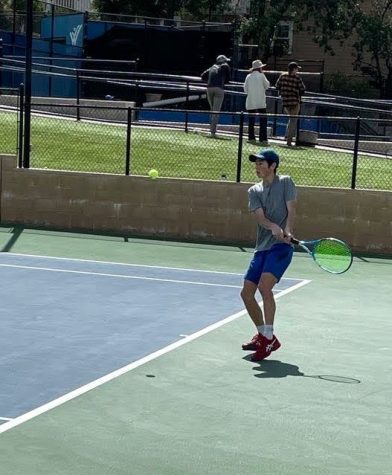 Other than having talented and high ranked coaches, he also plays with high ranked players. Recently, he had the opportunity to play with Frances Tiafoe, a top ranked player in the United States. He understands the importance of playing with different people and getting different opportunities. "I've met so many awesome people, so many professional tennis players, college players, so many awesome coaches," he says.
Wang also participated in the annual, notoriously competitive Ojai Tennis Tournament, where he ended up winning two rounds before suffering an unfortunate loss in the quarterfinals. Considering this tournament took place right after he had the flu, he knew he wasn't at his best and is excited to be able to play in it again next year, hopefully fully healthy. 
Struggles with his health struck again in the first round of his CIF matches following his league championship. After winning the first set 6-0 against opponent Micheal Cheng of Le Lycee School, Wang sprained an ankle and was forced to retire from the match after the second set, ending his campaign in the CIF Southern Section playoffs.
Wang is excited to improve and play tennis through the rest of high school.
Through daily hours of gritty workouts and frequent weekend tournaments, Wang has created a national tennis name for himself, allowing him opportunities to play with people from all over the world, at different age ranges and experience levels. Wang plans to carry his success through his high school career, into college and beyond.