Boys' tennis crushed by Cate in the third match of the season
On the cloudy afternoon of April 11, the Foothill Technology High School (Foothill Tech) boys' tennis team faced off against Cate School (Cate) at the Dragons' home courts, Ventura College. They lost 4-14 in this early season matchup, suffering their first loss in a season full of bright spots amidst uncertainty.
Foothill Tech has only played three matches this season due to unexpected rain and weather. Their first match was an upset of Camarillo High School decided by games, as the sets were tied 9-9. Their second was the opposite, a 18-0 set win over Bishop Diego High School.   Nonetheless, inexperience showed against a talented Cate team, and Foothill Tech's head coach Dan Fitzpatrick commented, saying they were missing "match toughness."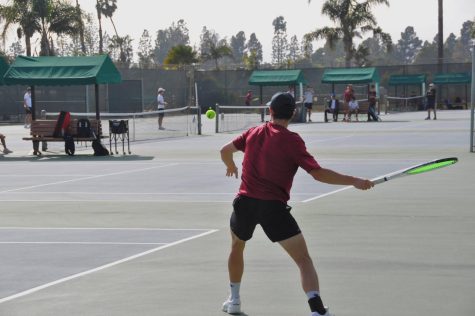 A massive bright spot for the Dragons was senior captain Benjamin Wang '23, who absolutely dominated all three of his single sets, winning all of them 6-0 against tough competition in Cate. Wang has yet to lose a game this season, taking all of his sets 6-0. Optimistic that the team can recover from this loss, Wang said "we are really excited for CIF, we are going to bounce back."
The doubles was where the Dragons struggled the most, perhaps being because they were down a doubles member so other players had to sub in. 
Pascal Hayward '23, a doubles player, had a different partner playing with him because usual teammate James Sokoloski '24 competed in a boys' volleyball match on the same day. Despite losing all three sets 3-6, Hayward was proud of his performance despite the circumstances; Hayward said, "Overall we played decently, we had pretty good chemistry, we just need to work on finishing."
Another doubles player for the Dragons is Ansh Joshi '26. He and his doubles partner Kiran Maserang '25 lost two sets and won the third. Joshi said "we just need to improve our overall game and our mental game."
The Dragons couldn't right the ship against the Thacher School on Thursday, April 13, the loss moving their league record to 1-2.