Blanca batters boys' tennis in 12-6 final league match
Focused faces and confident swings were the trademark for the Foothill Technology High School's (Foothill Tech) varsity boys' tennis team during their final league match of the 2022 season. April 19 proved to be a tough battle for the Dragons, but they played on through inconvenient wind conditions and intense sets. Striding through warmups at their home court, Ventura College, the team looked eager to battle their competition for third place in league: the Laguna Blanca School (Laguna Blanca) Owls. 
The first round of singles landed the Dragons a 2-1 lead, with James Sokoloski '24 and Shaurya Shyam '25 sweeping their sets 6-0. The doubles end of the tennis courts had more difficulty on the Foothill Tech side.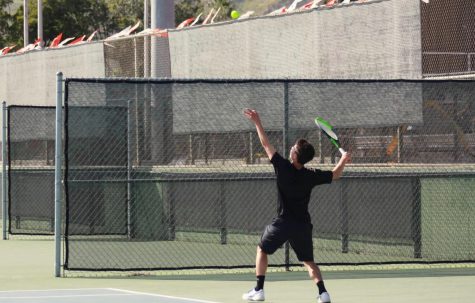 Luke Herrell '25 and Kiran Maserang '25 dug deep on their sets, losing two in a series of incredibly competitive games at 5-7 and 2-6 giving the Owls an advantage, but winning one 6-2 to add a point to their team's overall score.
Kieran Buxton '24 and Luke Sides '25 also faced very tough opponents from the Owls, taking difficult losses at 1-6, 2-6 and 2-6. The last doubles team faced a similar fate, consisting of Emiliano Ferro '25 and Preston Alford '24, who lost all three sets 3-6. These rounds led to Laguna Blanca pulling ahead again, but the Dragons did not let this discourage them from cheering on their teammates in the final rounds.
The last rounds for the singles were also precarious. Erik Hanson '22, having already surrendered his first set 3-6, would not be able to overcome the first loss and gave his last two to Laguna Blanca at 2-6 and 1-6.
It would be Sokoloski that reined in the clean sweep in his rounds for Foothill Tech, following his first win with another 6-0 and 6-3. Shyam would be another key player to put points toward the team total, by following his first set with a 6-0 win. 
Shyam battled the last game of the match ferociously, not giving up easily and showcasing his best strategic gameplay. The last game had both teams huddled together watching and cheering on their respective teammates, which made an exciting ending to the long match.
Though his efforts were genuine, the Owls got the better of Shyam, finishing their 12-6 win with a final set of 5-7. "I was really hoping to pull off all three, kind of had that goal in mind when I began," said Shyam, "I started like pulling my shots, playing a little bit less, so it got in my head."
Head Coach Anthony Unchangco gave a positive spin on the outcome of the day, saying "today's match did a lot for us…it forced some of our team, some of our players to really step up and you know contribute a little bit more than they normally do." He discussed the freshness of the team as well, foreseeing that with time will come confidence, "they just need the reps, and so I think that was the biggest takeaway from today."
The players on the boys' tennis team will have the opportunity to compete for individual league finals next week on April 26 and April 28, as they simultaneously prepare for upcoming California Interscholastic Federation (CIF) qualifying games.