Girls' Volleyball squeaks by Nordhofff 3-2 in season opener
In a home game that marked Foothill Technology High School's (Foothill Tech) return to fall sports, the girls' volleyball team pulled off a nail-biting victory against the Nordhoff High School Rangers (Nordhoff). The Aug. 18 game took place in the packed Cabrillo Middle School gym, filled with fans eager to set off the new year of Foothill Tech sports.
The game commenced with a pair of mini-runs from each team, with Nordhoff jumping out to a 3-0 lead before star sophomore Ashlyn Mullin aced three serves in a row to take a 4-3 advantage. 
A back and forth series ensued, highlighted by kills from starters Malia Juker '22, Rebekah Sokoloski '22 and Ashlyn Mullin. Starter Isabella Rodriguez '23 contributed two stellar plays with a setter dump and a monster block alongside Juker. 
The Dragons finally pulled away when they turned a 14-11 lead into 19-11 by capitalizing on the Rangers' errors. Multiple serves and attacks from Nordhoff that were called out gave Foothill Tech the momentum they needed to finish off the first game. Ashlyn Mullin and her sister Aubrey Mullin '21 inflicted the exclamation marks of the set with three kills to put Nordhoff away at 25-16.
Despite the resounding win to begin the match, the Rangers turned it around in the second set. Missed attacks from the Dragons led to a 10-4 deficit, but two bright spots came from a violent kill onto the back line from Juker, and a series when Rodriguez executed both the dig and the kill. 
It looked as if the Dragons' luck would turn around when they ripped off a 6-0 run to tie the game at 10-10, but Nordhoff held the rest of the game in a chokehold. Miscommunications and poor passing haunted Foothill Tech, and with a couple attack errors, Nordhoff took the second game 25-17.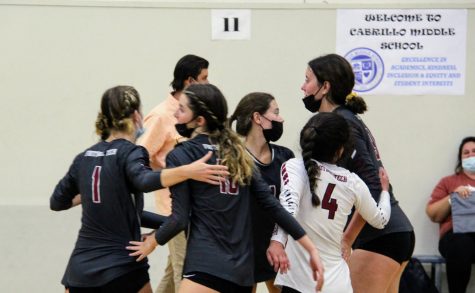 The back and forth nature of the first game returned in the third, culminating in a 6-6 stalemate. The tie was broken after an in-call on a Nordhoff attack was reversed, giving the Dragons a one point advantage which was quickly increased due to multiple kills from Ashlyn Mullin and Juker, and aces from Juker and Rodriguez. Errors from Nordhoff and a successful block from Juker and Aubrey Mullin gave the Dragons a 25-17 win in the third set.
Going into the fourth set with an opportunity to finish off the match, the Dragons came out hot behind Ashlyn Mullin who had a kill, serve point and ace to pair with two Nordhoff attack errors to give Foothill Tech a 5-0 lead. They maintained the four point separation due to a block from Juker and a highlight play from Aubrey Mullin who had a block, close pass and kill all in the same rally. 
After going up 9-4, the Dragons squandered their lead and never regained their momentum for the remainder of the fourth game. Nordhoff executed kills left and right, and the Dragons fell apart as their serves, attacks and communication all began to falter. The game finished 25-17, putting the Rangers in an ideal position going into the fifth and final set.
Undeterred by their lack of momentum, Foothill Tech hit the ground running, rapidly obtaining an astonishing 8-0 advantage on incredible serving from  Rodriguez, a kill from Ashlyn Mullin and tips from Sokolowski and starter Aimee Kidwell '22. Nordhoff mounted their comeback attempt by tearing off a quick 4-0 run, which Ashlyn Mullin put to rest with another kill.
From this point, the rest of the game was dominated by Foothill Tech's seniors. A block from Juker and Kidwell, and a kill and tip from Sokoloski set up the Dragons' game point. An attack error from the Rangers awarded the Dragons a 15-6 fifth game win, and a 3-2 victory overall. 
Head Coach Kris Gullat said the Dragons' keys to victory included, "the setters making good decisions in terms of where to go with the offense, and passing as always is huge."
After such an emotional victory to begin the year, both Kidwell and Sokoloski shared what this senior season means to them. "It's really exciting, it's kind of sad that we didn't get a full four years, but it's good that we get a good last season and we're all excited to play as seniors," remarked Kidwell.
Sokoloski echoed a similar sentiment, saying, "it was nerve wracking but really exciting and I'm just so thankful to be on a team with so many of my friends and so many amazing people."
The team will continue their non-league play throughout the next two weeks, including a tournament on Saturday, Aug. 28 at Oxnard High School.