Girls' beach volleyball defeats Providence 3-2
On the gloomy Thursday of March 9, Foothill Technology High School (Foothill Tech) girls' beach volleyball played against Providence High School (Providence) and took the win 3-2 in their second league match of the season.

Malia Sanchez

The matchup had an unfortunate start for Foothill Tech, as line one team Morgan Houston '25 and Malia Grey '24 forfeited due to an injury to the foot of Houston, automatically giving Providence the win.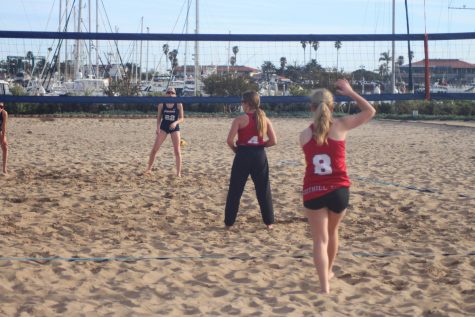 On line two, Ashlyn Mullin '24 and Loraine Corona '23 took the first set 21-17. After the momentum of the first set, they dominated the second and completed a leisurely win at 21-11. ¨Me and Ashlyn could have played better but we pulled off a win … I think we have a really good foundation," stated Corona regarding their performance.
With the overall score tied 1-1, Sara Stoney '26 and Lilac Reyes '26 played a grueling match to determine which team would take  the lead. They took the first set 21-10, but Providence began to gain back ground and won the second set with a close score of 19-21. In the tiebreaking 15-point set, Stoney and Reyes banded together to pull off a win at 15-11, securing the second win for Foothill Tech.
Emily Drucker '26 and Rylie Hannah '26 beat the opposition without breaking a sweat, taking the first set 21-9 and the second set in a similar fashion, 21-8.
With a lead of 3-1, Rhea Gill '25 and Jaelisa Lozano '26 played the final game of the day. The two took the first set at 21-5, but began to fall behind in the second, leading to a 10-21 loss. In the third and final game of the match, Providence immediately got ahead and, after missed returns from Foothill Tech, took the win at 7-15. "We weren't doing our best on serve receive, and after that we lost momentum," said Gill when reflecting on the final set.
Despite this Foothill Tech still triumphed, maintaining an undefeated record of 2-0 in league matches and continuing to 5-2 overall.