Girls' volleyball suffers loss in nail-biting fashion
On the muggy evening of Sept. 13, Foothill Technology High School's (Foothill Tech) girls' volleyball team faced off against the St. Bonaventure High School (St. Bonaventure) Seraphs for the second time in a week at Cabrillo Middle School. Following a tough loss in the previous match, the Dragons searched for redemption in a return to a 1-1 record against their rivals.
Early on, these hopes looked as though they would be fulfilled after an ace to start the game by Morgan Houston '25 jumpstarted the Dragons to a scorching 13-6 lead. However, the tides began to turn in favor of the Seraphs as they knotted the game at 19-19 before eventually soaring to a comeback 27-25 victory in the first game.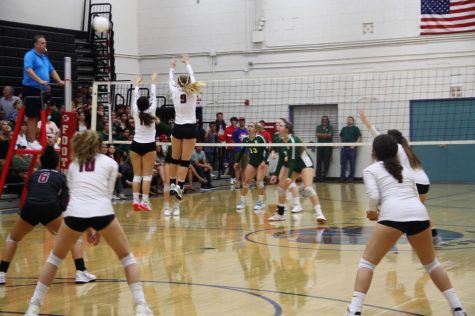 Following the conclusion of the match, Dragons' Head Coach David Benedik reflected on this first set, stating that, "the first game they were right in it, and it was a heartbreaking way to lose."
After this tight first set, the second set began in a similar fashion, as the teams found themselves knotted up at 10-10. After more back and forth, the Dragons hit a streak of kills, leading St. Bonaventure to call a timeout down 20-17. 
After this brief break, the Seraphs again stormed back into the lead and eventually clinched the win after a Danielle Bishop '23 attack landed just out of bounds for the set-clinching point. 
With two sets now clinched for St. Bonaventure, the Dragons took the floor for a third and final time, looking to avoid being swept by their rivals for the second consecutive game. However, these efforts proved futile, as St. Bonaventure dominated the start of the third set to the tune of a 19-8 lead. 
Around this time, disheartened Foothill Tech supporters began taunting chants of "daddy's money" directed at the Seraphs. St. Bonaventure remained unfazed, however, as they continued to dominate their way to a 25-13 victory, securing yet another sweep. 
As a whole, Benedik said that he felt, "really proud of the fight they had and their resiliency." This pride partly stems from the obstacles the team faced, as the Dragons took the court without two of their team captains as well as another regular varsity starter. 
The Dragons will be given another chance at redemption very shortly, as they will host Cate School at Cabrillo Middle School on Sept. 15. Going into this game and the rest of the season, Maycie Duston '23 expects the team to, "push more because we know our ability to … win those games if we had all of our players."