Girls' beach volleyball takes another win in nail-biting matchup against St. Bonaventure
Foothill Technology High School (Foothill Tech) girls' beach volleyball kept their undefeated league streak alive when they played on March 17 against St. Bonaventure High School (Bonnie) and won 3-2. 
Malia Gray '24 and Morgan Houston '25 played line one and easily took the first set 21 -11. In the second set the team had a strong start but Bonnie soon began to catch up, and the teams were neck and neck until Bonnie ultimately took the set, 24-26. The third set played out in similar fashion, with Bonnie winning the intense final game 12-15.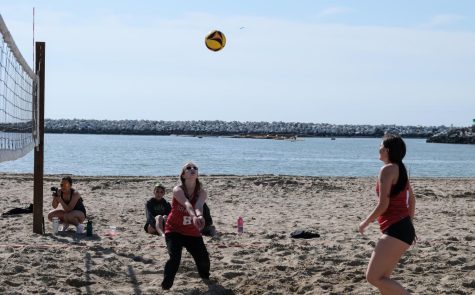 "We always do a really good job of supporting each other and working together and not getting down on ourselves but I feel like we just have to be a bit more aggressive and keep our energy and momentum up," said Houston on what went right and wrong during her game.
Line two consisted of Ashlyn Mullin '24 and Loraine Corona '23, who won the first set 21-13. The two took a loss in the second set 18-21 but recovered, crushing Bonnie in the third 15-4 to tie the overall score at 1-1.
Sara Stoney '26 and Lilac Reyes '26 on line three took a nail-biting loss 24-26 in the first set and another in the second 16-21, giving Bonnie the advantage in games by one point. 
Coming through on line four, Rylie Hannah '26 and Emily Drucker '26 took the first set 21-18. The second set was bumpier, and some mistakes resulted in a loss at 11-21. Determined not to let Bonnie win, the duo battled in the third set and won 15-6.
The score was now tied at two games each and the pressure was on the final line of Jaelisa Lozano '26 and Kaili Garret '24, but they breezed through the first set at 21-12. The crowd that had formed on the side cheered as they took the second set with a score of 21-15 and secured the team's win 3-2.
The next game will be a home competition against Viewpoint High School on March 22 at the San Pedro beach courts.