Girls' volleyball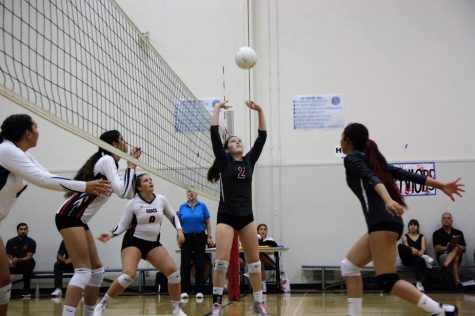 The Foothill Technology High School (Foothill Tech) girls' varsity volleyball team faced a tumultuous year, the team going 3-19 overall and 1-9 in the league. The team's three wins were against Nordhoff High School (Nordhoff), Grace Brethren School (Grace Brethren), and Knight High School (Knight), all of which were early on in the season.
They began with a relatively optimistic beginning of the season and took several wins early on which spurred much enthusiasm for the upcoming games. The team however could not keep up this play when the season closed out with an 11-game losing streak. This, however, did not slow the team's positive attitude as the girls worked closely together to fight through each game.
The team ended up 6th in the Tri-Valley League which led to an unsuccessful attempt at progressing into CIF play.
The team played their last home game celebrating the graduating seniors, and although they lost against their rivals, Grace Brethren, they still had a beautiful send-off for the graduating athletes Loraine Corona '23, Adrianna and Isabel Rodriguez '23 and Maycie Duston '23. With flowers and tears, the team celebrated these dedicated athletes and although this was followed with sadness by their fellow teammates, the underclassmen on the team promised a bright future for the team.
Comments on articles are screened and those determined by editors to be crude, overly mean-spirited or that serve primarily as personal attacks will not be approved. The Editorial Review Board, made up of 11 student editors and a faculty adviser, make decisions on content.