Deportistas Latinoamericanos
Latinoamérica ha producido atletas especiales llenos de determinación y talento extremo. Algunos han impactado más con relatividad aa su deporte. Las seguinte personas han cambiado el mundo de deportes en varias maneras. 
Julio César Chávez
Originalmente de México, Julio César Chávez empezó su gran carrera en boxeo profesional en 1980 a tan solo 17 años. En 1994 después de 89 victorias consecutivas, Chávez sorpementemente perdió su primer pelea después de 14 años contra Frankie Randall. La pérdida cambio Chavez's récord a 89-1-1 pero eso nunca desánimo a Chávez. Continuó peleando como si era invicto por el resto de su carrera. Término increíblemente con 107 ganos seis pérdidas y dos empates. Fueron un total de  85 nocauts en su carrera de 25 años. Durante su carrera Chávez ganó seis títulos mundiales en tres diferente divisiones. 
El gran récord de Chávez  le otorgó un espacio en la salón de la fama de boxeo en 2011 y también permanece con el título del mejor boxeador originario de México. Su nombre está entre los nombres de los mejores boxeadores del mundo.
Boxeo era una manera para que Chavez ganara dinero porque creció en la pobreza con hermanos y poco forma de ingreso. Su introducción al mundo de boxeo empezó su increíble influencia. La determinación que siempre posee es una característica de un modelo excepcional a todos los que están fascinados con el mundo del boxeo. 
Roberto Clemente
Roberto Clemente hizo historia cuando llegó a las grandes ligas de béisbol, siendo el primer latinoamericano en el MLB. Durante las 18 temporadas de Clemente en las grandes ligas con el equipo Pittsburgh Pirates, el puertorriqueño ganó varios trofeos y un impresionante promedio de bateo de .317, OPS de .834, 240 jonrones, y exactamente 3,000 hits en su carrera.
Clemente, uno de los mejores jardineros de derechos en la historia de béisbol, ganó los premios guante de oro 12 veces consecutivas, ganó dos series mundiales en 1960 y 1971 siendo el jugador más valioso en 1971 para la serie mundial y en 1966 en la liga nacional. 
Su histórica carrera no es la única razón que siempre será amado a través del mundo de béisbol. Algo igualmente importante para Clemente era la importancia de la comunidad y caridad. Siempre ayudo a personas que lo necesitaban en Puerto Rico, República Dominicana además de otros países en Latinoamérica. También organizó juegos de beisbol gratis para los niños necesitados, y su hospitalidad no paró tan solo ahí. Clemente abogo igualdad por latinoamericanos en la población activa. 
La admirable carrera y trabajo como  humanitario y beisbolista obtuvo la adoración de demasiadas personas y su muerte en 1972 quebró los corazones de muchos. 
Trágicamente, Roberto Clemente murió en un accidente de avión en ruta a Nicaragua después de un terremoto con la intención de proveer suministros de socorro. Su  legacia le ganó un lugar en la salón de fama de béisbol en 1973 también el mismo año cuando los Piratas de Pittsburgh retiraron el número de su camiseta. Clemente era un hombre de talento enorme con un corazón igual de inmenso siempre será recordado por su increíble carrera y trabajo humanitario. 
Pelé
Edson Arantes también conocido como  "Pelé" es un jugador brasileño de fútbol. Es considerado como uno de los mejore jugadores en historia, y por buen razon. Pelé creció en en gran pobreza. Ha explicado que en su niñez  solamente tenía un calcetín enrollado relleno de trapos para actuar como un balon de futbol. Desde los días de patear un calcetín enrollado por los calles de Bauru, Pelé demostró talento extremo por el deporte. 
Con el apoyo y guia de Waldemar de Brito, Pelé firmó con Santos, un club profesional, a los 15 años. Después de demostrar su talento inmenso cuando hecho más goles que ningún otro jugador en la liga esa temporada, el equipo nacional de brasil le dio cuenta de Pelé y el oficialmente entró al mundo de fútbol profesional cuando llegó al juego contra Francia para la copa mundial en Suecia en 1958. Desde ese dia, Pelé se convirtió a una superestrella de fútbol profesional a los 17 años. Pelé hecho un total de tres goles en un solo juego en los semifinales contra Francia y guió el equipo a un victoria en los finales. Era un gran realización para un futbolista tan joven.   
Resuelto que Pelé se quedaría un jugador por Brasil, el presidente declaró a Pelé un tesoro nacional. Los siguiente dos copas mundiales fueron un poco difíciles. Pelé no podría jugar los restos de los juegos en 1962 porque tenía una herida pero, su ausencia no desanimó al equipo. Brasil ganaron su segunda copa mundial consecutiva. En 1770, Pelé y el equipo llegaron a la copa mundial otra vez siguiendo el desastre de la copa mundial de 1966 para el equipo entero de brasil. La copa mundial de 1970, Pelé y el equipo regresaron en una manera renovada que no se pareció como de quatro años antes. Pelé metió cuatro goles en ese torneo que incluye el gol que metió en la final contra Italia para ganar su último cupia mundial 4-1. 
Pelé esperado a retirarse de fútbol in 1774, volvió a la cancha pero esta vez para un equipo nuevo. Empezó su carrera con los cosmos de Nueva York. Pelé terminó su carrera monumental  con 1,281 goles en 1,363 juegos total. En su carrera, Pelé llegó al copa mundial cuatro veces consecutivas con Brasil y ganaron el título de campeones tres de los cuatro veces. Era una carrera increíble para un jugador increíble.
About the Contributors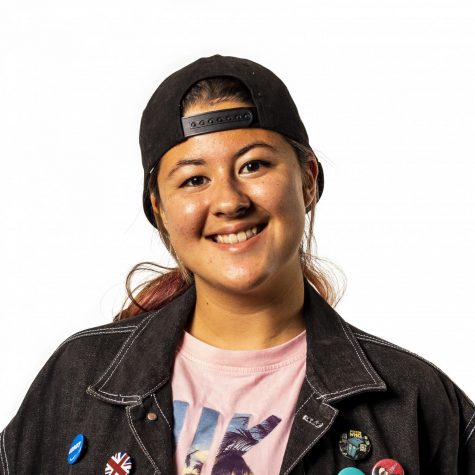 Lillian Li, Illustrator






Just a third year illustrator who loves music, character designing, and Dungeons & Dragons. Believes video games are a valid art form and...