El impacto de las mujeres latinoamericanas en deportes
Mónica Puig y Marta Vieira da Silva son dos ejemplos de diferente historias increíbles que demuestran el poder de las mujeres. Tienen logros distintos, pero las dos lograron vencer obstaculos dificiles para alcanzar sus metas.
Marta
Marta Vieira da Silva o simplemente conocida como "Marta" es una de las jugadoras de fútbol más reconocidas en el mundo. La Brasileña llegó a ser la mejor mujer con el equipo de Brasil, hizo historia cuando metió su gol número 17 en la copa mundial de la FIFA de este año. En tan solo cinco torneos, Marta acumulo 17 goles. Para ilustrar la importancia de su logro, ninguna mujer o hombre en el deporte de fútbol ha hecho lo mismo.
Su talento ha sido reconocido seis veces cuando ha ganado el título de la mejor jugadora del año de FIFA. Marta tenía una racha de ganar el premio por cinco años consecutivos desde 2006-2010. En 2018, Marta ganó el premio por la sexta vez, siendo la primera jugadora en ganar tantos premios.
Para llegar a tener un carrera tan asombrosa, Marta peleó sin cesar contra 
obstáculos y discriminación que ella enfrentaba. Desde el tiempo que empezó a jugar fútbol en las calles de Brasil con sus primos, discriminación la siguió, ya que el gobierno prohibía que las mujeres jugaran deportes desde 1941 hasta 1979. 
A los 10 años Marta participó en su primer equipo de solo niños, ella era la única niña porque su participación en fútbol era desaprobada. Otros equipos querían prohibir que ella jugara porque era mejor que el resto de los jugadores, y tal cual era una amenaza al equipo en contra. Esto nunca desanimó a Marta, ella siguió jugando y desarrolló su amor por el fútbol.
Marta no tomo oportunidades solamente para lograr su sueño de jugar profesionalmente, era la oportunidad para que ella proveerá para su familia que siempre tuvo dificultades económicas. Marta siempre se ha dedicado a ayudar a personas lo más que puede. A pesar de la adversidad y discriminación ella logró alcanzar su sueño. Por su dedicación a ayudar a otras mujeres, Marta anunció su posición de embajadora de buena voluntad de ONU Mujeres. 
ONU Mujeres es una organización que apoya a mujeres y niñas que luchan para sus sueños y la igualdad de género. Marta es la voz de apoyo para todas las mujeres interesadas en el deporte y es la razón por la reducción de la discriminación en la ciudad donde ella nació. Marta es un ejemplo de valor para niñas a través del mundo, y esas niñas tienen un gran ejemplo de deportistas que luchan por la igualdad, como Marta. 
Monica Puig
Monica Puig es la primera deportista a ganar la medalla de oro en las Olimpiadas en toda la historia de Puerto Rico. Su logro en las Olimpiadas de 2016 en Río de Janeiro fue una historia muy inspiradora. 
Entrando a los Olimpiadas, la puertorriqueña clasificaba en el número 34 en el ranking mundial de mujeres que juegan tenis profesionalmente. Sus probabilidades de ganar contra las jugadoras más poderosas en el mundo eran extraordinariamente bajas. Pero, eso nunca la desánimo, al contrario, ella usó sus adversidades como motivación para ganar. 
Fue un gran juego gracia a toda la emoción, dedicación, y fuerza que Puig demostró. La medalla de oro no solamente hizo historia para Puerto Rico, también abrió las puertas para crecimiento como humanitaria y ser la inspiración para atletas alrededor de Puerto Rico. 
Sus logros no solamente incluye la medalla de oro. Después del huracán de categoría cuatro que devastó a Puerto Rico en septiembre de 2017, Puig puso inmensa dedicación a recaudar fondos para las residentes de la isla. Puig empezó una página de donaciones con el objetivo a ganar $25,000. Ella excedio su objetivo y aumentó a casi $200,000. Con el dinero ella proporcionó insulina para hospitales, lámparas y más recursos para los que lo necesitaban.  
"Tennis is so small and life is so precious," Puig dijo en una entrevista cuando preguntada de la importancia de tenis durante ese tiempo difícil. Con mucha emoción ella dijo que la vida es tan preciosa mientras que tenis es algo tan chico en la vida. 
Puig demostró un montón de dedicación al juego de tenis y a su ayuda a Puerto Rico y por eso ella esta conocida como una de las mejores ejemplos en Puerto Rico en años recientes.  
About the Contributors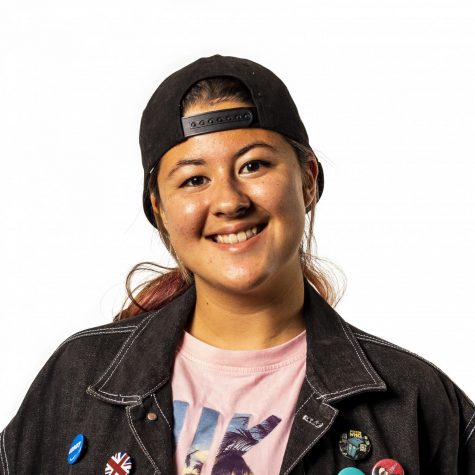 Lillian Li, Illustrator






Just a third year illustrator who loves music, character designing, and Dungeons & Dragons. Believes video games are a valid art form and...