On Nov. 2, 2023, Foothill Technology High School (Foothill Tech) held a Día de los Muertos event for students and their families to commemorate loved ones who have passed away and to feature Latine culture and traditions on campus. The festivities were organized by the Be Heard club, who hosted the function on the night of the holiday.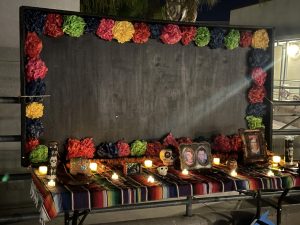 The evening started with lively Hispanic music that invited the guests to the quad, where the activities resided. Decorations and tables were set up with vibrant marigolds, skull themed decor and papel picado (perforated paper) representing traditional Día de los Muertos symbols and themes.
On the stage, an Ofrenda was set up with pictures and candles to honor deceased loved ones. An Ofrenda is an altar that embraces the commemoration of friends and family who have passed away, highlighting the main focus of the holiday.
Some students stressed the importance of the tradition, emphasizing that it is a joyful day to remember the deceased, not a mournful one.
Jaylene Hernandez '24, Be Heard's president, spoke on what Día de los Muertos means for her, explaining that she can, "Celebrate the life they lived and not mourn the death they had," then going on to say that everybody can celebrate the holiday.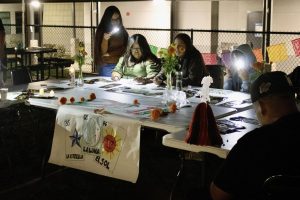 "It's not just the Hispanic culture that can celebrate it, everybody can celebrate it and it is a day of remembrance for those who have passed … it's just a good day for everybody to come together no matter who they are and just celebrate life," Hernandez claimed.
Traditional foods and beverages were available through the purchase of tickets, with each ticket equating to $1. The club sold Pan de Muerto paired with hot champurrado, along with tamales and water.
The gathering offered a variety of activities that represented the customs of Día de los Muertos and Latine culture. Stations with face painting, dancing and games of lotaria were spread throughout the quad as different activities that guests could participate in. Additionally, guests were able to engage in a raffle by purchasing tickets.
As the night almost came to a close, baile folklorico dancers entertained the guests with a traditional Mexican style of dancing. The performers excited the audience who applauded their culture enriched talents.
"
Celebration of the dead is remembering the people that we loved.
— Rosa Vorba
Incorporating the celebration on campus was important for a lot of students, Be Heard club member Maia Chavez '26 expressed, "It raises awareness about the different cultures that we have here." Chavez emphasized the importance of celebrating different traditions on campus, acknowledging the multicultural demographic that Foothill Tech embraces.
The night wrapped up with the raffle prizes and a speech to thank the guests for coming to the event. As the guests slowly cleared out, the evening ended with the remembrance of loved ones who have passed, but have not been forgotten.
Sofia Patiño