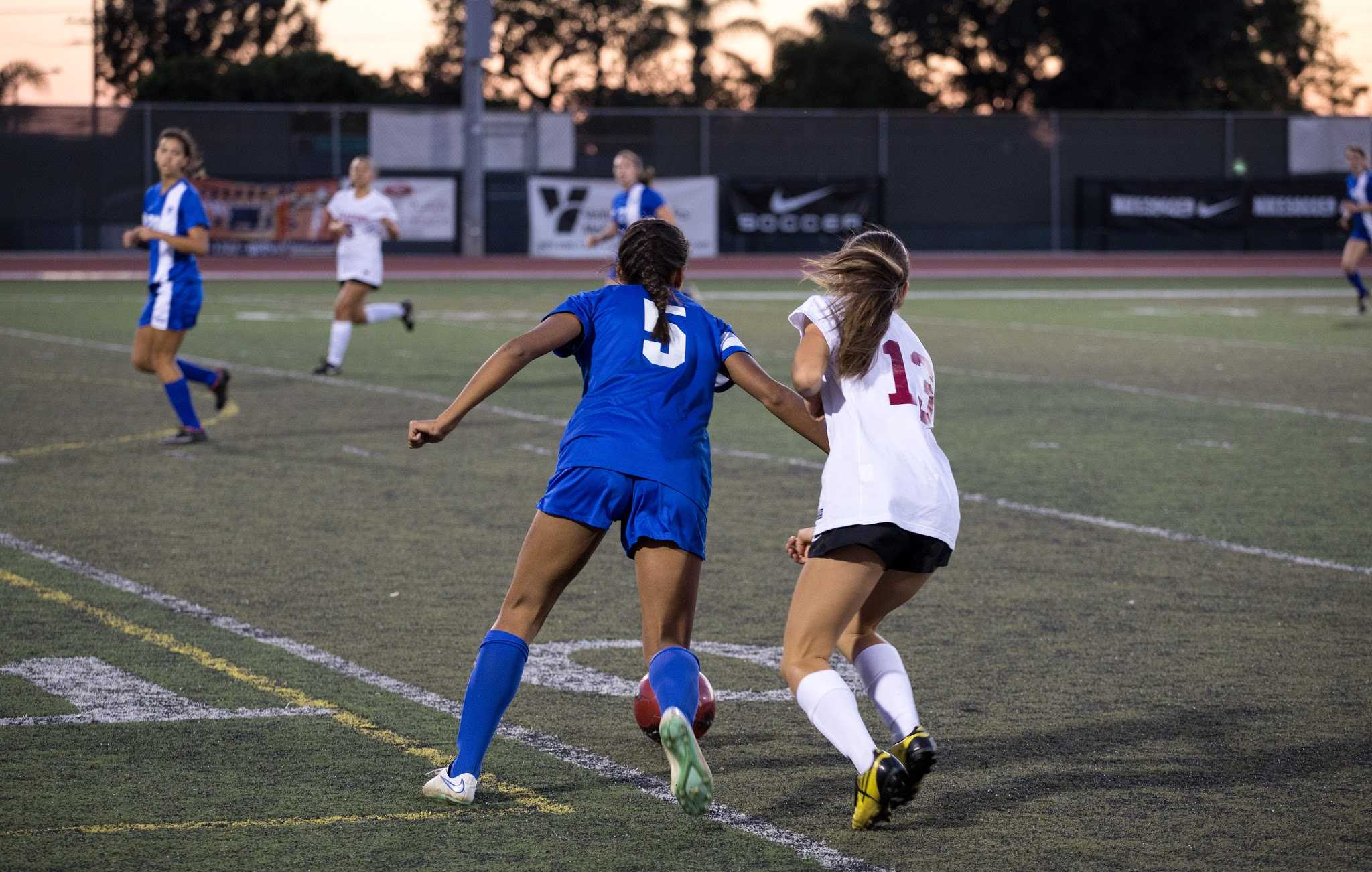 Students, siblings, and parents equipped with sunglasses and umbrellas to block out the rays of sun beating down on the stadium Thursday afternoon all took their seats in the stadium. The Foothill girls' varsity soccer team broke their huddle and ran out onto the field at Ventura College, ready to face Cate School.
In their last home game, Foothill defeated Cate School with a final score of 3-0.
The beginning of the game did not entail much action.
Senior and player Josselyne Pereda said afterwards that "we [the team] didn't start off on our best foot for the first half, but we definitely picked it up second half."
Gwynnie Redemann, Foothill freshman, did manage to take the ball down the field with the help of her teammates and score the first goal of the game with 23 minutes left in the first half.
Redemann had the only goal in the first half, leaving the score at 1-0 when both teams huddled up to regroup themselves during half time.
They players felt that they did a much better job after half time.
[soundcloud url="https://api.soundcloud.com/tracks/191053059″ params="color=ba2323&auto_play=false&hide_related=false&show_comments=true&show_user=true&show_reposts=false" width="100%" height="166″ iframe="true" /]
"We really cleaned it up in the second half," said freshman player Olivia Morales.
Coach Analiese White felt that in the second half, Foothill really stepped up their game.
"They're picking up their momentum getting ready for playoffs. They're moving the ball really well and using the width of the field and made a lot of adjustments at halftime so it worked out for us," said White.
Morales scored Foothill's second goal with only ten minutes left in the game. Only a few minutes, later Morales made it down the field once more and passed the ball off to Redemann for Foothill's third and final goal.
The Foothill goalie, Eden Hoover, who is substituting while sophomore Alex Cohen takes some time to recover from being kicked in the jaw in the previous game, had more than five saves during the second half.
The final score of the game was 3-0, Foothill's victory.
This game was particularly unique, though. Not only was it Foothill's last home soccer game, it was also a night to honor the seniors on the team. Seniors Lea Menesklou, Mckenna Cole, Anika Hernandez, and Josselyne Pereda were each announced as they walked down the aisle of players. Each received Foothill-colored balloons, a plaque, and cheers from parents, coaches, and teammates.
Coach White is extremely proud of this team and has seen an immense amount of growth in them.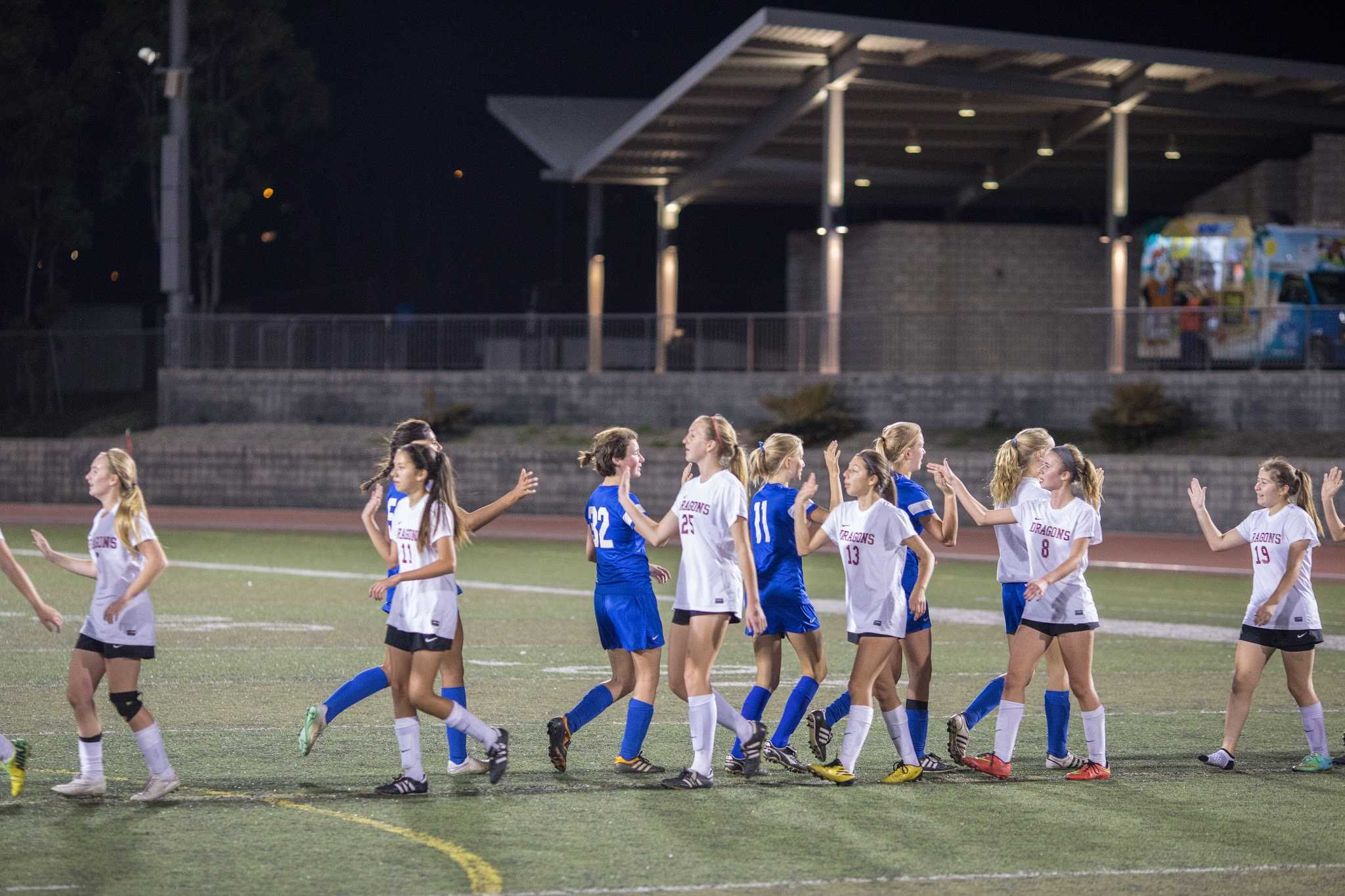 "Their ball handling skills have picked up and then tactically they've learned plays, to use each other, [and] to communicate. It's just all come together nicely," White said. "They're very united.They've got big hearts, they've got good character, they're highly intelligent and they're very funny."
Morales agreed with White, and described her team as "really funny and loving and caring."
"I just love them a lot," Morales said.
The players also feel that they have grown physically and emotionally from being a part of this team.
Morales and Pereda both agreed that their fitness level has improved greatly and they made some great friends from this experience.
"They've just made me almost a nicer person and the girls have actually made me, I feel, more outgoing. I feel like I've gained a lot, definitely skill-wise as well. I'm a lot faster than I was and my game has just grown," said Pereda.
However, the girls' season is not completed yet.
Foothill girls' soccer made it to the playoffs. The schedule is currently tentative, but White believes the first-round game will take place on February 19.
"We find out on Sunday the seeding and who we're playing and where we're going to go," said White.
Many other established teams are done with their soccer season, but Foothill's girls' soccer team, as a first-year team, will be making history for their school as they enter the first round of playoffs.
[soundcloud url="https://api.soundcloud.com/tracks/191054158″ params="color=ba2020&auto_play=false&hide_related=false&show_comments=true&show_user=true&show_reposts=false" width="100%" height="166″ iframe="true" /]
"We had the cards stacked against us from the very beginning and we were highly underestimated and they didn't let that be an excuse for not succeeding […] they worked very hard," said White.
……………………
Background Photo Credit: Austin Hunt/The Foothill Dragon Press