The stands at Irvine High School were filled to capacity Saturday as excited parents, peers, and spectators gathered under a stormy sky to watch the Foothill girls' water polo team's fight for the title of CIF Division VII champions. In their first inaugural year of sports, the Foothill Dragons took home the trophy against the Hillcrest Trojans with a score of 10-7.
In the first quarter, Hillcrest dominated as the first point was made by the Trojans 15 seconds into the game. They continued to prove themselves as a difficult opponent as block after block was made by Hillcrest's goalie. With one minute and 21 seconds on the clock, the Trojans made another goal and the first quarter ended 0-2 in their favor.
Captain and senior Ariana Singer saw this is as a time for the team to step up and play harder.
"It was nerve-wracking, obviously. I was just thinking that we really need to step up our game and start playing a lot harder and play the game that we know how to play rather than going down to their level and let the nerves take over," Singer said.
In the second quarter, Foothill bounced back as Singer made the first point for the Dragons 15 seconds into the game. Half a minute later sophomore Meagan McKillican scored a goal and within 50 seconds, the score was tied 2-2. Sophomore Lezly Plahn then shot a penalty goal for Foothill and after an attempt, McKillican made another goal with four minutes and 13 seconds on the clock. Freshman Josie Thorp scored for Foothill a minute later and Hillcrest finished the quarter with one more point, bringing the score to 5-3 in Foothill's favor.
Within the first two minutes of the third quarter, Foothill scored another point. Senior Annie Sinclair scored with two minutes left followed by a goal from Hillcrest only to be returned by Singer within the last 59 seconds of the game. The quarter ended with the Dragons in the lead 8-5.
The last quarter began with a score from Hillcrest but Sinclair quickly retaliated with a point three minutes in and Singer scored a penalty shot seconds later. With 33 seconds left on the clock, the Trojans made a penalty shot, leaving the final score at 10-7, giving the Dragons the victory and the title of league champions.
Each player was then congratulated and a plaque was bestowed upon the team as the crowd erupted into cheers, the first CIF win in Foothill Technology's history.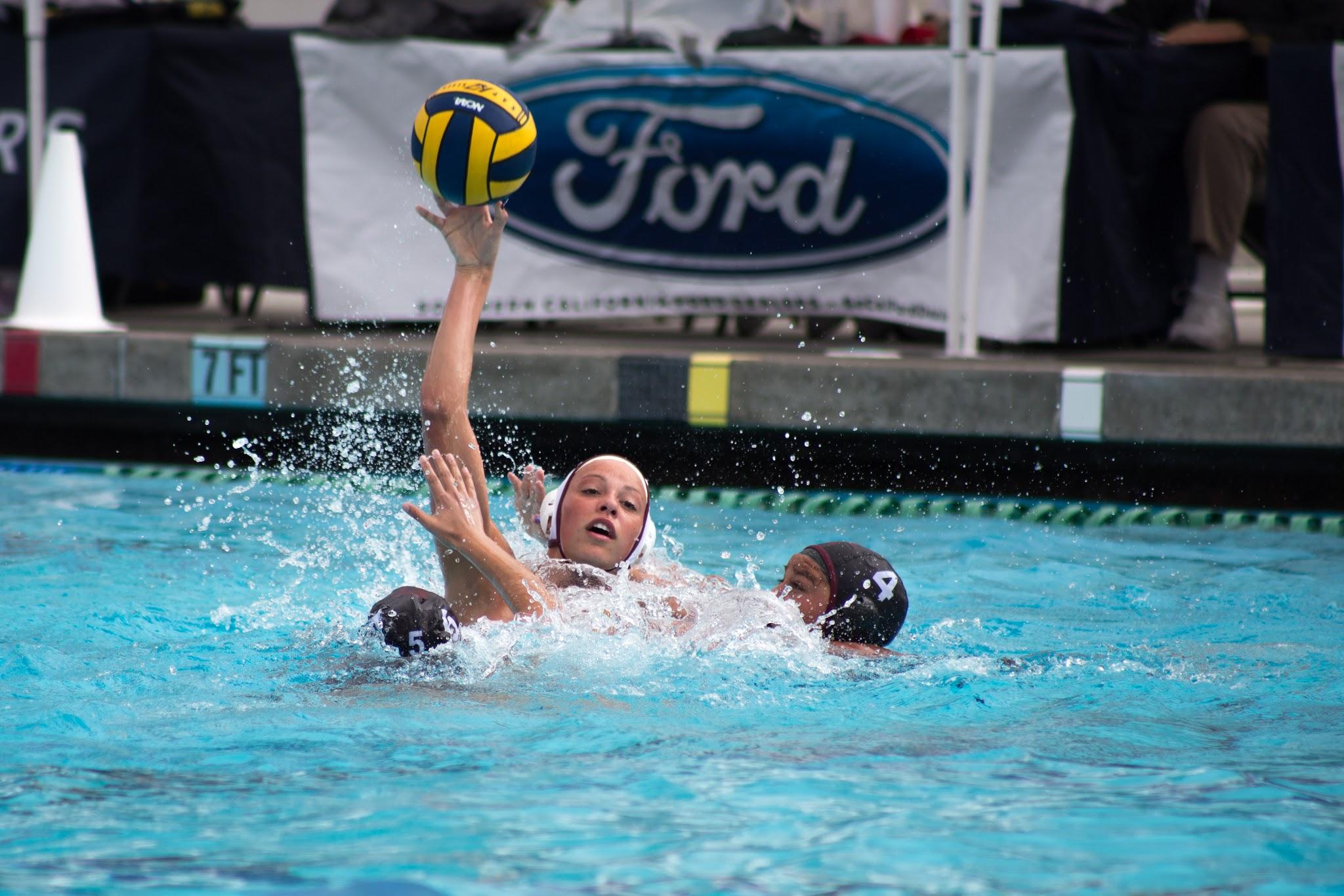 Captain Ariana Singer was honored to be part of the team that blazed the path for future Foothill sports.
"It feels pretty amazing making history, setting the tone for the rest of the time ever of having sports. It's just an amazing experience," Singer said.
Coach Samantha Ebberson compared the feeling of winning to the likes of a "kid in a candy store" and expressed her gratitude for the dedication of her players.
[soundcloud url="https://api.soundcloud.com/tracks/193613377″ params="color=9d3d0d&auto_play=false&hide_related=false&show_comments=true&show_user=true&show_reposts=false" width="100%" height="166″ iframe="true" /]
"[This win] means everything. These girls have worked so hard and they put in every single day and moment and practice, they tried hard and they saw the outcome and they saw the title behind them and they just wanted it and they got it and for me, that's the [biggest] blessing I could have ever asked for," Ebberson said.
GOOD JOB GIRLS! So proud to be a part of #FoothillSports! CIF champs their first year that is astonishing. #LadyDragons #FearTheD

— Nick Vaughan (@nickvaughan20) February 28, 2015
  Junior Vanessa Villalpando also sees this win as a reward for the hard work the team put in all throughout the season. "Oh my gosh, it means everything; that every hit, every foul, every ejection that we got is worth it. All the hard work, all the swimming we had to do, all the extra stuff paid off," she said.
        [soundcloud url="https://api.soundcloud.com/tracks/193612570″ params="color=993707&auto_play=false&hide_related=false&show_comments=true&show_user=true&show_reposts=false" width="100%" height="166″ iframe="true" /]          
Senior Annie Sinclair credits Coach Ebberson for continuously supporting the team and leading them through an undefeated season. "Our coach always gives us little talks. She just told us she believed in us and we can have it, we can do it, they're beatable," Sinclair said.
  ……………………
Principal Joe Bova understands the high standards already set by the girls but also believes that a team's bond is just as important as the trophy.
"Well, it's going to be high expectations for next year; how do you top this, right? So I think just to continue to work to be excellent and to improve on what they did this year and be back here again next winter," Bova said.
"But more than that, the things that are so important about athletics aren't necessarily winning championships but bonding more as a team and learning the valuable lessons you learn from athletics," he said.
Indeed, it was the team's unity that really motivated the team throughout the season, Ebberson believes.
"From the beginning of the season they were all about 14 individuals out there and today they looked like one team. They didn't look like an individual, they looked like they were fighting for each other," Ebberson said.
As for sophomore Lezly Plahn, she's most excited to come back next year as a team and triumph once more.
"I'm excited to win CIF again. I'm excited to go out there again and kick some butt."
Background Photo Credit: Austin Hunt/The Foothill Dragon Press
Storify Credit: Canela Lopez/The Foothill Dragon Press