Staff and students watched eagerly as the Foothill softball team dominated Bishop Diego High School on Thursday at the Ventura College fields. The Dragons defeated Bishop Diego with a score of 8-1.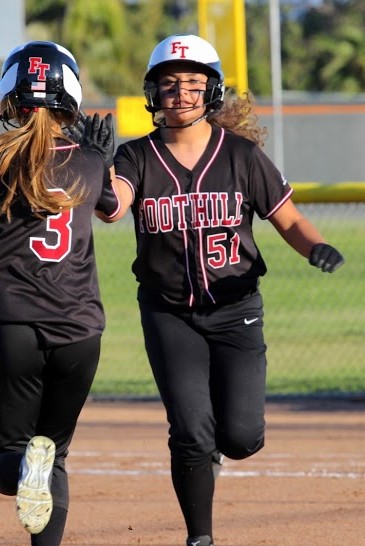 Bishop Diego was the first team at bat, but Foothill immediately shut them down, throwing three immediate outs. Senior Monica Mendoza batted first for the Dragons, and started the game off strong, hitting a double. She became the first player to score, off of teammate freshman Jade Iannacona's at-bat. Freshman Jessica Mendoza followed up with a walk, or a free pass to first base, and scored off of a single from teammate freshman Lily Hargett. The inning ended with a score of 2-0, Foothill in the lead.
To Head Coach Priscilla Rouse Becker, this was the most important play of the game.
"I think that really pumped up our hitting. That, I think, just generated a lot of energy, because I think a lot of this game is just the energy that you put out," said Becker. "I think that series of big hits was a good way for us to grab some energy to take throughout the game."
Foothill again shut out Bishop Diego in the second inning, only allowing one player to get on first base. Monica Mendoza and Iannacona then scored one run each at the bottom of the inning, bringing the score to 4-0.
Both teams went scoreless in the third and fourth innings, but Foothill surged even further ahead in the fifth. Sophomore Julie Knowles, freshman Taylor Escobar, and Hargett each scored a run, bringing the score to 7-0 in Foothill's favor.
Bishop Diego was shut down again in the sixth inning, while Dragons Jessica Mendoza and Knowles scored a run each, cementing Foothill's score at eight runs.
[soundcloud url="https://api.soundcloud.com/tracks/194624061″ params="color=b30000&auto_play=false&hide_related=false&show_comments=true&show_user=true&show_reposts=false" width="100%" height="166″ iframe="true" /]
It was in the seventh and final inning that Bishop Diego managed a single run, but a final outfield catch by Escobar sealed the game and gave Foothill the win, with a final score of 8-1.
Escobar's catch stood out to sophomore and player Talia Temkin as the most exciting play of the game.
"The last thing I remember was Taylor [Escobar's] catch in the outfield, because that was it, that was the third out, it was beautiful," said Temkin.
Though Temkin only played the first inning of the game, she noticed the uptake in energy from her teammates.
"[The game was] super, super great! The girls really worked it. I only played the first inning, but their minds were in it today. It was really great to watch them play out there," she said.
Senior and co-captain Shelby Esparza also noted that her teammates "stayed disciplined," and hopes her personal positivity will help keep the team in high spirits.
"I wasn't really one for cheering and stuff, but obviously the girls cheering has really affected them. […] When I'm down, they're down, so I'm going to try to be more positive," Esparza said.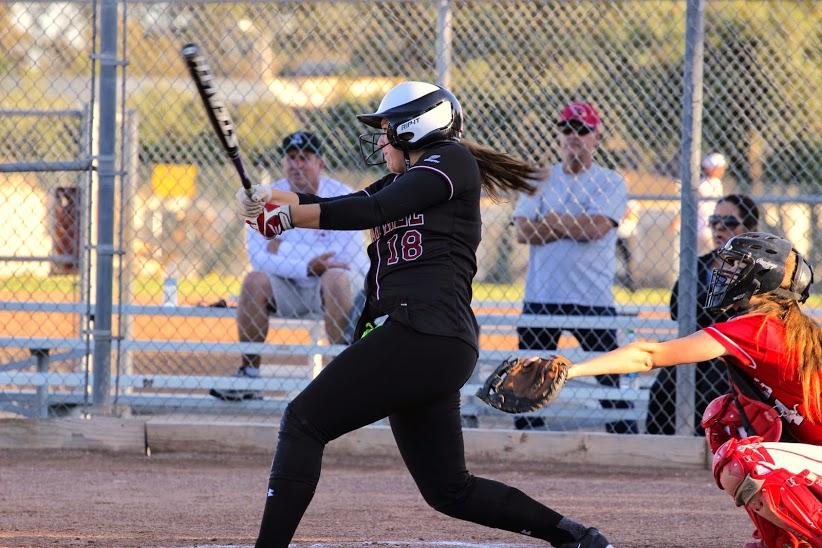 Coach Becker believes the team played well, and that the game was an important step in improving their "mental toughness."
"[W]e're working on our mental toughness, so if something happens, we don't let it break us so we can't recover, or [let it] become a rippling effect," said Becker. "We want to have it so if someone does make a mistake, […] we want them to be able to bounce back, to be resilient. So one of the key words is 'resiliency.'"
Becker saw an improvement in the team's error count. In the previous game, the team made, according to Becker, around ten errors, and several of them in a row. By contrast, the Dragons made only three against Bishop Diego, and by "the next pitch, [they] were strong again."
Becker feels some pressure for the softball team to excel, especially since other sports have been successful, but more important to her is how her players grow over the season.
"I'm looking forward to having the girls grow and develop, each and every one of them, and be able to acknowledge the fact that 'Gee, I grew. I got better. I am better because of this experience,'' said Becker. "I think that's my job. My job is to help them become better athletes and better people all around."
Temkin takes heart in Becker's reminders that she and her teammates are representing Foothill, and looks forward to enjoying the first season of Foothill softball.
"[I'm looking forward to] playing the game, and watching everybody have fun with it, and going out and doing our best, and representing our school," said Temkin. "This is history, man! I just love representing the Dragons."
……………………………….
Background Photo Credit: Rachel Horiuchi/The Foothill Dragon Press