Melissa Gutierrez '04: thanking Foothill for her success
Hang on for a minute...we're trying to find some more stories you might like.
"If I had to put it in one word: amazing," thirty year-old Foothill alumna Melissa Gutierrez says of her time in high school. "My experience at Foothill was just fun," she said.
Gutierrez may think fondly of her high school days now, 13 years after her graduation, but it did not start out that way. In fact, back when the class sizes were around 87, first-year contracts were required, and the school functioned in portable classrooms, her feelings were just the opposite.
"I didn't have a choice," she said, recalling that she, along with the majority of the first full graduating class, were forced to attend Foothill, and planned to "bail out after the first two weeks." The main reason she attended Foothill was not because of the academic appeal it may yield now, but because, at the time, her father was the director of facilities at the Ventura Unified School District.
"So, he knew what was going on with this new school, and he was like 'I don't care, you're going. This is going to help you in so many ways academically, blah blah blah,'" she recalled.
For today's students struggling with the same issue, she offers the advice: "Don't fight something. Instead, try to make the best out of it. Instead of seeing the negative aspects of it, try to see the positives, and then see what you can work with."
That's exactly what Gutierrez needed to do to find her niche at Foothill. She found it when she decided to "drop my attitude" and instead start thinking "I'm going to get involved, I'm going to try to make the best of this situation."
And boy, did she get involved. In her high school years, Gutierrez was a member of the Associated Student Body (ASB), Yearbook, and journalism, on campus, while playing basketball for Ventura High School off campus. She feels that "those types of experiences helped me make a connection with the school I went to."
In ASB she served as ASB President her junior year and Senior Class Vice President her senior year. She was a photographer for the Yearbook class, and focused mainly on activities outside of school, like dances. She was only a staffer for the Foothill Dragon Press for about a semester, but while she was there, she mainly did pieces on extracurricular activities like sports.
She also commuted to Ventura High School almost daily to play basketball. There, her team won the California Interscholastic Federation (CIF) championship her sophomore year. She still has the ring.
In all of these programs, Gutierrez "felt like I was a part of something," and "learned the importance of getting involved." She is thankful to have participated in these programs not just because they made high school fun, but also because "all the stuff that I learned from my extracurricular activities has helped me today."
By the time she was a senior, she had become a fully immersed in activities both on campus and off, which helped her to enjoy her time at Foothill that much more.
One of her favorite memories was speaking at her class' graduation. The Class of 2004 was the first to attend Foothill for all four years, freshman through senior, and, according to Gutierrez, the class "went through the rut of it." She remembers talking about "the path of the unknown" in her speech, and how "we don't know where going, but we have the tools, so let's use them wherever we go."
She recalled that, even though they had suffered through class in the portables and crossing the ever-busy Day Road, they "made it through" having acquired the tools for success.
She took these tools with her in her post high school career, both academically and athletically.
"By going to Foothill I was ahead of the game," she said, " I knew how to use PowerPoint, I knew how to use Excel, I knew how to use Word. I was up to tasks with all of that stuff."
She remembers taking a summer course at Ventura High School and shocking the teacher with her use of technology on an assignment. Foothill's classes like EDA (Education in the Digital Age, a class that was a Foothill staple until recently) were helpful because "when I went to college I had all of those technological tools," like the ones she used on the assignment in her summer course.
Additionally, "something that Foothill helped me to be ahead of the game in was studying," Gutierrez said, admitting that she wishes she did more of it in high school. "I knew how to study," she said.
Another thing she developed in high school was note-taking skills. "I am the best note taker, and I pride myself on that," she said. "Foothill taught me how to take notes, the right way to take notes." With the teachings of Foothill in her back pocket, she "continued with those methods all the way through college."
She's also developed a comfort with public speaking, which she now uses on a daily basis.
In her post high school career, she pursued several paths before she "fell in love" with kinesiology. Directly after high school, she attended Santa Barbara City College, which she said is the number one community college in America.
Initially she was a communications major because "I thought about broadcasting and going into that field with media." That later changed to liberal arts, when she decided to pursue the idea of being an elementary school teacher. It wasn't until she attended a human performance class at California State University Monterey Bay that she found her true passion: human movement, which she planned to pursue in her following year at California State University Northridge.
"I love to move,"she said "I love exercising, it's just like part of my daily thing." So, when she discovered that she could major in movement, she knew it was where she belonged. Throughout all of her college career, through all of her changing schools and studies, she remembers that "basketball, it followed me my entire time."
At first, she was unsure whether she was going to play basketball at SBCC or not. She ended up playing and "had a great basketball career." She remembers it being "even greater than I had a high school career."
"I started every game, made all-conference, made all-state," she said humbly.
Her successful two years at SBCC brought her to CSUMB, where she continued to play basketball on a partial scholarship. She played at CSUMB for a year before realizing "coldness is not for me," and transferring to CSUN,  where she attained her masters degree in kinesiology.
She is currently a recruiter for the women's basketball team at SBCC and teaches a spin bike exercise class there. She is also a professor at California State University Channel Islands, where she teaches a lecture class about wellness and exercise.
Sometimes, she recalls the way her teachers at Foothill taught their subjects, and takes that into account when planning her lessons.
"One of the things that I loved at Foothill was the interactive type of learning, so the hands-on," she said, "I really enjoyed that as a student."
Her spin class is different from her lecture class because "you have to be active." In her course at CSUCI, she knows "I could have my students sit down the entire three hour lecture class," but she decides not to do that. Instead, "we get up and we move." They'll do things like get up and go for a walk, " just so that it's interactive, and that's what I got from the teachers at Foothill."
Another quality she noticed in Foothill's teachers that has transcended into her own teaching is the focus on the students.
"You never knew if they had a bad day," she said. "They always came in prepared, ready to teach, full of energy and that's what I do in my class." She remembers that "they were very student-centered," so now "I'm very student centered."
She also remembered that her teachers at Foothill "all have a willingness to help." She remembered the times she bombed a test or struggled with a topic, and how a teacher's reaction was to offer their help. "'Well come in,'" they'd say, "and 'let me teach you' and 'let's sit down,'" she recalled. Because of this, she now finds it important to "take time to meet students and to help them to learn the material and get back on the right path."
Now a wife and mother of two, she looks back at Foothill with a smile. She's already beginning to plan out where her oldest, seven year-old Gavin, will attend middle school and high school, "and he better get into Foothill," she said.
For now, she's having fun with her children and enjoying being a wife and mom in every way possible. Both Gavin and her two year-old daughter Isabella are annual pass holders at Disneyland, which, for Melissa, is her "getaway."
She loves taking her kids to Disneyland and the beach, but, above all, she loves to exercise. "I love working out and that's enjoyable to me," she said "It's my stress reliever."
In both her experience as a teenager at Foothill, and in her adult life, she thanks Foothill for helping to make it "amazing."
About the Writer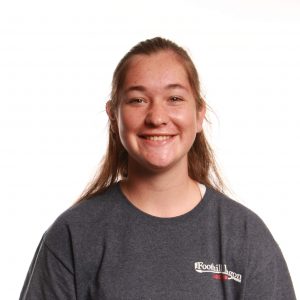 Abby Sourwine, Reporter
Third year sports writer, senior, optimist and female embodiment of Ted Mosby.