Mr. Davis joins Foothill as new Assistant Principal
You've probably already seen Frank Davis, Foothill Technology High School's (Foothill Tech) new Assistant Principal, walking around campus. Friendly and unassuming on the outside, Davis is secretly a renaissance man; you can't put this guy into a box. 
He's ready to bring everything he has to offer to Foothill Tech, but he's not here to make waves right away. "This year is for me to get to know the culture of this school," Davis said of his vision for Foothill Tech. He gets that he's the new guy on campus and explained, "it's about what the students want to happen and I'm here to help facilitate that. And teachers as well. Make changes that they think will make the school a better place."
"And always, in the end, support our principal," Davis said.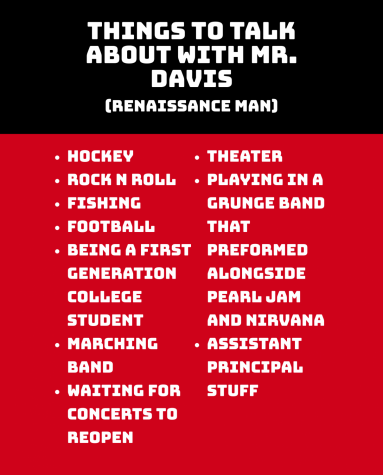 We asked Mr. Davis about his high school experience. While Davis was attending Buena High School, he took less rigorous classes so he could be involved in all kinds of extracurricular activities.

He was a part of ASB, Theater, Band, he lettered in four sports and  he did stand-up comedy in Los Angeles during his senior year. He remarked, "I did not want to look back and say, 'Oh, I regret not doing this.' I did everything I wanted to do."

He shared some advice for students, "get the most out of high school you can, you only get one shot at it, get everything out of it you can."

Cole Dinkler

Frank Davis is a proud Ventura native. He spent his years attending Elmhurst, Balboa and Buena. His time as a student inspired him, as he has now been an educator for 20 years. Davis started teaching in Washington, then made the move back home, where he taught at Buena for ten years before becoming Assistant Principal for six. 

As a former theater kid, Mr. Davis was always happy to teach Drama over at Buena. He is proud to have taught students who went on to become prominent actors like Zachary Levi, Chris Aquilino and many more. He explained how it feels, "I taught theater, so when you're watching TV or a movie and you see a former student, there's something about that that means something to you."

Assistant Principal Davis fits right into the office culture at Foothill. He has so much in common with Principal Russell Gibbs, they had a meeting about it! Their music taste, theater-teaching experience and optimistic attitude are what make them comparable. 

Mr. Davis confessed that he's a rock and roll guy whereas Principal Gibbs is into heavy metal, but with a little persuasion, the pair may perform at Air Guitar 2022. 

Should Mr. Gibbs and Mr. Davis perform at Air Guitar 2022?

Sorry, there was an error loading this poll.