[dropcap size=dropcap]T[/dropcap]he bleachers at Cabrillo Middle School were packed on Tuesday as spectators came to watch the Foothill girls' volleyball team conquer Fillmore High School at their historic first home game.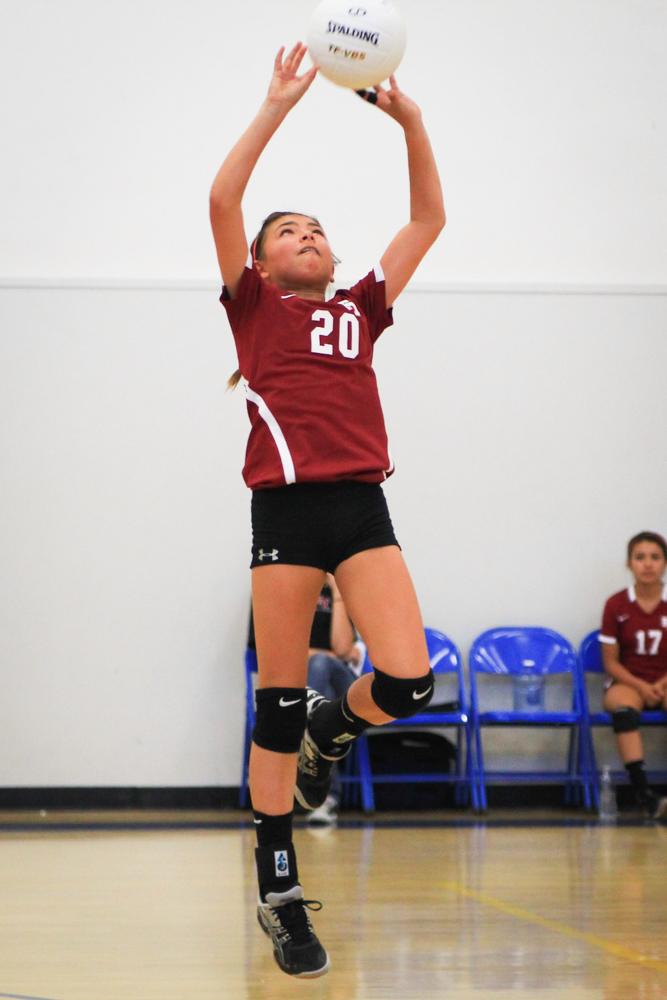 The "frosh/soph" team won their first set at 25-16 points, with sophomore Brianna Corbett and freshman Jocelyn Thorp each serving two aces. The second set continued into overtime as both teams tied at 24 points, but Foothill came out on top scoring two consecutive points, ending the set at 26-24 and an overall victory of 2-0 in games.
Corbett was pleased with the game's outcome and remarks on the immense improvements her team has made.
"My team personally played really well. It was the best game that we've played together so far so that was pretty awesome," said Corbett. "We were working really well together and there's been a lot of improvements since the beginning of the program."
The junior varsity team scored the first point of their first set, setting them off to a good start. Players Alaina Hooks, Sierra Kuhnhofer, and Leah Miech, freshmen, all served aces in the first set, leading Foothill to a 25-18 win.
With two sets left to go, Foothill came up short in their first loss during the second set, ending with 21-25 points. In a neck to neck tie breaker, both teams felt the heat of the match as the game continued into overtime. The junior varsity team ultimately won 16-14, conquering the game at a 2-1 victory.
The varsity team started off strong with freshman Morgan Gallagher serving a single ace the first set and ending with a score of 25-19. The streak continued as the girls conquered the second set with a score of 25-13. Fillmore bounced back and won the third and fourth sets at 22-25 and 20-25, but Foothill showed resilience as eight consecutive points were scored with freshman Angelina Guzman serving.
Fillmore first had the lead in the tie breaking fifth set but the varsity girls soon regained their balance, ending the set with 15-6 points and an overall win of 3-2.
…………………
Athletics director Emily Stevens was impressed by the varsity team's recovery and their ability to communicate efficiently on the court.
"I think they communicated well and came together to rally back after losing those two games in a row to win overall, and that's not easy to do at the varsity level," said Stevens.
Stevens was also excited to see the seven freshmen varsity players give it their all against the older opposing team.
"I'm really proud of the girls because they're young for a varsity squad and that's really impressive to see them take on teams that are mostly juniors and seniors so they did a really, really good job," said Stevens.
Even with the knowledge of having a young varsity team, coach Chip Tarleton has high expectations for this season. Tarleton's goals are to win CIF Southern Section, win the league, and win the state championship, though he says "it's easier said than done."
[soundcloud url="https://api.soundcloud.com/tracks/169244406″ params="color=b31414&auto_play=false&hide_related=false&show_comments=true&show_user=true&show_reposts=false" width="100%" height="166″ iframe="true" /]
"The expectations that people have on academics at this school are the same expectations I have in athletics. I expect them to be able to do the fundamentals correctly," said Tarleton. "Before they can do two times two they have to be able to do two plus two and that's what we work on."
Freshman Jocelyn Thorp can already see the improvements in her team since the start of the season.
"I'm really happy because we've improved so much and we're going to get a lot better too so I'm really happy with how we did [today] versus how we used to play," said Thorp.
Coach Tarleton believes that his players' confidence must grow in order for the teams to improve even further throughout the season.
"They're going to get more confident in themselves first as individuals and they're going to get more confident in their teammates standing next to them and they're going to get more confident in the fundamentals and execution of the fundamentals," said Tarleton.
Although his standards are set high, Coach Tarleton understands the team's improvement will come with time and practice.
"This is just the start. It's a marathon, not a sprint."
Background Photo Credit: Josh Ren/The Foothill Dragon Press
Aniah McKenzie contributed to the reporting of this article