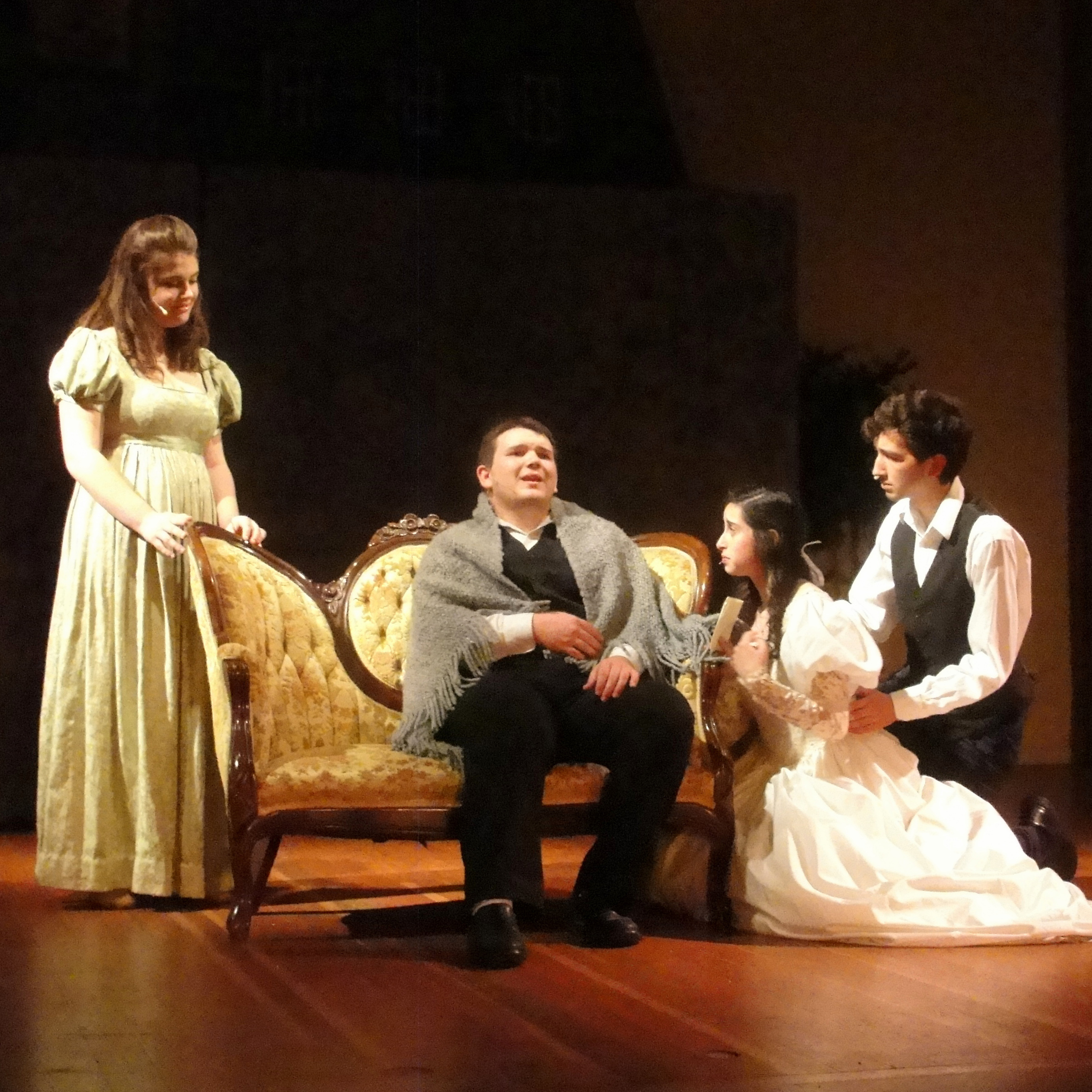 Audience members jumped in their seats and suppressed screams as they heard the sound effects from a rifle at the opening night of a student edition of the famous musical, novel, and movie Les Miserables.
The famous tale of Jean Valjean's internal struggle and Javert's desperate pursuit were eloquently portrayed by students 18-years-old and younger from the Performance Theatre for Young Artists (PTYA) at the Poinsettia Pavilion Friday night.
PTYA will continue to present the school edition of Les Miserables at the Poinsettia Pavilion on April 12, 13, 14, 20, and 21 of 2013.
"It's very popular. We've done it before so we know the play and everyone seems to love it, including all the cast members and all the audiences. And, you know, the movie was recently out and it kind of sparked more interest. So I said, 'Let's do it again,'" artistic director Marta Dewey said.
Following Tom Hooper's Les Miserables' Oscar nomination for best picture, interest in the play rose. Many of the students who participated kept repeating the phrase "I love 'Les Mis!'"
"Les Mis is one of my favorite plays, and this is the second time I've got to do it, and even though we have AP testing, I couldn't pass up this chance to do it again," said Foothill junior Brianna Houska.
Houska has been involved in the PTYA for three years and described theatre as a great place to let yourself experiment with your personality. She played Madame Thenardier, the surrogate mother for the iconic Cossete, and doubled as one of the "lovely ladies" on the street who made even a high school junior feel guilty for watching.
"It's a secret alter-ego. But actually, compared to some of the [previous performances], this was actually really tame, because we basically just sat there and sang," Houska said. "I know the time [before last] they actually got in trouble with some of the audience because they were too, sort of, avant-garde."
The show did push the boundaries for the "PG" ratings. Scenes consisting of prostitute haggling stirred the audience and left the young adult actors with scandalous parts to fill. These ladies showed of their fishnet stockings and their deep red lipstick while doing a small amount of risque dancing.
Foothill senior Emilia Covault felt a little less comfortable with her performance as the unconventional "lovely lady."
"Well, I did know that my dad was in the audience, and that was awkward," said Covault.
Scandals aside, the musical was full of young up-and-coming theatre performers such as senior Zach Macias, who played the role of the revolutionary Marius.
"I think I've developed a lot since I first started acting, which was around my freshman year in high school. But it always has come a little easier to me I think, than other people, so I think that's something that I'm just good at is just being naturally comfortable on stage and in front of people," Macias said.
Most actors played multiple roles, allowing many different young adults to participate. This also allowed the actors to experience different characters and change themselves in a very brief amount of time.
In addition to acting as Marius, Macias also had two other roles in the play. He enjoyed switching back and forth.
"Those parts I found actually a lot of fun; especially the guy whose tries to hire Fantine in the docks. It was a lot of fun to play such a contrasting role from the main Marius," said Macias.
Dewey, teamed with her choreographer, Linda DuMont, expertly transformed a huge group of students into one fluid cast that worked off of each other's energy and melded together perfectly.
"A lot of the kids are very experienced and we have a lot of new people so the experienced ones really help the new people and so they all kind of work together and everybody just kind of catches on. If something happens you just make it work. That's theatre," said Dewey.