Foothill's Drama Department takes over the night with "She Kills Monsters"
As the wintery sunset came down, the cool wind blew and the temperature grew colder: the stage lights shined as the Foothill Technology High School (Foothill Tech) Drama Department's play began. On Dec. 9 and 10, they presented, "She Kills Monsters", a play written by Qui Nguyen. The play was presented and performed by Foothill drama students. The entertaining and well attended event brought talented Dragons to the stage and gave an opportunity for the Foothill Tech community to enjoy the arts. 
Cole Dinkler
"She Kills Monsters" follows the adventure of high schooler Agnes Evans as she deals with the death of her younger sister, Tilly. When Agnes stumbles upon Tilly's Dungeons and Dragons notebook, she finds herself catapulted into a journey of discovery and action packed adventure in the imaginary world that was her sister's refuge.  
The show begins with Tilly and Agnes, framing Agnes as an average, boring, girl, who likes, "typical things such as boys, music and popular television programs." Tilly is a kooky, "anything but average," girl who likes, "the dark arts magic, dragons and silly costumes." Tilly and Agnus are overcome with grief and let their emotions get the best of them, which ultimately leads to Agnus wishing upon Tilly's death.
In an unfortunate accident, Tilly gets hit by a car and Agnes must deal not just with grief but with how little she knew about her sibling. When reading a notebook left behind, she learns that Tilly was a role-playing aficionado and that she had a relationship in her game world. Agnes is soon launched into an adventure of self discovery.
Overall, "'She Kills Monsters' is a comedic yet sentimental story about a cheerleader who delves into a game of Dungeons & Dragons, the passion of her deceased younger sister, as a means to gain closure from her passing," writes Noelle Villaseñor. "She Kills Monsters" also offered LGBTQIA+ representation through the portrayal of a queer couple and other instances of gay representation.
"'The performance is fun, it's exciting, it's hilarious at times,' says Clarisse Cortez '23, 'it has a deeper meaning to it than what's on the surface," she explains in an interview with Villaseñor.
Alessia Saliby '24 who played evil Gabby states, "this play was definitely able to show people that it's okay to be geeky and it doesn't really matter who you are, this play also actively felt like it represented Foothill as well."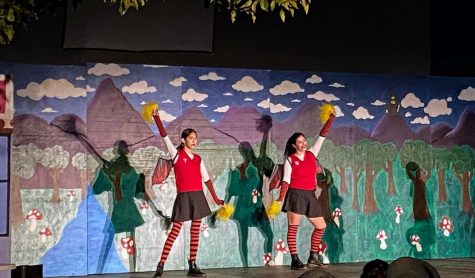 Not only is Foothill's interpretation, of "She Kills Monsters" a creative plot line, but the production was beautifully orchestrated by co-Directors Kathy Leaf and Jennifer Kindred. Amidst the chaos, Leaf and Kindred directed the show to present the overwhelming feeling of this adventure while still making the plot easy to follow.
The intention of an outdoor theater made the play feel all the more alive and intriguing. Not only was the effort into the production exceptional, but the relationship with the cast made the most significant change in the actors' performances.
Along with Leaf and Kindred's noteworthy directing, the actors' dedication to their character was evident in their phenomenal acting. The acting of the main characters, Agnes by Isabella Alfano '25, Tilly by Samantha Hill '25 and Chuck by Giotto Thompson '23 stood out to the crowd. 
This being his third role in a Foothill play, Jared Lantiegne killed his role. With a Devil like personality, Lantiegne dove head first into his role, and he made the play all the more entertaining with his dedication and personality.
Despite a bumpy preparation and handful of lighting and sound issues, the cast managed to keep the show going without missing a beat. This play was hilarious, impressive and overall extremely entertaining.
Megan Graves '24 who played the narrator adds, "everybody did really well, everybody played their part perfectly, the cast and the entire staff was perfect and couldn't have done any better. Truly very proud of everyone's performance."