Freshmen kick back and relax during Freshman Friday
On Friday, April 22, 2022, Class of '25 Dragons at Foothill Technology High School (Foothill Tech) sprinted and pushed their way through the halls and quad in order to make it to the stage as the music boomed and vibrated throughout school for the Associated Student Body (ASB) Freshman Friday event. 
The stage held many food items such as cookies and drinks for students as a warm welcome before starting the activities, which would take over the entirety of Freshman Friday.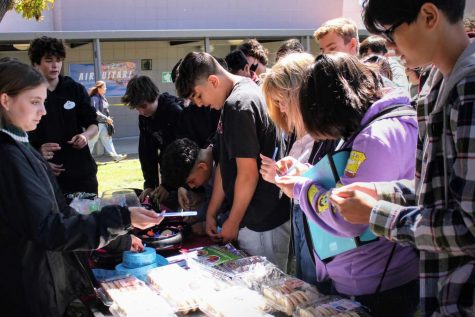 Throughout the entirety of the quad there were many games and activities for the Class of '25 to participate in. Games such as Spikeball and tug-of-war were set up as interactive experiences that would allow students to bond. 
Due to the pandemic the Class of '25 didn't truly receive the opportunity to meet others in their grade, so these activities served to give them the chance to develop class unity. Freshman Friday allowed students to get to know others, bond with their Reinforcement and Enrichment (FIRE) groups and even just relax and have fun.
Another game available was a spinning wheel, which gave the students an opportunity to win prizes such as cookies and other small toys. To make this day even more successful and enjoyable, students who chose not to participate in spinning the wheel could still win prizes through a raffle as well.  
"
Especially after COVID, it's a matter of putting focus on the freshman . . . I believe it's just a way for us to all relax and have fun.
— Aditi Shanbhag '25
ASB Class of '25 President Rhea Gill '25 explains, "The purpose of this day is really to unify the freshman class. Coming into high school is a big difference for everyone but we want to celebrate the freshman because they have been able to get through this first year, and we are so happy to have them here at Foothill Tech." 
ASB advisor Melanie Lindsey (Captain) considers the purpose of this event as more than just a fun day for freshman students. "Anytime we do an activity grade level specific is to build community, and relationship among the students of class of '25 didn't have a lot of opportunity to be together and become a unit and this was the goal overall." 
This event allowed for many students to have fun and let go of any stress they may have towards the end of the school year. More importantly, it allowed Class of '25 students to expand their relationships with others around the school and get to know more people within Foothill Tech.