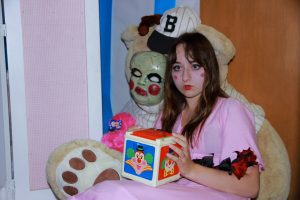 A sunny reading refuge by day, and a haunted house by night– "Horror In The Stacks" is E.P. Foster's annual Halloween tradition, featuring DIY haunted areas created by middle and high schoolers across Ventura. While its absence has been felt in previous years due to the COVID-19 pandemic, this event on Oct. 20, 2023, marked its spooky return to E.P. Foster since 2019.
This year's rendition featured six different themed sections: "Five Nights at Freddy's," creepy clowns, mad science lab, vampire dinner, haunted asylum and a dollhouse. Each section was organized and decorated by student volunteers of E.P. Foster's Teen Advisory Group (TAG). Volunteers organized their own groups to design, plan and decorate their sections as well as their costumes— from styling thrifted clothing, do-it-yourself fake wounds and elaborate makeup, each student had the opportunity to represent the individual flair and student freedom the event has been known to showcase.
"Five Nights at Freddy's"
In lieu of the horror video game classic, the maze began with the gory pizza party of the "Five Nights at Freddy's" franchise. While guests walked past stray balloons, blood-splattered pizza boxes and eerie animatronic heads, they frightfully awaited jumpscares from a costumed Freddy Fazbear and Foxy.
Following their visit to the animated eighties pizza party, visitors then entered the Creepy Clowns' crazed circus. Among the wallpapered bright psychedelic swirls, colorful streamers and a spinning circus top canopy, jesters hid in unsuspecting spaces between the library's stacks of shelves and jumped out at visitors.
Kathleen Cheng
Mad Science Lab
After an impromptu trip to the circus, visitors witnessed a raucous lab operation, performed by a volunteer cast of frenzied scientists in bloodied lab regalia. Jars of bloody organs and various surgery tools were arranged across E.P. Foster's maker space-turned-lab, which provided convenient tables to serve as lab benchtops and an operating table and added to the section's sciencey atmosphere.
Vampire Dinner
Invitations were accepted to a sanguine dinner party, the Vampire Dinner section. Volunteer vampires staged a table shrouded in red cloth with a gauzy, candle-lit dinner complete with fancy plating and place settings. The metal dome tray at the table's center was lifted to reveal a volunteer's head to serve— a clever feature created by the space in between the four round perimeter tables used to create the full round table.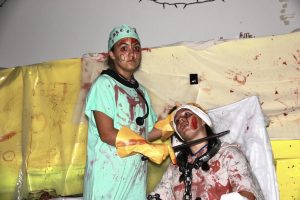 Haunted Asylum
The latter half of the haunted maze included the haunted asylum, a flashy and intense walkthrough experience. The narrow hall towards the back of the young adult section provided a great space to emulate a haunted asylum hallway and hiding spaces for volunteers, with strobe lighting, bloodied warning signs, a cloaked rocking chair and decorations strewn across the ceiling light.
Dollhouse
After the scares of the haunted asylum, dolls waved silently at visitors as they exited the maze. In the image of a young child's bedroom, striped vintage wallpaper, a large teddy bear, a puppet stage and various dolls strung from the ceiling furnished the space to create a creepily sweet feel.
The event was an overall success, with anticipating families eager to return after its years of dormancy. Pinholes and tape marks from previous "Horror In The Stacks" events may still be seen upon E.P. Foster's walls— a reminder of the beloved longstanding tradition of Halloween festivities and fright they aim to deliver every year.