Death Cab for Cutie gives a heartfelt performance on Jimmy Kimmel Live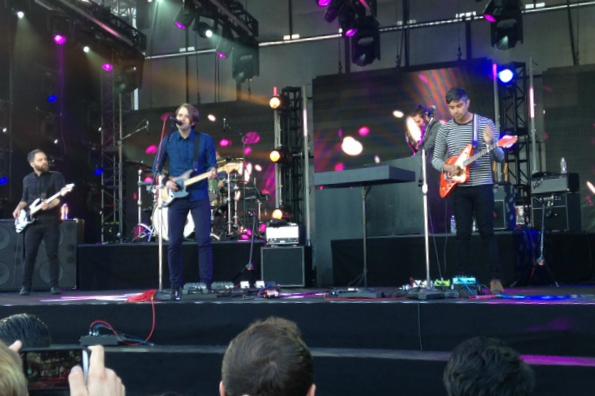 Hang on for a minute...we're trying to find some more stories you might like.
With the sun high in the sky, a crowd waited enthusiastically for Death Cab for Cutie to begin their concert on Wednesday. The mini-concert is hosted by Jimmy Kimmel behind the ABC studio in Hollywood. The audience, made up of mostly twenty-year-olds, are on their phones Snapchatting and Instagramming pictures from the show.
While waiting for the band, the audience watched the taping of Jimmy Kimmel Live that played on a large screen located on the stage. This show garnered many laughs from the audience.
After the taping had concluded, an announcer came out on stage to introduce the band. He instructed the audience to not to use their phones during the first two songs, seeing as the band would be recorded on video and they did not want any phones to be in the shots.
Death Cab for Cutie's entrance on stage provoked enthusiasm from audience members. The band opened their performance around 6 p.m. with their new hit song "Black Sun." This introductory song increased the crowd's energy.
[soundcloud url="https://api.soundcloud.com/tracks/199002742″ params="color=ff5500&auto_play=false&hide_related=false&show_comments=true&show_user=true&show_reposts=false" width="100%" height="166″ iframe="true" /]
As it was a "mini-concert," the band only played four songs. All of them were off their newest album, "Kintsugi." The album was only released recently, so most of the crowd was not familiar with the songs, which lowered the energy of the crowd after the conclusion of "Black Sun."
Death Cab for Cutie has a fairly solid following, particularly with the alternative music crowd. The band has been around for around 18 years. Ben Gibbard, who started off as a solo artist, is now the lead vocalist for the band.
A lot of recognition came from their album "Plans," which was released in 2005. This album features many of their best known songs, such as "I Will Follow You Into The Dark" and "Soul Meets Body."
The sound and tone of their music has changed since "Plans," but still maintains an underlying tone of melancholy. Lyrically, the new music has taken on a new focus. For example, these songs are no longer as optimistic about love.
Contradictory to their old songs, this new album seems to focus more on loss. In the song "Little Wanderer" off of the new album, Gibbard is asking a woman, "Won't you wander back to me?" Separation and missing a loved one are recurring themes in "Kintsugi."
On stage, the band was immersed in their music. They seemed excited to be returning to play on Jimmy Kimmel Live, and that enthusiasm transferred to the audience. In total, the concert was a success, and they were able to leave the crowd feeling satisfied.
In case you missed it, watch our @JimmyKimmelLive performance of No Room In Frame! http://t.co/aRaqSF8pk9 #Kintsugi pic.twitter.com/9sjrqCwmys

— Death Cab for Cutie (@dcfc) April 2, 2015