Foothill baseball mercies Ojai Valley School at second home game, 17-5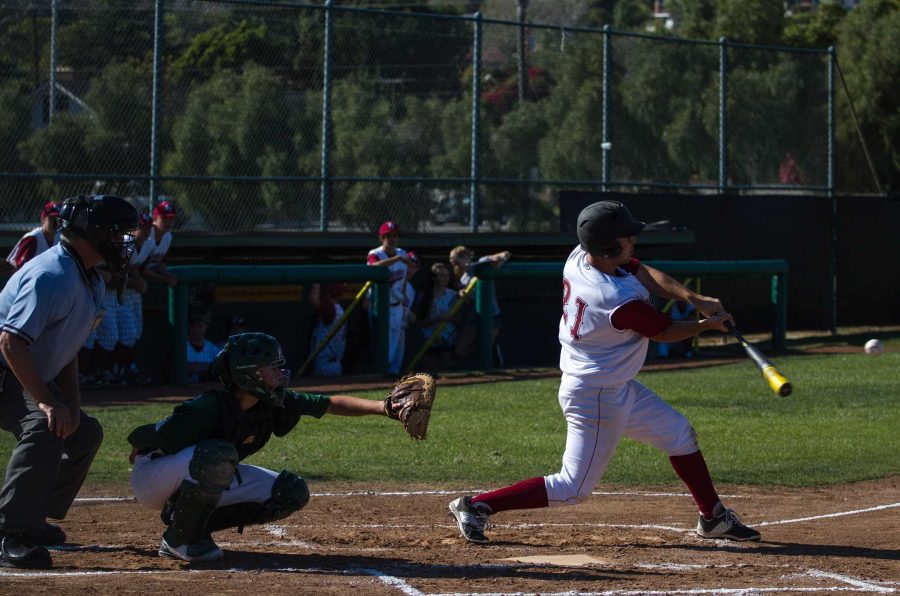 Joshua Modglin
March 28, 2015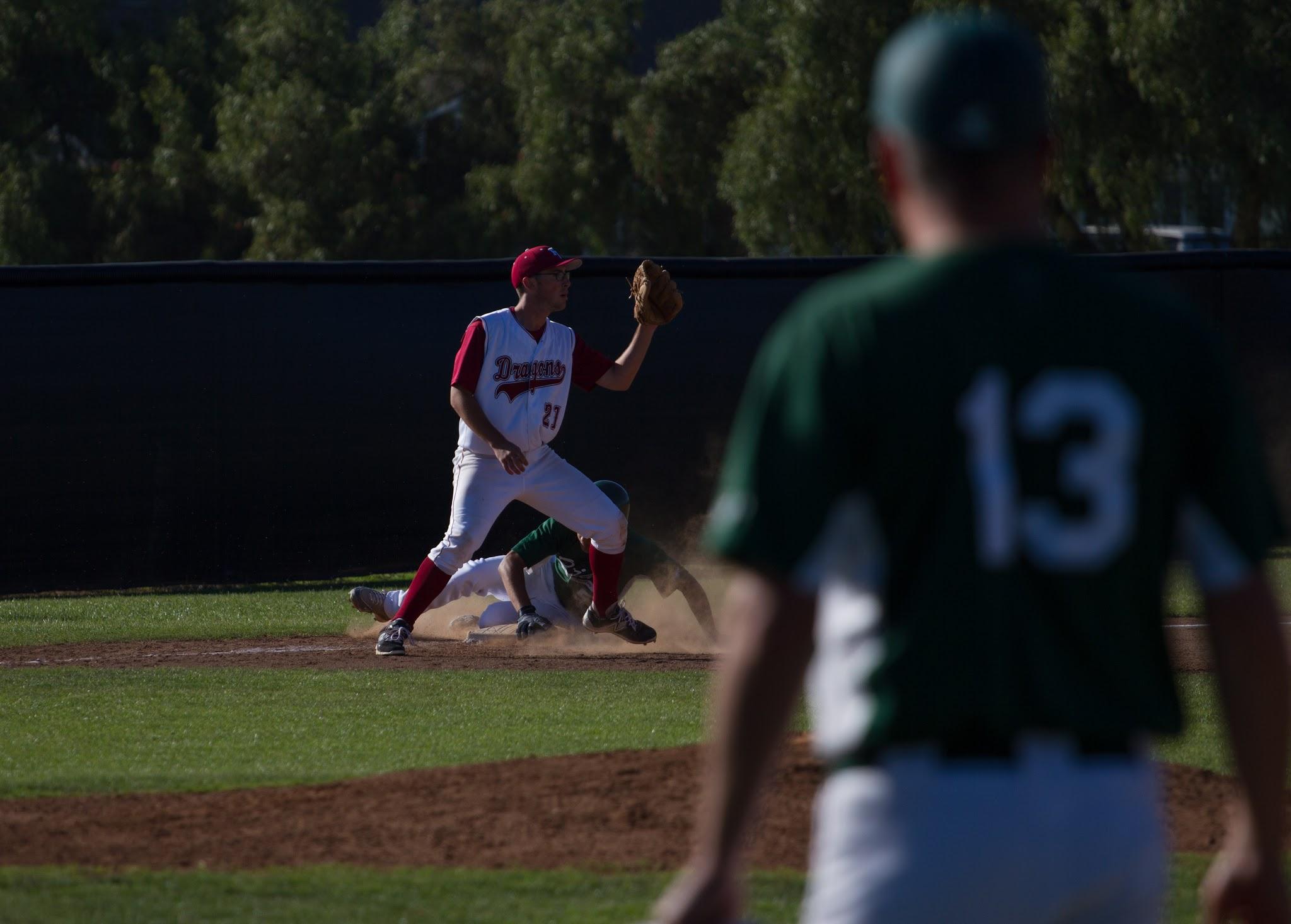 As the sun began to set behind the fences of Ventura College, the Foothill baseball team played its second home game against Ojai Valley School. Foothill defeated Ojai Valley with a final score of 17-5.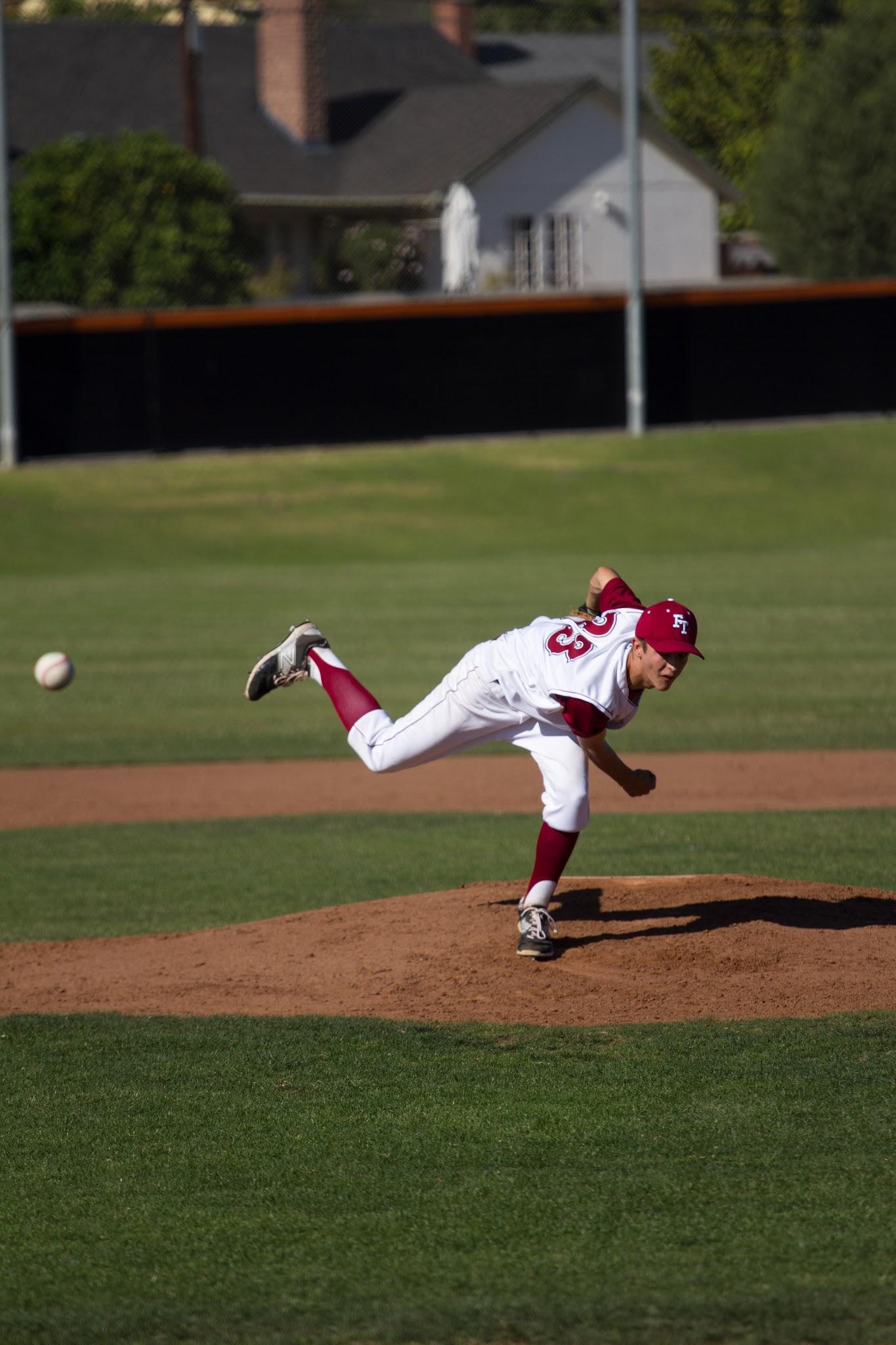 Ojai Valley was the first to bat, scoring two runs within the first few minutes of the game. Foothill retaliated by throwing three consecutive outs.
Senior Lucas Wiltjer was Foothill's first batter of the game, hitting a single to center field. Wiltjer stole second and third base, and eventually scored Foothill's first point. Freshman Jacob Bridges scored Foothill's second point as freshman Trey Caswell hit a double. With Dragons on second and third base, junior Alex Beamer hit a triple into left field, causing senior Nicholas O'Conner and sophomore Ryan Tamburi to score. Beamer scored the final point of the inning before Ojai Valley caught the final out.
In the first few minutes of second inning, Foothill shut out Ojai Valley, not allowing them to score. Wiltjer, junior Josh Ellison, and senior Will Hammer each successively scored points, ending the inning with Foothill ahead 8-2.
Ojai Valley scored once in the third inning before Foothill threw three outs. Wiltjer scored Foothill's only run of the inning, bringing the score up to 9-3.
During the fourth inning, Foothill's pitcher, Ellison, threw three immediate strikeouts. Hammer and Bridges scored two runs.
Due to the baseball mercy rule, which is when one of the teams accumulates 10 more points than the opposing team, the fifth inning was the final inning of the game. Ojai Valley scored twice more, but was shut out before they could score again. Foothill scored five more runs, ending the game with a final score of 16-5.
Head Coach Clint Ellison believed every player stood out during the game.
"We ran the bases well today. We had a lot of stolen bases," said Coach Ellison. "Not just any one particular player stood out, but all of them [played well]."
Despite the win, Coach Ellison believes there is plenty of room for improvement.
"The team needs to work on their focus and not play down to the competition, but play up," he said.
[soundcloud url="https://api.soundcloud.com/tracks/198198702″ params="color=ff5500&auto_play=false&hide_related=false&show_comments=true&show_user=true&show_reposts=false" width="100%" height="166″ iframe="true" /]
Beamer agreed with his coach, and thought the team "didn't play as hard as [it] could."
"I think we can take the game more seriously," said Beamer. "We could have played better if we were more focused."
Freshman Colin Valance believes the team can "play cleaner and make [fewer] errors."
Ellison concludes that working on basics will help the team's "sloppiness."
"We need to make sure we scoop the balls up; catch the ball, throw the ball, hit the ball," he said.
Principle Joe Bova knows the team will continue to win and do well in league games.
"I think they will continue to improve and play well in league," said Bova. "They've played some tough teams and bigger schools, but now they get to play in our league and will be competitive."
Valance is excited about making history by playing in Foothill's first season of sports and thinks Foothill will be successful.
The baseball team competes in a tournament hosted by Santa Paula High School next week, playing four games total.
Ellison looks forward to playing more games and hopes to achieve first place in league, while going "deep into playoffs."
………………….
Background Photo Credit: Austin Hunt/The Foothill Dragon Press