Baseball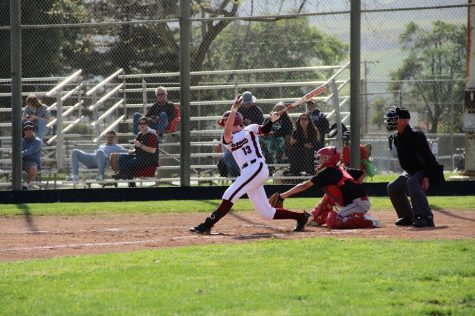 On the morning of April 29, 2023, the Foothill Technology High School (Foothill Tech) Dragons lost to the Oak Park High School (Oak Park) Eagles by a heart-wrenching final score of 6-7, marking the end of a tumultuous season for the Dragons.
Despite a six-run fourth inning that saw Foothill Tech jump to a 6-5 lead, the Eagles showed up in crunch time, scoring two runs in the bottom of the seventh to win the game. The loss, not in league play, moves the Dragons' record to 7-17 on the season. 
A few Foothill Tech seniors still closed out their high school careers on a high, including Boden Carr '23, who hit 2-4 with two doubles, and Cameron Stevens '23, who went 3-3 on the day. "Individually a lot of us did good, we had a good send-off for the seniors," Stevens said. "I really liked that for the end of the season."
Ace pitcher Matt Vega '23 also tossed six solid innings, striking out seven and allowing only three earned runs. 
The game served as a bittersweet capstone on a season that, in Stevens's words, "left something to be desired." The Dragons' 1-7 record earned them a fourth-place finish in league play, their lone victory coming on Senior Night against Bishop Diego High School on April 18.
In addition to the Senior Night win, Head Coach Craig Stevens says that there were many other moments to look back on with pride from the 2023 campaign. "We beat Oxnard, who we've probably played 14 times over the [past] four years and never beaten. So to finally beat them was special," he recalled. 
When asked if he could sum up the Dragon's season in a singular word or phrase, Stevens gave some insight into the team's mindset in handling adversity this year, "I told the guys at the last game that this season was about character and strength. Those are the words that I would say sum up our season."
Comments on articles are screened and those determined by editors to be crude, overly mean-spirited or that serve primarily as personal attacks will not be approved. The Editorial Review Board, made up of 11 student editors and a faculty adviser, make decisions on content.