Review: Seaglass by Mama serves authentic Thai cuisine with a twist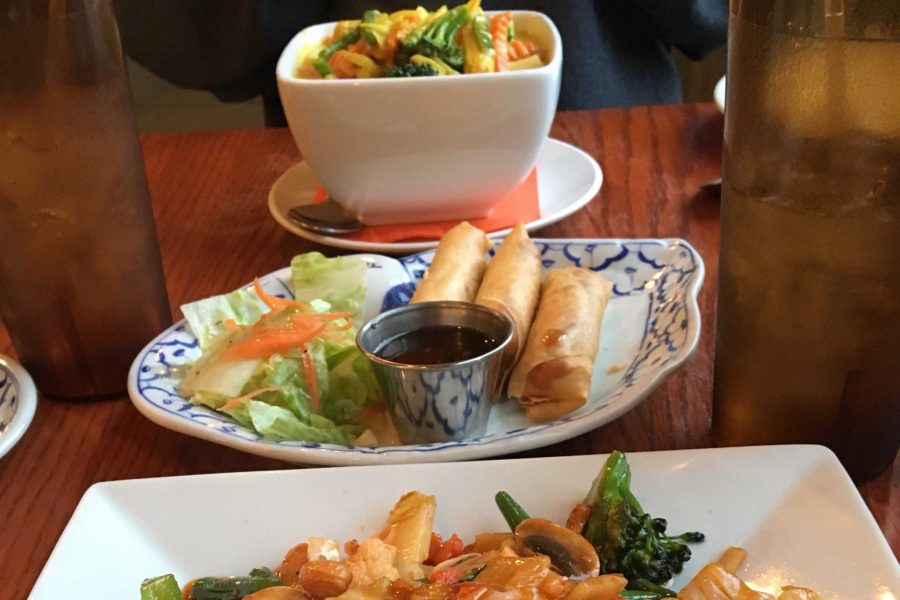 Julia Fickenscher
March 31, 2018
Everyone loves Thai food; the unique spices and flavors, large portion sizes and welcoming service provide a dining experience unlike any other. However, many dishes are served with various meat options, including chicken, shrimp, beef and pork. With the growth of vegetarianism and veganism, many desire the luxury of going to a restaurant that provides only vegan and vegetarian options. Seaglass by Mama fuses the classic Thai cuisine with every vegan and vegetarian's wishes, providing a healthy and cruelty-free supplement to everyone's Thai cuisine needs.
Located on East Main Street, Sea Glass by Mama is a new and buzzing restaurant in downtown Ventura. The owner, also known as the "Mama," is now the owner of three separate restaurants, all located on the same street. Rice by Mama, her first franchise, serves authentic Thai cuisine, while Kao Ramen by Mama serves bountiful bowls of noodley goodness.
The outside sign of Seaglass by Mama highlights the beachy, happy vibe that resembles the culture and feeling of Ventura. The interior takes you into an earthy garden paradise, including herb-filled mason jars at every table, a grassy wall and various blue hues. Upon walking in, you are immediately greeted by friendly faces and a calming environment; everyone is ready to meet your needs and ensure you're dining experience is above and beyond your expectations.
Although the menu was limited to vegan and vegetarian plates, there was still plenty to choose from. Between stir fry, curry and their signature "Nam-Prik," there is something for everyone. Within each of these dishes, there is a variety of spice levels, sauces and sides which allow each person to find foods that suit their taste buds.
Starving and in need of an appetizer, we opted for the egg rolls, deep fried and filled with vegetables and glass noodles with sweet and sour sauce on the side. The egg rolls alone were delicious, but the sweet and sour sauce gave it the extra tang that it needed to pull the entire appetizer together.
In the mood for a tamer flavor, we decided to try the Cashew Nut Stir Fry. The plateful of vegetables and nuts, including mushrooms, baby corn, bell peppers, carrots, onions and cashew nuts was the perfect combination to create a subtle but tasty flavor. We ordered a mild version of the dish with the spice at level one. This was perfect for us, but for those who prefer a little more spice, we suggest going for level two or three. Served with rice, the meal felt complete and left us full and excited for leftovers the next day.
To get another feel for a different style of dish on the menu, we also tried the vegetable filled yellow curry. The mustard yellow dish is piled beyond the brim with various vegetables, including cauliflower, bell peppers, carrots, onions and potatoes. Served with white rice on the side to soak up the additional curry sauce, this dish is extremely filling, yet leaves you feeling energized rather than sluggish. The classic curry flavors create a bright and fresh, yet warm and creamy taste, sure to please anyone's tastebuds.
While the food was not cheap, it was not particularly expensive considering the large portion sizes. The total came out to around $35 for the two dishes plus the appetizer, but considering the amount of leftovers we had the next day, it was well worth the money. Overall, the filling food, delicious meals, friendly workers and the beautiful and earthy display created an overall soothing and comfortable environment. So next time you're in the mood for Thai and are debating which "Mama" restaurant to dine at, swing in to Seaglass by Mama for a delicious experience.