Every year, pumpkin spice seems to be growing in popularity: the autumnal concoction of cinnamon, nutmeg, ginger and cloves has been thrown into nearly every food and stuffed onto stores' shelves for the pumpkin-crazed to devour. Trader Joe's takes this annual occasion extremely seriously; the store transforms itself every October into a "pumpkin palooza."
With items ranging from Pumpkin Cinnamon Rolls to Pumpkin Pie Mochi Ice Cream, Trader Joe's really has it all for fall. It seems like it would be impossible to try all their pumpkin spiced food… but I came pretty close. To save you the pumpkin coma, here are the five best, most unique items Trader Joe's has to offer during the fall season.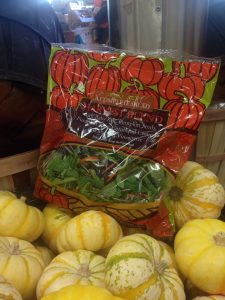 Harvest Blend Complete Salad
All of Trader Joe's salad kits are an efficient (and tasty) meal, providing you with all the necessary ingredients to make a healthy lunch, dinner or side for your family. This special Harvest Blend brings you all the fresh, fall flavors; consisting of baby kale, broccoli, cauliflower, pumpkin seeds, pumpkin cornbread croutons, dates, raisins and a pumpkin vinaigrette, this ready-to-go salad is the perfect combination. The greens and veggies are crisp and fresh, the pumpkin seeds and pumpkin croutons add an autumnal crunch, and the dates and raisins add the perfect touch of chewy sweetness. When drizzled with the tangy,yet not overpowering, pumpkin vinaigrette, it's the ultimate healthy fall combination.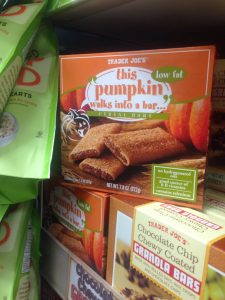 This Pumpkin Walks Into a Bar…
These bars are no joke; with a crumbly, chewy crust, and a gooey, pumpkin-spiced filling, these bars taste like a breakfast (or snack) pumpkin pie. Similar to their other cereal bars, the outer layer adds a familiar soft texture; but what really stands out is the pumpkin filling.
It has the ever-so-prominent pumpkin spice flavors, but when combined with the shell of organic grains, it truly does give that feeling of any pumpkin spiced sweet treat. On top of the taste, these bars are made with real fruit and no artificial flavors or preservatives, making them the perfect on-the-go snack for anytime of day.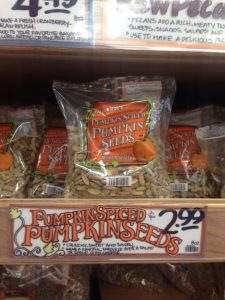 Pumpkin Spiced Pumpkin Seeds
What do you get when you combine something that is already straight from a pumpkin and add more pumpkin flavor to it? What sounds over-the-top turns into absolute perfection. Pumpkin seeds are the perfect foundation for any flavor: although most often roasted with seasoned salt or more savory spices, Trader Joe's decided to take the opposite approach, and it worked phenomenally.
These crunchy pepitas are covered in a sweet glaze of cinnamon, sugar, ginger, nutmeg and allspice. Each bite is a tasty sensation of pumpkin, spice and everything nice, making them the perfect snack on their own or as a sprinkling on top of salads or yogurt.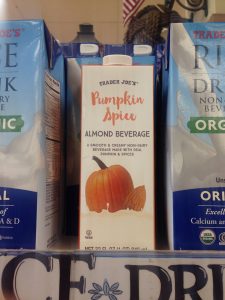 Pumpkin Spice Almond Beverage
Not only has almond milk grown in popularity the past few years, but now it's getting its own fall twist. Not only are the classic additions of cinnamon and nutmeg tossed in, but this pumpkin drink is made with actual pumpkin.
While some may be skeptical of adding the real thing in, it just adds an even creamier texture to the classic drink, and when combined with the spices, it's the perfect flavor palette. Whether added into oatmeal or your daily dose of coffee, both dairy-free and milk drinkers alike will go "nuts" for this beverage.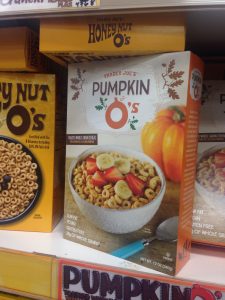 Pumpkin O's
Trader Joe's tends to be known for taking "brand name" products and making their own, very similarly named versions. Their typical "O's" resemble Cheerios, but when they get a sweet, seasonal upgrade, they transform into their own unique flavor and texture. The cereal is a puffed "O" with prominent tastes of pumpkin and cinnamon, almost resembling Apple Jacks.
The best cereal is perfect to eat both with and without milk, and these Pumpkin O's definitely fit that criteria. It's the perfect mix of sugar and spice, making it sweet but not to the extreme. Whether for breakfast, a snack or a crunchy topping for yogurt, these Pumpkin O's are the best munchy fall treat.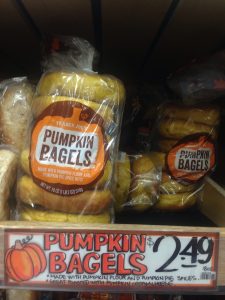 Bonus: Pumpkin Bagels
What sets these apart from your typical pumpkin bagel? To start, Trader Joe's uses pumpkin flour, something which I was unaware even existed. Taste wise, I don't notice much of a difference, but the fact that pumpkin flour is being used means the quality of ingredients must be higher than your typical store-bought bagel.
What makes these different taste-wise is the "pumpkin pie bits." Little clusters of pumpkin spice are incorporated into the bagel, so that when toasted, the bagel has hidden bits of sweet, melty pumpkin deliciousness. These bagels can be enjoyed plain, with butter or with some of their pumpkin cream cheese spread.
Although the amount of pumpkin spiced items in our world seems a bit extreme, Trader Joe's definitely has a few that stand out from the crowd. Whether you're a lover or hater of the annual Pumpkin Palooza, there is bound to be something that everyone will enjoy!
Trader Joes is getting into the holiday spirit w/ its 60+ pumpkin products: http://t.co/zOWYXKXBxQ pic.twitter.com/MZreiyKZ5F

— The Hoffman Agency (@DailyBrew) October 13, 2015