Butter and Fold, a quaint coffee and pastry bar, opened on 2126 Thompson Blvd. in April 2023.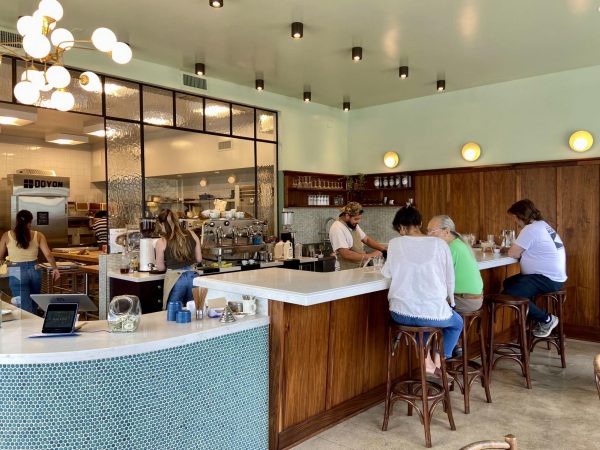 The building's exterior and interior spaces beautifully combine modern, aesthetic design elements with a flare of elegance. This cafe offers small batch French-style pastries made with locally sourced ingredients including grass-fed, pasture-raised dairy and organic farmer's market fruits and vegetables. The pastries are freshly prepared each morning, so arrive when they open, around 7:30 a.m., for the best selection of baked goods to choose from.
Sweet almond brioche
This pastry was simply delightful. It didn't have the overly sweet gummy texture of store bought brioche, but rather subtle sweetness, a crisp outer crust and a soft, fluffy center. The real almond flavor (not artificial almond extract) was shown through this humble pastry, and it was still slightly warm from recently exiting the oven. The ingredient quality and carefully crafted small batch preparation were evident in all of the treats we tasted, but especially this one. 9/10
Tart plum brioche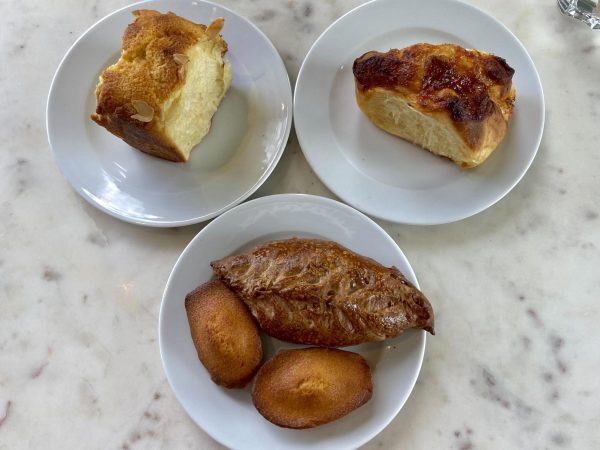 This pastry was surprising in many ways. When first looking at it, we were quite unsure of what it was, and we were surprised to hear that it was a brioche bread with plum jam. The bun itself was soft, fluffy and sweet yet savory at the same time. On top of the bun, there was a tart and almost sour plum jam. The variety of flavors made for a great unexpected contrast, but this brioche was less sweet than expected. Overall, the brioche itself was light and airy with a perfect level of sweetness. However, the jam itself was slightly overpowering, leaving an aftertaste that detracts from the pastry's good flavor. 7/10
Mini sourdough baguette with walnuts
One may think a baguette must be eaten with condiments or sandwich fillings, but that was not the case with this brilliant loaf of goodness. The freshness of the mini baguette made it extremely delectable, and the essence of fermented sourdough accompanied with the nutty crunch of walnuts was superb. Even completely on its own, this bread was incredible, and the individual loaf serving was an adorable and functional detail. In each mini loaf, you get to enjoy all the best parts of a baguette, from the crisp end pieces to the perfectly moist, springy interior. Multigrain flour added further depth of nutty flavor, complimenting the satisfying tang of sourdough. This mini baguette is a must-try. 9/10
Madeleines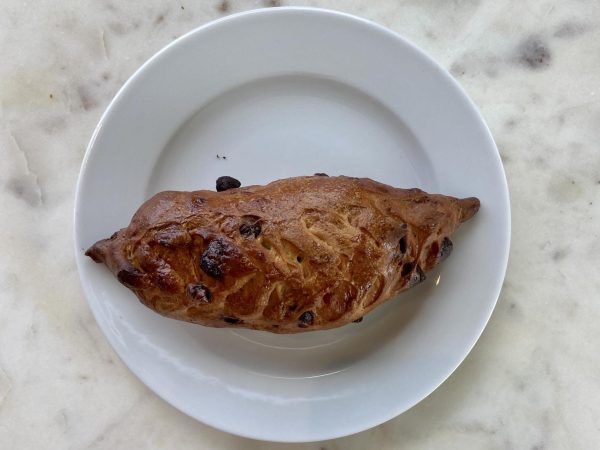 Madeleines: a classic, dainty dessert perfectly paired with a hot cup of coffee or tea on a chilly fall day. These madeleines were simple but delivered on comfort and nostalgia. The flavor was very mild, but the outer crust was perfectly golden brown with a melt-in-your-mouth inner texture. We ate these madeleines a-la-carte, but we would recommend pairing them with jam or a hot latte for an optimal flavor experience as the dessert on its own was quite plain. Nevertheless, mastery of such a simple treat shows the diverse array of pastries Butter and Fold is capable of perfecting, which is rather impressive for a brand new small business. 6/10
Mini sourdough baguette with chocolate chips
When we first arrived at the cafe, this pastry was not out yet, and it ended up being put on display towards closing time. This unique baguette turned out to be different than expected. The pairing of sourdough and dark chocolate made for an almost bitter taste, yet this was a nice contrast to the many sweet foods we tried. This pastry would have been much better if it had been warmed up, and the bread itself wasn't so hard that it was a nuisance to chew on. 6.5/10
Iced Matcha Latte
On a warm day towards the end of summer, the perfect thing to refresh and rejuvenate is an ice cold latte. The Iced Matcha Latte at Butter and Fold did just this. When the latte first arrives, customers can note the overall beautiful appearance of the drink. It was a perfect blend of sweet and bitter, with a very natural and savory taste. You can enjoy this drink even if matcha isn't your top choice of a drink. We would highly recommend ordering this latte sweetened with vanilla sweetener if you're looking for a refreshing drink that isn't too strong. 8.5/10  
Iced Coffee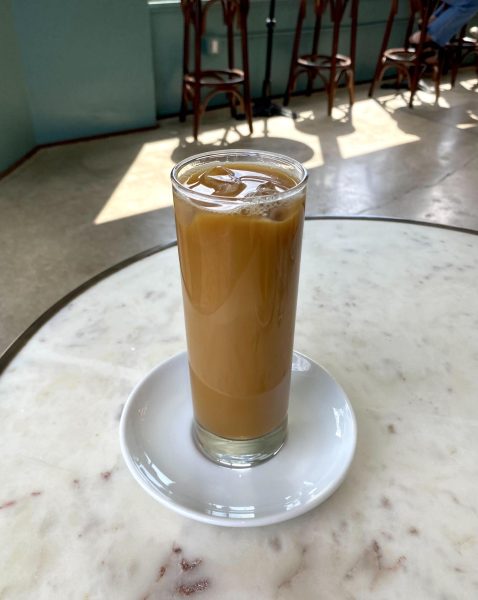 There's nothing worse than milky, room temperature coffee, so if you're in need of a delicious pick-me-up beverage, we would strongly advise against ordering this "iced" coffee. It was evident that the coffee was freshly brewed, but it hadn't been adequately cooled before it was poured atop a measly portion of ice cubes. The result was far from refreshing, and to make matters worse, the lukewarm concoction had a weak flavor profile – the robust brew diluted by rapidly melting ice. Maybe it was just an off day for the barista, but consider playing it safe by ordering a different drink from their vast offering of beverages. Their menu boasts many enticing options, including hot chai lattes and seasonally rotating homemade sodas. 1/10
In the five months since their opening, Butter and Fold has successfully proved themselves to be a cafe worth your time. Even in the late hours of a Sunday morning, the cafe environment was bustling with hungry customers, eager to snatch the last fresh pastry. To support local business and feast on the finest quality of treats, we highly recommend that you check out this new spot! For updates on hours of operation and seasonal menu items, follow @butterandfold on Instagram.