Chai this!
Upon every coffee shop I enter, the first thing I do is scan the menu for the presence of a chai latte. A creamy blend of spiced black tea infused with hints of cinnamon, served hot or iced; the drink has become widely popular in both chain stores and local businesses alike.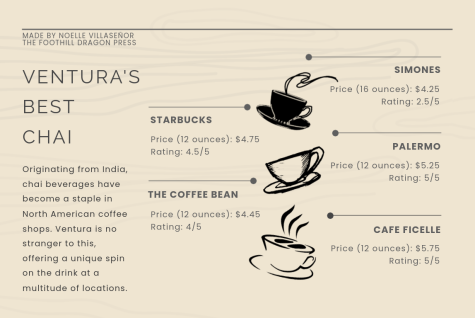 Chai beverages originate from India — the word "chai" itself translates to "tea" in Hindi and is used to describe a variety of steeped herbal beverages in Southeast Asia. The chai latte that has been adapted by North America is most similar to masala chai, which, in India, is usually made from black tea brewed with milk, cinnamon and various other spices. 
American spins on the drink include serving it with various plant-based milks or a shot of espresso, the balance of sweet and bitter creating the delicious dirty chai. Starbucks and Coffee Bean even feature milkshake-style adaptations of the chai as a Frapuccino or an Ice Blended. Each twist on the beverage pays homage to classic chai flavors while inventing a new genre of caffeinated delights.
As an avid iced chai latte fan, I have made it my goal to find the best chai in Ventura. Each coffee shop puts their own unique spin on the delicious beverage; which one is sure to keep chai enthusiasts like myself coming back for more?
Starbucks
Foothill Technology High School (Foothill Tech) students know and love the campus corner Starbucks located on the intersection of Telegraph Road and Day Road. The world-famous coffee chain that arguably popularized the chai latte in North America sells a delectable take on the beverage: what it lacks in authenticity, it makes up for in smooth and fragrant deliciousness. Those who wish for the usual bitter notes that chai offers will become addicted upon adding a shot of espresso to the drink; my mobile order history on the Starbucks app is proof. Otherwise, the chain's tidy take on the iced chai undoubtedly keeps its patrons similarly hooked.
Price (12 ounces): $4.75
Overall rating: 4.5/5
The Coffee Bean
The mother of chain coffee shops known as The Coffee Bean & Tea Leaf takes its own approach to the iced chai, using a powder base rather than milk to create the beverage. Their interpretation of the drink is mostly excellent: it respects the essential notes of cinnamon and black tea that elevate a classic chai without excess sweetener to overpower the experience. However, its shortcoming is in its watery base — although being less creamy than its competitors is what sets The Coffee Bean's chai apart, an improvement in thickness combined with its already spot-on flavors would create a true masterpiece. 
Price (12 ounces): $4.45
Overall rating: 4/5
Café Ficelle
For many, an early morning at Cafe Ficelle signifies the start of a perfect day. The bakery is known for their fresh bread and pastries, however, they should really be known for their spectacular iced chai latte. It's rich, creamy and downright delicious in every way. The sweetness of the milk and cinnamon perfectly complements the fragrant tea; each sip gets better than the last. Truly, it is Ventura's perfect chai, nestled quietly on the corner of Mills Road and Maple Street. With Café Ficelle's lovely atmosphere, stellar customer service and of course, its delectable iced chai, I await my return to the fantastic eatery.
Price (12 ounces): $5.75
Overall rating: 5/5
Simones
The locally famous Simones Coffee & Tea, with locations on Telegraph Road and Cabrillo Drive, serves a unique variety of the iced chai latte amongst its menu of French and American breakfast classics. While proving itself an enjoyable early-morning treat, Simones' chai unfortunately tastes hardly anything like chai. The tea is overpowered by sweetener, tasting more like sugary milk than the desired black tea and cinnamon mixture. Those who prefer their caffeinated drinks sans bitterness would find great joy in Simones' take on the iced chai; I personally felt underwhelmed from first to final sip.
Price (16 ounces): $4.25
Overall rating: 2.5/5
Palermo
Downtown adventures lead many beachgoers on Main Street to Palermo for a refreshing caffeinated treat. Their menu is broad and artistic, and the cafe's interior is perfect for enjoying an iced chai while views of Ventura's bustling city life flow through the sunlit windows. Their chai is absolutely spectacular — it's rich, slightly spicy and completely lacking artificiality. It is sweetened just enough to allow the slight bitterness of the tea to retain its spotlight; it is a near flawless take on the iced chai. Despite coming in at a higher price point, I would recommend this liquid excellence to any true chai enthusiast. 
Price (12 ounces): $5.25
Overall rating: 5/5
Ventura's chain stores and local favorites alike serve delicious varieties of the iced chai latte. While Simones' chai comes in at the lowest price point, it is dwarfed in quality by alternative coffee shops. Café Ficelle and Palermo, albeit the most expensive, are worth the extra expense for their fantastically crafted beverages. But wherever one chooses to go, iced chai fans in Ventura are bound to be satisfied by each unique take on the drink.
Which coffee shop in Ventura sells your favorite chai?
Sorry, there was an error loading this poll.