Since the opening of its doors in 1997, Nothing Bundt Cakes has become known as the largest specialty cake company in the United States. 
Founded by Denna Trip and Debbie Shwetz, Nothing Bundt Cakes has grown to over 500 locations in 40 different states since day one. The wide variety of flavors offered, combined with their specialty cream cheese frosting has made it an absolute favorite of thousands across the nation.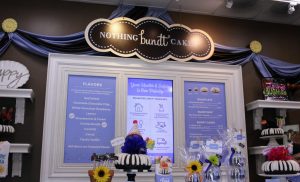 Walking into the colorful, beautifully-decorated shop, I was overwhelmed by the delicate aroma of spices and rich cream cheese frosting. Their wide variety came next, with a plethora of flavors on display. Ranging from chocolate, to pumpkin spice and various fruity combinations, Nothing Bundt Cakes captures it all in the assorted sizes, from Bundtinis® to full-sized Bundt Cakes.
After close consideration of each flavor, students Akanksha Polamarasetty '25, Emma Anderson '26, Audrey Yoong '26 and myself ordered three Bundtlets, rating each on a scale from one to five.
Pumpkin spice:
The Pumpkin Spice Bundtlet made for a good fall treat. With a great balance between the pumpkin cake and cream cheese frosting, the accents of fall made it a nice and light flavor for a mid-September feel. After trying it, Yoong '26 states, "It was good. But half of me feels guilty that it's not even October yet and I'm a pumpkin spice in November girlie." Pumpkin spice is a great dessert for all those who are a fan of spice cakes and all things autumn. Overall, it earned the rating of 3.5/5 due to the lack of timing in its delivery.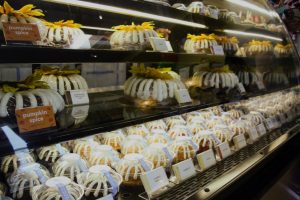 Red velvet:
The Red velvet Bundtlet seemed to inspire more thoughts than the other flavors. The red velvet is a very rich dessert, and the amount of chocolate chips added inside was quite generous. Combined with the softness of the frosting, red velvet turned out to have a surprisingly silky consistency. "It's very sweet," Anderson '26 comments. 
Polamarasetty '25 adds on, stating, "It's an acquired taste. It looks like it would kill a small Victorian child, but, you know, at the same time it is very, very good." 
"If it doesn't have a warning sign that says 'it will kill you,' then what are you doing?" Yoong '26 jokes in response. All in all, red velvet earned a very positive review with a rating of 4/5.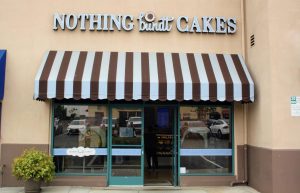 Lemon:
With nice tart undertones and the flavor of sunshine, the Lemon Bundtlet earned a 4.5/5. Even as someone who doesn't typically enjoy citrus flavors in cakes, I thought this worked surprisingly well. The taste was fresh, a nice break from the much sweeter flavors. The Lemon Bundtlet had a close resemblance in taste with that of a lemon bar, except it was much creamier. 
"Lemon is always my favorite, it's very refreshing," Yoong '26 states. Getting the highest rating out of the three we bought, lemon is a great flavor choice for those who are looking for something both light and refreshing.
Nothing Bundt Cakes  makes the perfect dessert for any occasion. Whether it's a birthday, special holiday or just to celebrate, this creative twist on a classic dessert will satisfy the sweet tooth of almost any guest.