Proud Art 2016: "It's just amazing what art can do"
Held once a month, First Fridays Ventura is a series of free events designed to support and showcase the work of local artists.
Held once a month, First Fridays Ventura is a series of free events designed to support and showcase the work of local artists. These exhibitions occupy various visual fine arts spaces around the city of Ventura, where music, performance, film, sculpture and more are welcomed and enjoyed by all.
Hosted at Bell Arts Factory on Friday Sept. 2nd, Proud Art 2016 shone light on the lives and work of local queer artists.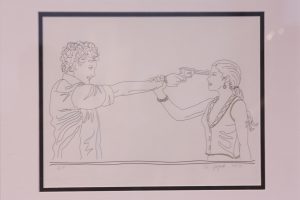 Curated by David Leighton and sponsored by Ventura's own non-profit LGBT organization Diversity Collective, the event delved into topics such as community, identity, fear and acceptance, all themes that are relevant aspects of living as a queer person.
Dana Zurzolo, Assistant Professor of Graphic Arts at Pepperdine University, showcased an exhibition titled "At The Edges of Security," dealing with the rising impact firearms have on today's society. Gun violence is a concern for anyone living in America, but for the queer community, it is much more so.
In 2015, 20.2 percent of all single-bias hate crimes were motivated by sexual orientation and gender identity. In a short description of the exhibition, Zurzolo wrote that "we are no longer 'united.' We are very unsure of ourselves in the present climate of fear. We can not fully protect ourselves from the unknown hazards, yet we do not know how to psychologically deal with the fear we all live in."
Including illustration, paint and embroidered silk, her works offered an emotional look into the complicated causes and effects of issues so detrimental to the well-being of our nation and its people.
[soundcloud url="https://api.soundcloud.com/tracks/281494138″ params="color=ff0000&auto_play=false&hide_related=false&show_comments=true&show_user=true&show_reposts=false" width="100%" height="166″ iframe="true" /]
Another local artist, José Márquez, a recent graduate of Brooks Institute, created a series of short documentaries featured as part of the event. His thoughtful films shine a tender light on the delicate framework of the human experience, each focusing on the tale of a different life.
"Sometimes people don't know that they have an awesome story inside. I want people to use me as a vehicle to tell that story," Márquez said.
"Growing up, I didn't really know how to express myself," he continued. "I always wished I had a community that I could go to and be myself."
[vimeo 141299057 w=640 h=360]
Using his childhood loneliness as an inspiration to create, he hopes his videos will show viewers that "there is something that connects us all. We may be going through the same thing, we may not, but we can all learn from each other and understand each other."
Celebrating victories, mourning losses and expressing ideas, September's edition of First Fridays Ventura showed the power that local communities have to come together and truly form connections. Using art to illustrate all aspects of life for LGBT people, the contemplative Proud Art 2016 exhibition provided an empowering voice to a community that is far too often wrongfully left in silence.
Background Image Credit: Lorenzo Alexander / The Foothill Dragon Press