"Hairspray" to transport Ventura to the 60s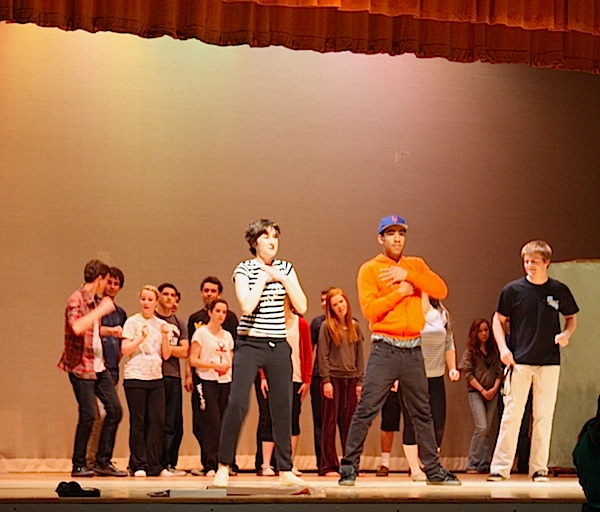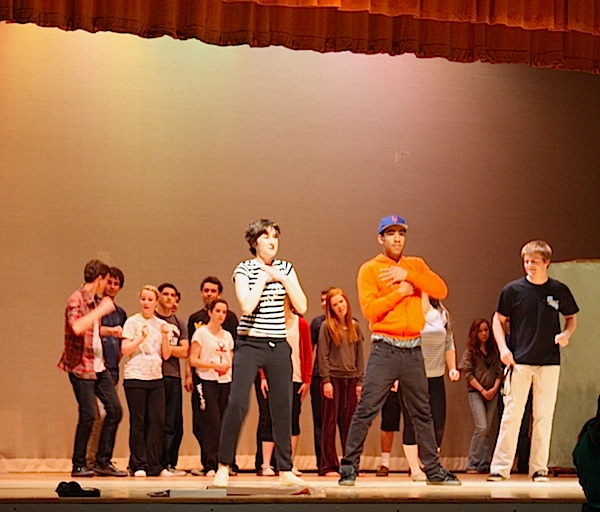 "Okay, let's go! Five, four, three, two, one!" Ventura High School drama teacher Stefoni Rossiter Burgi called out to her cast.
By "one" all 53 members of the Hairspray cast were congregated on the main stage, taking direction and corrections from their teacher.
Burgi, who most recently directed Ventura's Winter Showcase, again takes the director's chair for Hairspray. Though Burgi began tackling her long list of directorial duties for the show over the summer, serving as director during the busy school year is a job easier said than done.
"Auditions [were] difficult because, of course, I want to give everyone a chance to shine. We had over ninety kids audition. It was a long, grueling experience which took three evenings to get through," Burgi said. "We are facing a challenge costuming this large of a group, but thank goodness I have two very talented costume students," she added.
The musical Hairspray reveals the story of plus-sized Tracy Turnblad with big hair and an equally big heart, striving to make her big break on the Corny Collins Show in the midst of the deeply segregated 1960s in Baltimore, Maryland.
According to Burgi, finding an adequate number of African-American students to fill the roles required for Hairspray was not a daunting task: "It was not difficult to find talented, dedicated African-American kids. We just put the word out, and it all clicked!"
Friday, March 4 marked only one of the many rehearsal days for this unusually large cast. They meet for three hours on a daily basis despite all the homework and other extracurricular activities that plague the average high school student's day. For senior Monique Djoumessi, who plays the role of Motormouth Maybelle, it has been a balancing act, juggling four AP classes and performing in her first musical.
Despite this she says, "I'm so thankful to be a part of [this]. I'm glad I decided to do it…I'm looking forward to wearing a fat suit. Actually, I don't know if I get a fat suit, but I'm looking forward to being a big, bodacious woman."
Filling the role of Tracy Turnblad is senior Kate Danker. Danker, who has been involved in all aspects of the theater since her freshman year, shares some of Djoumessi's sentiments.
"It's really fun. It's been a busy schedule dealing with homework, and I've never had a part this big. It's been a challenge [but] I'm excited," Danker said during the actors' five-minute break.
"It's been great," added junior Dylan Horwitz, "I get to hang out with every grade level. It's more family, less clique-y [sic]."
The show-stopping, upbeat nature of Hairspray requires much more than a three-hour night of memorizing the script. Part of Burgi's job is shaping each of her actors into triple-threats. This means singing on perfect pitch (often harmonizing) while dancing to set choreography, and all the while making it look as simple as breathing.
"The kids are a great bunch, and many of them are quite experienced so they know the drill. As far as the new ones go….it is a learning experience for them and for me," Burgi said. "They are eager to do a good show."
As opening night draws closer, the cast looks forward to revealing their finished product. For senior Alyson Meyer, the spirit of Hairspray is contagious. "I love it, especially 'You Can't Stop the Beat' – it's my favorite."
"It's going to be an exciting bullet-train," said Horwitz. "Support the arts!"
Hairspray runs March 17, 18,19, 25, 26, and 27 at 7 p.m and will have matinee showings at 2 p.m. on March 20 and 27.
Editor's Note: Hairspray is set in Baltimore, Maryland, not Alabama, and has been changed as of 9:00 p.m. March 9.